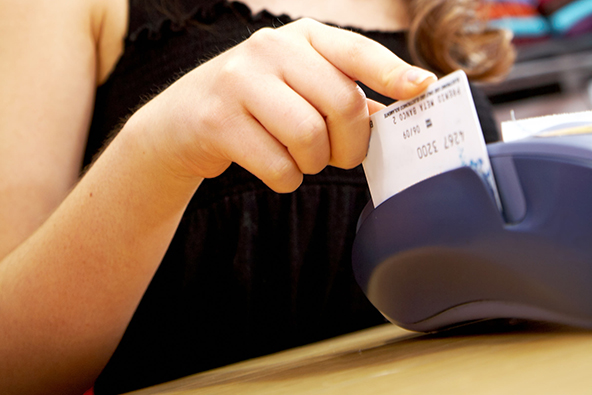 At the end of the third quarter of this year Americans were not as timely in repaying their credit card debt as they were in the preceding three months when they did so at a higher rate than at any time since 1994, we learn from the latest data released by TransUnion, one of the three national credit reporting bureaus. Yet, the aggregate U.S. credit card delinquency rate remains in record-low territory.

Having fallen to its lowest level in more than a decade in the first quarter, the average amount of credit card debt owed by Americans rose for a second quarter in a row, this time by 1.34 percent, following a 0.43 percent increase in the three month period ending in June, TransUnion tells us.

Credit Card Delinquency Rate Up to 0.71%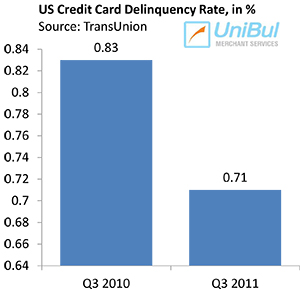 TransUnion's headline news is that the U.S. credit card delinquency rate rose to 0.71 percent in the third quarter of this year, up 18.33 percent from the previous quarter (0.60 percent), but down 14.45 percent on a year-over-year basis. While this is the first quarterly increase in two years, it is still the second-lowest delinquency rate?áin 16 years, TransUnion tells us.

TransUnion's quarterly reports are more valuable than the monthly data we receive from the credit card issuers, because they give us a more comprehensive picture of Americans' debt repayment behavior.

While the issuers measure their delinquency ratios on a per-account basis, rather than per consumer, TransUnion calculates its late payment levels as the share of Americans late on a payment to any one of their credit cards. Furthermore, the credit bureau defines a payment as delinquent if it is 90 days or more past due, whereas the issuers use two shorter periods: early-stage delinquencies for payments late by 30 – 59 days and late-stage delinquencies for ones overdue by 60 days or more. TransUnion's late payment rate is in fact somewhere between the issuers' delinquency and charge-off (default) rates.

Mississippi Has the Highest Delinquency Rate, North Dakota — the Lowest

Listed below are the states leading both ends of TransUnion's table of quarterly credit card delinquency change:

1. Mississippi — 1.03%.
2. Nevada — 0.98%.
3. Alabama — 0.93%.
4. Arkansas — 0.91%.
…
47. Wisconsin — 0.51%.
48. South Dakota — 0.50%.
49. Alaska — 0.45%.
50. North Dakota — 0.42%.

The biggest year-over-year delinquency decline was measured in Wyoming — 29.49 percent.

Credit Card Debt Slightly Up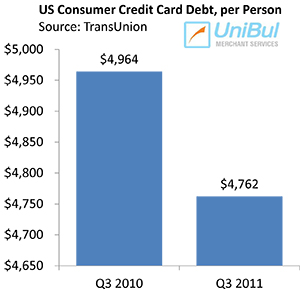 On average, credit card debt per borrower rose by $63 in Q3 2011, to $4,762, but still remains at near record-low levels. On a year-over-year basis, Americans reduced their outstanding credit card balances by 4.07 percent. The $4,679 level measured in Q1 2011 was the lowest one in 10 years.

Here are the leading states by average credit card debt per borrower on both ends of TransUnion's quarterly table:

1. Alaska — $6,980.
2. North Carolina — $5,464.
3. Colorado — $5,378.
4. Georgia — $5,308.
…
47. Wisconsin — $4,156.
48. South Dakota?á– $4,090.
49. North Dakota?á– $4,078.
50. Iowa — $3,770.

The biggest year-over-year decline in credit card debt was measured in Tennessee — 16.81 percent — and the biggest increase — 1.26 percent — in the District of Columbia.

The Takeaway

TransUnion's report of an increase in credit card delinquencies does not come as a surprise. Moody's, a credit ratings agency, reported no change in its September delinquency rate, while five of the six biggest U.S. issuers registered an increase for the same month (Citi being the sole exception). The data from the next couple of months will tell us whether or not we have reached the bottom of the delinquency trough, but all indications are that we may have.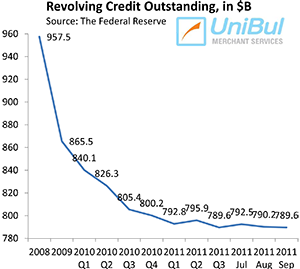 Even as the delinquency rate has flattened, however, the aggregate amount of consumer credit card debt in the U.S. keeps falling. The Federal Reserve reported a drop of 3.4 percent in August (the latest month for which data are available), bringing the total down to $790.1 billion, very close to the $789.8 billion mark reached in April, which was the lowest one on record in almost seven years.

Another positive piece of statistics is that the credit card monthly payment rate (MPR), measuring the fraction of their outstanding debt Americans pay back at the end of each monthly cycle, remains at record-high levels. The August MPR was 21.14 percent, which is about 30 percent above the historical average of 16.3 percent, as calculated by Fitch, another credit ratings agency.

So what all these data tell us is that Americans continue to be very cautious with their plastic money and are unwilling to increase spending, even as credit cards are becoming both easier to obtain and more generous in the rewards they offer. This will surely continue to be the case for as long as the economy is depressed and unemployment high, which probably means a long time.

Image credit: Linnareacu.org.