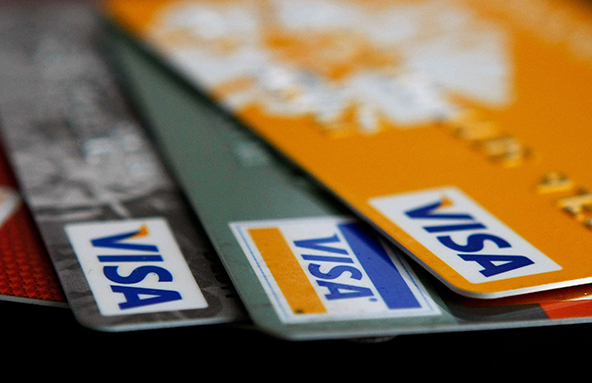 Americans continued making their credit card payments on time in July. While the delinquencies kept falling, however, the aggregate U.S. charge-off rate was slightly up.

With the exception of Capital One, whose July delinquency rate was marginally higher than June's, each of the other six biggest U.S. credit card issuers reported lower or unchanged levels of late payments in their latest regulatory filings. The charge-off picture was mixed, with half of the issuers reporting higher levels of defaults for the month.

Credit Card Charge-offs Up 0.05 Percent

The aggregate amount of outstanding credit card balances charged off by U.S. issuers was up by 0.05 percent in July from the previous month, to 6.09 percent, according to the latest data from Moody's, a credit ratings agency. Charge-offs (also called defaults) are unpaid credit card balances that issuers no longer expect to be repaid and write off (charge off) of their books as losses, typically 180 days after receiving the latest payment on the account.

Even as the default rate has risen slightly for the month, however, Moody's still expects it to fall to under 4 percent by the end of next year — more than a third lower than the current level.

Credit Card Delinquencies Fall for 21th Consecutive Month

The reason Moody's is so optimistic about the near-term prospects of charge-offs is that the ratio of credit card payments late by 30 days or more — the delinquency rate — fell again in July for the 21th consecutive month. The rate now stands at 3.09 percent, which is less than half the 6.23 percent rate measured in October 2009, as Moody's notes.

The early-stage delinquency rate — payments late by 30 – 59 days — also fell in July, to 0.83 percent.

Issuers Report Lower Charge-offs, Delinquencies

Five of the six biggest credit card issuers reported lower or unchanged delinquency rates in July, while only half of them also saw an improvement in their charge-off rates:
JPMorgan Chase's delinquency rate fell to 2.52 percent in July from 2.59 percent in June, reaching its lowest level in more than four years. The bank's charge-off rate fell 0.18 percent for the period to 4.78 percent, after rising by 0.73 percent in June. Chase's current charge-off level is its lowest since October 2008 — 4.3 percent — and is way down from the peak of 10.91 percent reached in January of 2010.
Bank of America reported a delinquency rate of 4.05 percent in July, down from 4.16 percent in June. This is BofA's lowest delinquency rate in more than five years. The Charlotte, N.C.-based bank's charge-off rate rose by 0.46 percent to 7.43 percent for the period, after falling by 1.06 percent the previous month. BofA's default rate remains the highest among the six largest U.S. issuers, but is well below the peak of 14.53 percent, recorded in August 2009.
Citibank's delinquency rate fell in July to 3.39 percent, down from 3.56 percent in June, the lowest level in about four years. Even more impressively, the bank's early-stage delinquency rate fell to 0.92 percent for the period. Citi charged off 6.64 percent of its cardholders' credit card balances in July, up 0.17 percent from the June level. The July level is still much lower than the 7.95 percent rate measured in February and well below Citi's highest charge-off ratio of 12.14 percent, reported in August 2009.
Capital One's delinquency rate was up 0.04 percent to 3.37 percent in July, which is 2.43 percent below the January 2010 peak of 5.8 percent. The bank's charge-off rate fell by 0.64 percent to 3.77 percent for the month, the lowest level in more than four years. Capital One's highest default rate was recorded in April of 2010 — 10.87 percent.
Discover reported a delinquency rate of 2.6 percent, down from 2.71 percent in June and the lowest level in more than five years. The bank's charge-off rate for July was 3.83 percent, down from 4.04 percent in June and below four percent for the first time since October 2007. Discover's charge-off peak was reached in February 2010 — 9.11 percent.
American Express continued to lead its peers in both the charge-off and delinquency categories. The New York-based company reported no change in its delinquency rate, which stands at 1.5 percent. American Express's charge-off rate rose 0.1 percent to 2.8 percent. AmEx's highest charge-off rate — 10.4 percent — was recorded in April 2009.
The Takeaway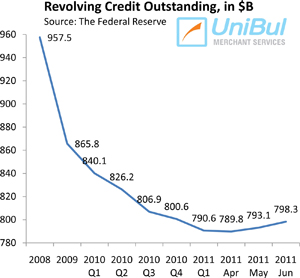 The falling delinquency rates point to further declines in the issuer's charge-off rates in the coming months, even as July's picture was mixed. You simply cannot get the defaults to rise if more people are paying on time.

What remains to be seen is how much further the delinquency rates will fall. Credit card spending is already on the rebound, with aggregate U.S. consumer credit card balances expanding by 7.9 percent in June, according to the Federal Reserve. Credit card offers are now much more plentiful and higher quality than in a very long time, adding to the incentive to spend more. Yet, the monthly repayment rate remains at near record-high levels, suggesting that Americans are spending within their means. The question is whether this will continue to be the case if spending keeps rising.

Image credit: Ppioncreditcards.net.