Americans pushed the credit card delinquency rate down to a new record in November, following three consecutive months in which the late payment rate was unchanged, we learn from Moody's Credit Card Indices. The credit ratings agency also reports that the charge-off rate rose by 17 basis points from its October level, but it expects this to be a one-off aberration from the long-run downward trend and anyway, the November rate is still lower by more than three percent compared to the same time a year ago.

The six biggest U.S. card issuers reported mixed results for their credit card portfolios in November. Four of them — Bank of America, Chase, Discover and Citigroup — had lower charge-off rates for the month and three of them — Bank of America, Chase and Discover — reported lower delinquencies.

Credit Card Charge-offs up 0.17%

The rise in defaults by 0.17 percent in November followed three consecutive monthly decreases that caused the rate to plunge to 5.21 percent in October from 6.09 percent in July. However, Jeffrey Hibbs, Moody's Assistant Vice President, is not surprised:
The increase in November is not unexpected, as weaker charge-off rate performance during the month is consistent with seasonal patterns.

Hibbs still expects defaults to resume their decline in 2012 and fall below the four percent threshold sometime next year.

The charge-off rate (default rate) measures the proportion of outstanding credit card balances that issuers no longer expect to be repaid by cardholders and write off (or charge off) of their accounts as losses, typically 180 days after posting the last payment on the account.

Credit Card Delinquencies Fall to 3.03% – an All-Time Low

Moody's credit card delinquency rate resumed its downward trajectory in November. It only fell by a single basis point, to 3.03 percent, but that was enough to mark a new record. The agency's late payment rate had stuck at 3.04 percent in each of the three preceding months, having previously fallen for 22 consecutive months.

Moody's headline delinquency rate measures the ratio of credit card accounts on which payments are late by 30 days or more. The agency also publishes an "early-stage delinquency rate," which tracks payments late by 30 – 59 days. This rate was unchanged from October and is at 0.86 percent, also a record.

These extremely low and falling delinquency rates are the reason Hibbs believes that charge-offs will decrease by more than a percentage point from their current level by the end of next year. This is a fairly safe prediction, considering that the default rate is a trailing indicator for the delinquency one.

Top U.S. Issuers Report Mixed Results on Charge-offs, Delinquencies

The six biggest U.S. credit card issuers were once again split in their November charge-off and delinquency results. Here is what each of them reported:

Charge-off Rate, % of Total

Delinquency Rate, %of Total

October 2011

November 2011

October 2011

November 2011

Bank of America

5.98

5.67

3.97

3.96

JPMorgan Chase

4.18

4.02

2.55

2.54

Discover

3.26

3.04

2.48

2.43

Capital One

3.96

4.29

3.73

3.73

American Express

2.30

2.40

1.50

1.50

Citigroup

5.66

5.36

3.26

3.28

Here is how the issuers' November figures compare to the post-Lehman record-highs:

Charge-off Rate, % of Total

Delinquency Rate, % of Total

Record, %/Month

Change, %

Record, %/Month

Change, %

Bank of America

14.53/Aug 2009

60.98

8.01/Aug 2009

50.56

JPMorgan Chase

10.91/Jan 2010

63.15

4.95/Sep 2009

48.69

Discover

9.11/Feb 2010

66.63

5.72/Oct 2009

57.52

Capital One

10.87/Apr 2010

60.53

5.80/Jan 2010

35.69

American Express

10.40/Apr 2009

76.92

5.30/Feb 2009

71.70

Citigroup

12.14/Aug 2009

55.85

6.06/Mar 2010

45.87

So American Express continues to lead its peers in both absolute declines, as well as in biggest percentage drops in both categories.

The Takeaway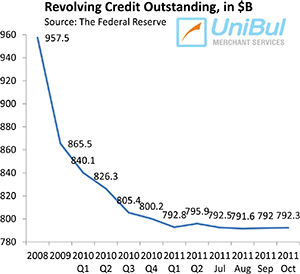 The marginally lower November delinquencies, following three consecutive months of no change at all, may indeed indicate that the long period of falling rates of overdue credit card payments has come to an end. Defaults, on the other hand, though rising for the month, will most probably resume their decline in December or January and continue to fall for most of 2012 and will do so for several months after the delinquencies have stopped decreasing.

On the other hand, the rate at which Americans are repaying their outstanding credit card balances at the end of each monthly cycle — the monthly payment rate (MPR) — is beginning to slide. Although still very high by historical standards — 20.56 percent in November, compared to a historical average in the mid-teens — the MPR is down by 35 basis points from October and is lower by 1.35 percent from the all-time record of 21.91 percent reached in August of this year.

Unsurprisingly, the fall in the MPR coincides with a rise in the aggregate amount of outstanding revolving credit — mostly credit card debt. Federal Reserve data show a 0.6 percent increase in revolving credit for both September and October, the last two months for which data are available. It is all but certain that this trend will continue at least through the holiday months and it will be very interesting to see how the MPR will respond.