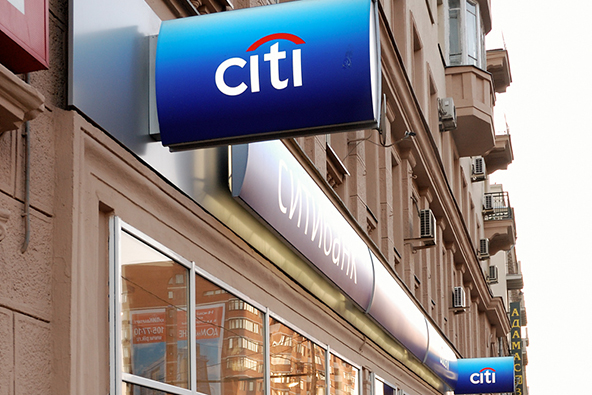 Americans continued paying their outstanding credit card balances on time in April. Each one of the six biggest U.S. credit card issuers reported lower rates of delinquent payments in their latest regulatory filings and all but one (Bank of America) also had lower rates of credit card defaults for the month, setting new records in both categories in the process.

Credit Card Charge-Offs Fall to 7.16 Percent

The charge-off rate on credit cards issued by U.S. banks fell by 0.19 percent in April on a month-over-month basis, to 7.16 percent, according to Moody's Credit Card Index, after a similar fall in March. Charge-offs (defaults) are outstanding credit card balances that issuers no longer expect to be repaid and write off their accounts as losses, typically 180 days after receiving the latest payment on the account. The charge-off rate reached its peak of 11.5 percent in August 2009.

Taking into account the continual decline of the credit card delinquency rate, Moody's analysts expects the default rate to keep falling, dropping below 7 percent in by June and then dip under 4 percent by the end of next year.

Credit Card Delinquencies Fall for 18th Consecutive Month

The ratio of credit card payments past due by 30 days or more — the delinquency rate — fell in April for the 18th month in a row, to 3.53 percent from 3.79 percent in March, according to Moody's.

Payments past due by 30 – 59 days — the early-stage delinquency rate — also fell in April, to 0.88 percent, an all-time low. The previous record — 0.98 percent — was set in March and marked the first time the rate fell below 1 percent since Moody's began measuring early-stage delinquencies at the beginning of 2000.

Issuers Report Lower Charge-offs, Delinquencies

Each of the six biggest credit card companies reported lower delinquency rates in April and five of them also had lower default rates:
JPMorgan Chase's delinquency rate – payments late by 30 days or more – fell to 2.86 percent in April from 3.08 percent in March, reaching its lowest level since August 2007. The bank's charge-off rate dropped 0.42 percent for the period to 5.60 percent, after falling by 0.19 percent the previous month. Chase's charge-off rate is now at its lowest level since December 2008, after peaking at 10.91 percent in January of 2010.
Bank of America reported a delinquency rate of 4.52 percent in April, down from 4.82 percent in March. This is BofA's lowest delinquency rate since October 2006 (4.47 percent). The Charlotte, N.C.-based bank's charge-off rate rose 0.07 percent to 8.25 percent for the period. The bank's default rate was at its highest — 14.53 percent — in August 2009.
Citibank said its delinquency rate in April was down 0.34 percent to 3.87 percent. The New York-based bank charged off 7.85 percent of its credit card balances, down 0.04 percent from the March level, but above the January rate of 7.49 percent. Citi's default rate reached its peak of 12.14 percent in August 2009.
Capital One's 30-day delinquency rate decreased to 3.41 percent in April from 3.59 percent in March. The bank's charge-off rate dropped by 0.90 percent to 4.97 percent for the month, the lowest level since late 2007. Capital One's charge-off rate was at its peak at 10.87 percent in April of 2010.
Discover reported a 30-day delinquency rate of 3.15 percent, down from 3.42 percent in March, the lowest level since April 2006. Its charge-off rate for April was 5.02 percent, down from 5.18 percent in March. It is Discover's lowest default rate since February 2008 (4.81 percent) and well below the peak of 9.11 percent reached in February of 2010.
American Express continued to lead its peers in both the charge-off and delinquency categories. The New York-based company reported a delinquency rate of 1.70 percent in April, down 0.10 percent from March. American Express's charge-off rate dropped 0.20 percent to 3.50 percent. AmEx's highest default rate — 10.4 percent — was recorded in April 2009.
Credit Card Takeaway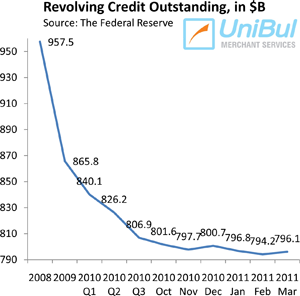 The rate at which U.S. consumers are repaying the principal amount of their credit card debt fell to 20.02 percent in April, after reaching an all-time high of 21.77 percent in March, according to Moody's. Still, April's is a level not seen since the peak of the housing boom of 2006 – 2007, the researchers said.

It is incredible to watch how quickly Americans are improving their credit card repayment habits and becoming much more disciplined borrowers in the process. Even as the aggregate amount of outstanding credit card balances in the U.S. has finally grown in March, according to the latest Federal Reserve data, Americans keep making their payments on time and are expected to continue to do so for the foreseeable future.

What is even more interesting to me is whether the current trend will hold once the unemployment rate falls closer to historic averages and consumer confidence rises correspondingly. Unfortunately, this is unlikely to happen anytime soon.

Image credit: Wikimedia Commons.