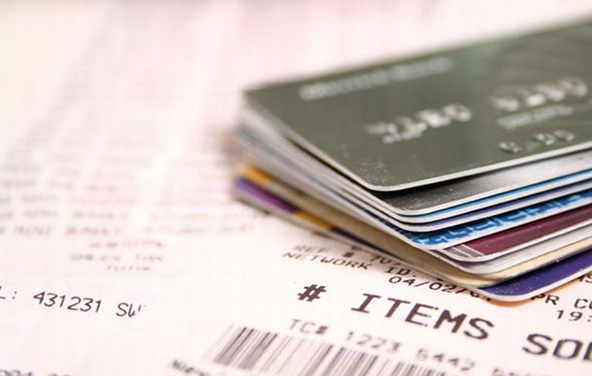 Americans continued paying down credit card debt in February. All of the top six national credit card issuers reported lower levels of late payments, while Bank of America, American Express and Capital One also reported lower levels of credit card defaults in their most recent regulatory filings, setting new records in both categories in the process.

Credit Card Charge-Offs at Lowest Level in 2 Years

Fitch's Prime Credit Card Chargeoff Index fell another 0.32 percent in February on a month-to-month basis, to 8.05 percent. The drop in January was 0.62 percent. Charge-offs are delinquent credit card balances that creditors no longer expect to be repaid and write off their books as losses, typically 180 days after the latest payment on the account.

The latest fall in Fitch's charge-off index is the fifth consecutive monthly improvement and its lowest level since February 2009. The index is now at a level that is 3.32 percent lower than the all-time record of 11.37 percent set in September 2009 and is down 29 percent on a year-over-year basis.

Credit Card Delinquencies Fall to a 28-Month Low

Payments late by 60 days or more — known as late-stage credit card delinquencies — decreased by 0.03 percent in February, to 3.20 percent, the 13th consecutive monthly decline and the lowest level in 28 months, according to Fitch.

Payments late by 30 – 59 days — early-stage delinquencies — also fell in February, by 0.10 percent to 4.10 percent.

Top Credit Card Issuers Report Lower Delinquencies

All of the six biggest credit card companies reported lower delinquencies and half of them also reported lower charge-off rates:
JPMorgan Chase's early-stage delinquency rate fell to 3.29 percent in February from 3.39 percent in January, the lowest rate since September 2008. The bank's charge-off rate increased 0.24 percent to 6.21 percent, after falling last month below 6 percent for the first time since January 2009. Chase's charge-offs peaked at 10.91 percent in January of 2010.
Bank of America reported a 30-day delinquency rate of 5.09 percent in February, down from 5.17 percent in January. The Charlotte, N.C.-based bank's charge-off rate dropped 0.36 percent to 8.84 percent for the period. BofA's charge-off rate was at its its highest level — 14.53 percent — in August 2009.
Citibank said its 30-day delinquency rate in February was down 0.01 percent to 4.34 percent. The New York-based bank charged off 7.95 percent of its credit card balances, up 0.46 percent from 7.49 percent in January. Citi's charge-off rate reached its peak — at 12.14 percent — in September 2009.
Capital One's 30-day delinquency rate dropped to 3.83 percent in February from 4.00 percent in January, reaching the lowest level since June 2008. The bank's annualized charge-off rate fell by 0.88 percent to 5.91 percent for the period, the lowest rate since February 2008. Capital One's charge-off rate was at its highest at 10.87 percent in April of 2010.
Discover reported a 30-day delinquency rate of 3.70 percent, down from 3.84 percent in January and 1.85 percent below the level from a year ago. Its charge-off rate for the month was 5.79 percent, at an annualized rate, up from 5.75 percent in January. Discover's charge-offs peaked at 9.11 percent in February of 2010.
American Express continued to lead all top issuers in both the charge-off and delinquency categories. The New York-based company reported a 30-day delinquency rate of 2.00 percent in February, down 0.10 percent from January. American Express's charge-off rate remained unchanged at 3.80 percent. AmEx's highest charge-off rate — 10.2 percent — was reached in April 2009.
Credit Card Takeaway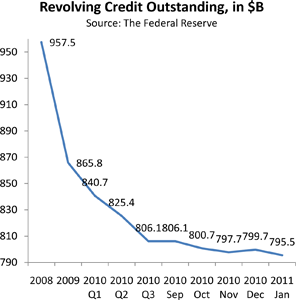 The rate at which U.S. consumers are repaying their credit card debt — the monthly payment rate (MPR) — fell slightly in February. Yet, the current level of debt repayment — 20.37 percent — is still 26 percent higher than the historical average of 16.20 percent, according to Fitch.

So we've had mostly good news on the credit card front in February. The unemployment picture is also improving, although at 8.9 percent the unemployment rate is still way too high for comfort. Nonetheless, consumer confidence is clearly improving, as evidenced by the increase in consumer borrowing reported by the Federal Reserve. While borrowing and spending more, consumers are also more disciplined in the way they use credit and I expect the national charge-off rate, which is still above its pre-Lehman level, to continue falling.

Image credit: Cozycot.com.