January brought us more good news on the progress Americans are making in managing their credit card debt. The default (charge-off) rate continued its decline and is now below the five-percent threshold for the first time since before the Great Recession began, according to the latest data from Moody's Credit Card Indices. The delinquency rate rose slightly, but still remains very near all-time low territory.

The six biggest U.S. card issuers reported mixed results on the monthly performance or their portfolios. Four of the issuers reported lower or flat delinquencies, with Citi and Capital One being the exceptions. The same two issuers also reported higher charge-offs for the month, but in this category they were joined by JPMorgan Chase.

Credit Card Charge-offs Fall to 4.98%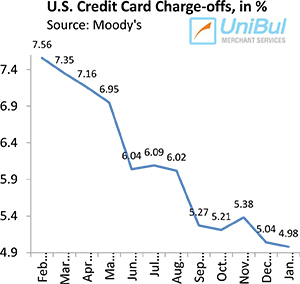 Credit card defaults were predicted to decline in January, as they are for most of 2012, and Moody's expects the charge-off rate to fall below four percent some time later this year. The current level — 4.98 percent — is lower by 2.47 percent than the January 2011 rate, a decline of 33.15 percent, and is also the lowest one since November 2007, the last month before the Great Recession officially began.

The charge-off rate is the ratio of all accounts with outstanding credit card balances that an issuer no longer expect to be repaid by their cardholders, with respect to the total number of active accounts. Charged-off accounts are written off of the issuers' accounting books as losses, usually at 180 days after the last payment on the account was received.

Late Payments Up Slightly to 2.93%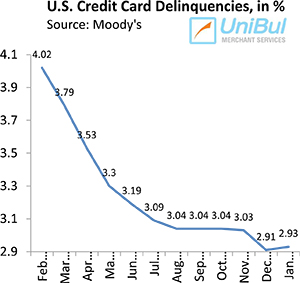 Moody's credit card delinquency rate rose by two basis points in January after falling to the lowest level measured since the ratings agency began tracking it more than two decades ago. Prior to December, delinquencies had never fallen below three-percent.

Moody's headline delinquency rate measures the ratio of credit card accounts on which payments are late by 30 days or more, with respect to the total number of open accounts. The agency also tracks an "early-stage delinquency rate" for payments late by 30 – 59 days. That rate fell in January — by three basis points to 0.77 percent — an all-time low.

These record-low and falling delinquency rates are the reason Moody's expects the charge-offs to decline by a percentage point or more by the end of this year. There is no reason to expect otherwise, as the charge-off rate is a trailing indicator for the delinquency one.

Biggest U.S. Issuers Report Mixed Results

As is often the case, the six biggest U.S. credit card issuers reported mixed delinquency and charge-off data for the month. Here is what each one of them reported:

Charge-off Rate, % of Total

Delinquency Rate, %of Total

December 2011

January 2012

December 2011

January 2012

Bank of America

6.05

5.63

3.82

3.80

JPMorgan Chase

4.11

4.25

2.48

2.45

Discover

3.15

2.75

2.32

2.31

Capital One

3.98

4.08

3.66

3.78

American Express

2.30

2.20

1.40

1.40

Citigroup

5.11

5.27

3.11

3.13

Here is how the issuers' January 2012 figures compare to the post-Lehman record-highs in each category:

Charge-off Rate, % of Total

Delinquency Rate, % of Total

Record, %/Month

Change, %

Record, %/Month

Change, %

Bank of America

14.53/Aug 2009

61.25

8.01/Aug 2009

52.56

JPMorgan Chase

10.91/Jan 2010

61.04

4.95/Sep 2009

50.51

Discover

9.11/Feb 2010

69.81

5.72/Oct 2009

59.62

Capital One

10.87/Apr 2010

62.47

5.80/Jan 2010

34.83

American Express

10.40/Apr 2009

78.85

5.30/Feb 2009

73.58

Citigroup

12.14/Aug 2009

56.59

6.06/Mar 2010

48.35

So American Express is still the leader both in absolute declines, as well as percentage drops in both categories and by a wide margin.

The Takeaway

Last month I thought that the late payments rate would not be falling much further, but the fact that the early-stage delinquencies fell again in January indicates that we should expect the headline rate to keep falling as well. In turn, that would translate into a bigger decline of the default rate, which by the year's end may well be in the mid- to lower-three-percent range.

But perhaps the best news to come out of Moody's report was that the January monthly payment rate (MPR) — the rate at which cardholders are repaying their outstanding credit card balances — rose by half a percentage point from its December level. The MPR was reported at 22.08 percent, another all-time record. Historically, the average has hovered in the mid-teens.

The best thing about all these positive statistics is that they are following a Federal Reserve report of yet another spike in credit card borrowing in December, the fourth consecutive monthly increase. So all signs indicate that Americans have become much more disciplined with their credit card use and, even as they are beginning to borrow more freely once again, they are doing so within their means. Or perhaps it is still a bit too early to draw such a conclusion.