So much for the free fall of consumer credit card debt in the wake of the Lehman collapse in September 2008. The data on outstanding U.S. credit released by the Federal Reserve in each of the past two months showed increases in consumer debt at rates not seen since well before the financial meltdown.

Both the revolving and non-revolving U.S. consumer debt categories rose sharply in June, according to the Fed's latest monthly G.19 report released on Friday. As a result, the aggregate amount of revolving debt is now almost back to its level at the end of 2010, while the total outstanding consumer debt has now risen for nine months in a row.

Credit Card Debt Up 7.9% in June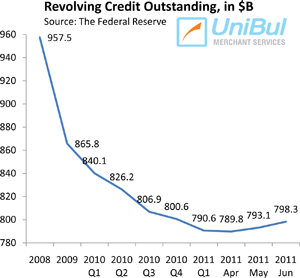 The aggregate amount of outstanding consumer revolving credit, a category comprised almost exclusively of credit card balances, spiked in June by 7.9 percent, or $5.2 billion, lifting the total up to $798.3 billion, after plunging in April to its lowest level in almost seven years. The $5.2 billion increase is the largest one since March of 2008.

Rising rates of debt repayment and bank charge-offs had led to a free fall in outstanding revolving credit in the aftermath of the financial meltdown. The $790.1 billion mark reached in April was the lowest on record in almost seven years.

In the process, the aggregate amount of U.S. revolving credit had fallen by $183.5 billion since August 2008, the month before Lehman collapsed, a drop of 18.8 percent. On average, each U.S. family with outstanding credit card balances — 54 million by the Fed's count — had reduced its debt burden by $3,398 for the period.

Overall Consumer Credit Up 7.7%

The non-revolving portion of the U.S. consumer debt total, made up of student loans, auto loans and loans for mobile homes, boats and trailers, but not including loans for home mortgages and other real estate-secured assets, rose for the eleventh consecutive month. The Fed reported a 7.6 percent increase, bringing the total to $1,647.8 billion, up $10.3 billion from May.

The total of revolving and non-revolving U.S. consumer credit spiked by $15.5 billion, or 7.7 percent, to $2,446.1 billion in June, after rising by a revised $5.1 billion in May. It was the biggest dollar gain since August 2007.

The Credit Card Takeaway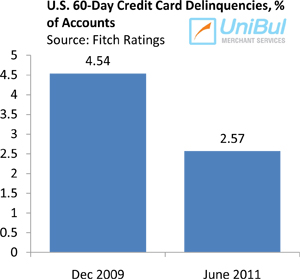 Even as credit card balances are beginning to grow once again, Americans are maintaining debt repayment discipline, we learn from the latest regulatory filings from the top U.S. card issuers. All of them reported lower default rates in June and all but one of them also reported lower delinquency rates (the rate for Capital One was practically unchanged from May), indicating that even as consumers are spending more, they are doing so within their means.

The June default (charge-off) rate, as measured by Fitch Ratings, a credit ratings agency, has fallen by 35 percent on a year-over-year basis to its lowest level since early 2008 and is 37 percent below the peak reached in September 2009. The June late-stage delinquency rate — the ratio of credit card payments late by 60 days or more — fell in June for the 17th consecutive month, according to Fitch, to its lowest level since?áAugust 2007.

Moreover, banks are now marketing credit cards much more aggressively and at much better terms than at any time since the onset of the financial crisis. Mintel Comperemedia, a company tracking direct mail, print and online banner advertising, is reporting a 69 percent jump, on a year-over-year basis, in credit card offers mailed by U.S. issuers in the first quarter of 2011. About 60 percent of these offers featured some form of incentive and, although most of them went to consumers with credit scores of 720 or more, Americans with lower scores were also getting more credit card mail. Some of the more fortunate consumers are being offered hundreds of dollars in cash incentives, while some British Airways Visa Signature cards offer 100,000 bonus miles. Small wonder that consumers would want to use their cards more often than before.