U.S. consumer credit card debt rose in May, according to the latest monthly G.19 report released by the Federal Reserve on Friday. The Fed revised downwards the figures for March and April, so that the 2.9 percent increase in outstanding card balances that was originally reported for March has now been replaced by a 0.5 percent decrease.

Non-revolving consumer debt rose again in May, by 1.3 percent, for a tenth month in a row, the report said, while total credit rose for an eight consecutive month.

Credit Card Debt Up 5.1% in May

The aggregate outstanding amount of consumer revolving credit, a category made up almost entirely of credit card balances, rose in May by 5.1 percent, or $3.3 billion, bringing the total up to $793.1 billion, after reaching in April its lowest level in almost seven years. The 5.1 percent increase is the largest one since June of 2008.

Revolving credit had been falling continually since the onset of the financial crisis in the aftermath of the fall of Lehman Brothers back in September 2008, with the sole exception occurring in December of last year when holiday spending pushed the total up.

Still, even with the uptick in May, since August 2008 the aggregate amount of consumer revolving credit in the U.S. has fallen by $180.5 billion, from $973.6 billion to $ 793.1 billion, a drop of 18.5 percent. On average, each U.S. household with outstanding credit card debt — 54 million by the Fed's count — has lowered the total by $3,343 for the period.

Overall Consumer Credit Up 2.5%

The non-revolving component of the U.S. consumer debt total, comprised of auto loans, student loans and loans for mobile homes, boats and trailers, but not including loans for home mortgages and other real estate-secured assets, increased for a tenth month in a row. The Fed reported a 1.3 percent increase, bringing the total to $1,639.1 billion, up $1.8 billion from April.

The total of revolving and non-revolving U.S. consumer credit increased by $5.1 billion, or 2.5 percent, to $2,432.2 billion in May, after rising by a revised $5.7 billion in April. It was its eight consecutive month of increase.

Credit Card Delinquencies, Charge-offs Still Falling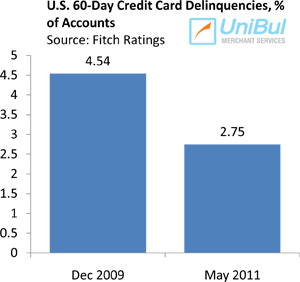 Even as Americans have used their credit cards a little more freely in May, they have also continued to make their monthly payments on time. Both the aggregate credit card delinquency and charge-off rates have fallen again in May.

The aggregate charge-off rate on U.S.-issued credit cards fell by 0.46 percent in May on a month-over-month basis, to 7.42 percent, according to Fitch Ratings, a credit ratings agency. Charge-offs (or defaults) are delinquent credit card balances that issuers no longer expect to be repaid and write off as losses, typically at 180 days after receiving the latest payment on the account. The charge-off rate is now at its lowest level since February 2009 and reached its peak of 11.5 percent in August 2009.

Credit card delinquencies are also maintaining their downward trajectory, indicating that the default rate has yet more room to fall. According to Fitch, the late-stage delinquency rate — the ratio of credit card payments late by 60 days or more — decreased in May for the 16th consecutive month, to 2.75 percent from 2.93 percent in April. The early-stage delinquency rate — payments late by 30 – 59 days — dropped to 3.54 percent, down 0.27 percent from April.

The Takeaway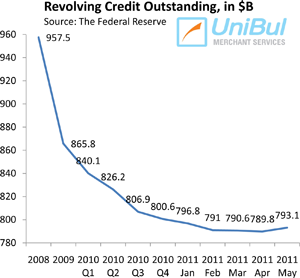 Over the past month we have learned that Americans are once again spending more on credit cards, while getting an easier access to new card accounts and at much better terms than issuers have made available in a long time. Now the Fed has confirmed that consumer credit card balances are rising. The data will be revised, but it is unlikely that a 5.1 percent jump will be completely negated.

Yet, credit card delinquencies are still falling, indicating that, even as Americans are beginning to use more credit, they are spending it within their means. It has to be said that new credit card offers, appealing and plentiful as they may be, are mostly extended to consumers with good credit scores, who also happen to be more affluent and better equipped to repay the new debt they accumulate.

We don't know yet whether the increase in aggregate revolving credit in May is just a blip or the beginning of an upward trend. The economy is still anemic and unemployment rose to 9.2 percent in June, not exactly boosting consumer confidence. On the other hand, non-revolving credit has now risen continually for almost a year so it would not be all that surprising if the revolving portion followed the same path.