All credit card indices tracked monthly by Moody's improved in May and all of them set new records in the process, according to the latest report released by the credit ratings agency. The two delinquency rates — the early- and late-stage delinquencies — which already were much lower than anything we've seen before, and the monthly payment rate (MPR), set all-time records, while the charge-off rate fell to a level not seen since before the Great Recession began.

All these records were largely the result of a very strong performance by the six largest U.S. credit card issuers. Each one of them reported lower delinquency rate in May and all but one (Discover being the sole exception) also posted lower charge-offs for the month. And all indications are that there is still room left for improvement. Let's take a closer look at the numbers.

Credit Card Charge-offs Down to 4.90%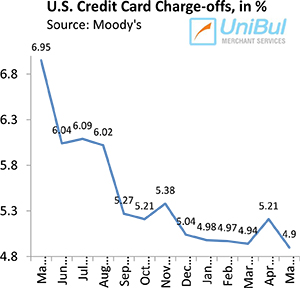 Following an unexpected increase in April, credit card charge-offs (or defaults) fell by 31 basis points in May, more than enough to offset the one-off spike, according to Moody's. The current level — 4.90 percent — is the lowest one measured since October 2007, two months before the Great Recession officially began. Moody's continues to expect that the default rate will fall to about four percent by the end of this year.

The charge-off rate is measured as a ratio of the number of credit card accounts with outstanding balances that an issuer does not expect to be repaid by their cardholders, in relation to the total number of open accounts in the bank's portfolio. Charged-off accounts are written off of the lender's books as losses, typically at 180 days after the last payment on the account has been received.

Credit Card Delinquencies down to 2.47% — an All-Time Low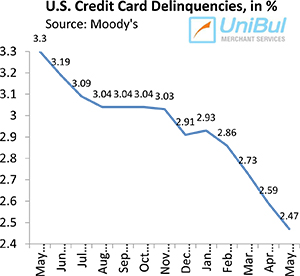 The late payment rate fell for yet another month in May, this time by 12 basis points. The new level — 2.47 percent — is the lowest one ever recorded by Moody's since the agency began tracking the indicator more than two decades ago. Moreover, May was also the sixth consecutive month in which the delinquency rate has remained below the three-percent threshold, which had never been reached before.

Moody's calculates its headline credit card delinquency rate as the ratio of the number of accounts on which payments are late by 30 days or more, in relation to the total number of open accounts. The agency also keeps track of an "early-stage delinquency rate" for payments that are past due by 30 – 59 days. This rate also fell in May, albeit by a single basis point, to 0.65 percent — another all-time record low.

Big Issuers Lead the Way

Each one of the six biggest U.S. card issuers posted lower delinquencies in May and, with the sole exception of Discover, lower charge-offs. Here are the numbers for April and May and, for perspective, the post-Lehman highs in each category.

Charge-off Rate, % of Total

Delinquency Rate, %of Total

April 2012

May 2012

Record-High

April 2012

May 2012

Record-High

American Express

2.40

2.20

10.40 /

Apr 2009

1.30

1.20

5.30 /

Feb 2009

Bank of America

5.69

5.52

14.53 /

Aug 2009

3.45

3.32

8.01 /

Aug 2009

Capital One

4.07

3.85

10.87 /

Apr 2010

3.18

3.14

5.80 /

Jan 2010

Citigroup

5.93

5.20

12.14 /

Aug 2009

2.71

2.55

6.06 /

Mar 2010

Discover

2.60

2.65

9.11 /

Feb 2010

2.04

1.93

5.72 /

Oct 2009

JPMorgan Chase

4.19

3.93

10.91 /

Jan 2010

2.21

2.09

4.95 /

Sep 2009

As you can see, even though in the wake of the financial collapse of September 2008 American Express saw its delinquency and default rates rise as high as its rivals', the company has been able to bring them down to much lower levels than any other big issuer. Moreover, AmEx managed to reverse the trend much more quickly than any of its counterparts. I guess in a time of crisis it helps to have a customer base comprised of higher income consumers.

The Takeaway

How much longer can the credit card delinquencies keep falling? Well, in theory, there is a limit and it is called zero, but in the real world the zero lower bound can never be reached. So at 0.65 percent, the early-stage delinquency rate is probably very close to the bottom, if it hasn't reached it already. The headline delinquency rate, on the other hand, has some more room to fall as the lower early delinquencies push their way upwards and the higher late-stage ones are charged-off. And as the default rate is a trailing indicator for the delinquency one, it is set to keep falling for some time to come, which is why Moody's expects it to fall to around four percent by the year's end, and that is probably a conservative estimate.

But the best indicator for the huge shift in consumer attitude toward credit card debt, and a great guide to the future trajectory of both the delinquency and charge-off rates, is the monthly payment rate (MPR). The MPR — the rate at which Americans are repaying the principal on their credit card debt — rose in May by 0.98 percent to 22.47 percent, an all-time record. The fact that historically the MPR has hovered in the mid-teens tells you just how much lower consumer tolerance to credit card debt has become.