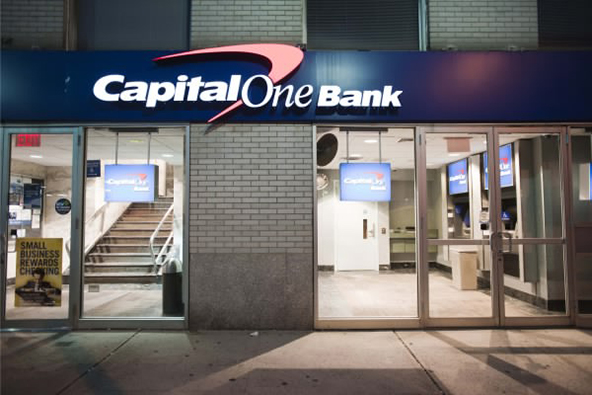 Americans continued paying their credit card balances on time in June. With the exception of Citibank, for which data are not available, each of the other six largest U.S. credit card issuers reported lower levels of credit card defaults in their latest regulatory filings and, with the exception of Capital One, which reported a virtually unchanged delinquency rate, lower levels of late payments, setting new records in both categories in the process.

Credit Card Charge-offs Fall to 7.29 Percent

The aggregate amount of credit card balances charged off by U.S. credit card issuers fell by 0.19 percent in June from the previous month, to 7.29 percent, according to the latest data from Fitch Ratings, a credit ratings agency. Charge-offs (defaults) are unpaid credit card loans that issuers no longer expect to be collected and write off (charge off) as losses, typically 180 days after receiving the latest payment on the account.

The June default rate has fallen by 35 percent on a year-over-year basis to its lowest level since early 2008 and is 37 percent below the peak reached in September 2009.

Credit Card Delinquencies Fall for 17th Consecutive Month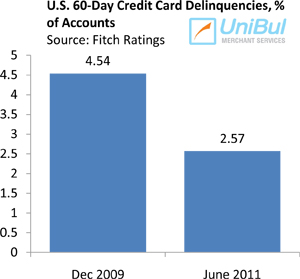 Even more impressively than the default rate, the ratio of credit card payments late by 60 days or more — the late-stage delinquency rate — fell in June for the 17th consecutive month, to 2.57 percent from 2.75 percent in May, according to Fitch. The current level is the lowest one since?áAugust 2007.

Payments late by 30 – 59 days — the early-stage delinquency rate — also fell in June, to 3.33 percent, down 0.21 percent from May.

Issuers Report Lower Charge-offs, Delinquencies

Five of the largest credit card issuers reported lower default rates in June and four of them also measured lower delinquency rates:
JPMorgan Chase's delinquency rate — payments late by 30 days or more — fell to 2.59 percent in June from 2.66 percent in May, reaching its lowest level since mid-2007. The bank's charge-off rate fell 0.73 percent for the period to 4.96 percent, after rising by 0.07 percent the previous month. The new charge-off level is Chase's lowest reported since October 2008 and more than twice below the peak of 10.91 percent measured in January of 2010.
Bank of America reported a delinquency rate of 4.16 percent in June, down from 4.28 percent in May. This is BofA's lowest delinquency rate since mid-2006. The Charlotte, N.C.-based bank's charge-off rate fell by 1.06 percent to 6.97 percent for the period, after falling by 0.22 percent the previous month. BofA's default rate is still the highest among the six largest U.S. issuers, but is now more than twice below its peak of 14.53 percent, reached in August 2009.
Citibank has not yet made its June regulatory filing. The bank's delinquency rate in May was at 3.66 percent, after 10 consecutive months of decline. Citi charged off 7.81 percent of its cardholders' credit card balances in May, down 0.04 percent from the April level. Though above the January rate of 7.49 percent, the May level was well below Citi's highest default ratio of 12.14 percent, measured in August 2009.
Capital One's 30-day delinquency rate was up a single basis point to 3.33 percent in June, which is still 2.47 percent below the January 2010 peak of 5.8 percent. The bank's charge-off rate fell by 0.43 percent to 4.41 percent for the month, the lowest level since April 2007. Capital One's default rate was at its peak in April of 2010 (10.87 percent).
Discover reported a 30-day delinquency rate of 2.71 percent, down from 2.88 percent in May, the lowest level since early 2006. Its charge-off rate for June was 4.04 percent, down from 4.82 percent in May. It is the Riverwoods, IL bank's lowest default rate since September 2007 and well below the February 2010 peak of 9.11 percent.
American Express continued to lead the field of six largest U.S. issuers in both the charge-off and delinquency categories. The New York-based company reported a delinquency rate of 1.50 percent in June, down 0.10 percent from May. American Express's charge-off rate dropped 0.50 percent to 2.70 percent. AmEx's highest charge-off rate — 10.4 percent — was measured in April 2009.
The Takeaway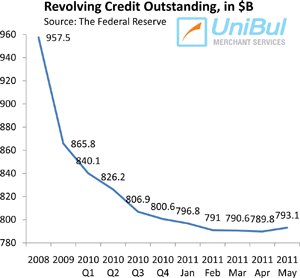 The latest Federal Reserve data show that revolving credit, mostly credit card balances, rose by 5.1 percent in May, the fastest growth rate since June 2008. Yet, after a slip in May, the rate at which U.S. cardholders are repaying the principal amount of their credit card debt rose again in June to 21.40 percent, 1.36 percent above the May level, even as borrowing is once again on the rise.

The increased credit card use may be due to the fact that credit card offers are now much better and more plentiful than they've been in a long time. Moreover, 60 percent of them are mailed to consumers with credit scores of 720 or higher. So an argument can be made that the increase in both credit card spending and repayment is the result of easier credit, extended at very attractive terms, being available to the more affluent Americans.

Image credit: Acrossthefader.biz.