Having risen by three percent in December for a first time since the Lehman Brothers collapse in September of 2008, U.S. consumer credit card debt resumed its downward trend in January, according to the latest data released by the Federal Reserve on Monday. Overall, however American consumers' non-mortgage debt rose in January for a fourth consecutive month, the report showed.

Credit Card Debt Down 6.4% in January

The overall volume of outstanding credit card balances in January decreased by 6.4 percent, or $4.2 billion, bringing the total down to $795.5 billion, marking a new post-Lehman record and the lowest level in six years.

Since August 2008, the month before the financial crisis began, the total volume of outstanding revolving credit in the U.S., primarily credit card balances, has dropped by $178.1 billion, from $973.6 billion to $ 795.5 billion, a decrease of 18.3 percent. On average, each U.S. family carrying outstanding credit card debt — 54 million according to the Fed — has reduced it by $3,300 for the period.

Overall Consumer Credit Up 2.5%

While Americans resumed paying down their credit card balances in January, their non-revolving debt, which includes student loans, auto loans and loans for mobile homes, boats and trailers, but not home mortgages and other real estate-secured loans, rose for a sixth month in a row. The Federal Reserve reported a 6.9 percent spike, bringing the total to $1.62 trillion, up $9.2 billion from December.

Overall, the combined total of revolving and non-revolving credit increased by $5 billion, or 2.5 percent, to 2.41 trillion in January, after rising by a revised $4.1 billion in December. It was also its fourth consecutive month of increase.

Credit Card Delinquency Rate Down 32%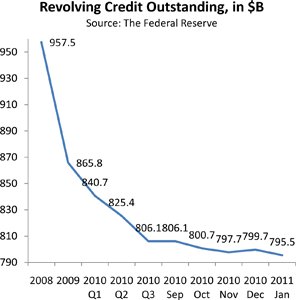 In addition to reducing their debt, American consumers have been paying their credit card bills on time at a much higher rate since the onset of the financial meltdown in September 2008. According to TransUnion, one of the three national credit reporting agencies, the credit card delinquency rate in the U.S. fell to 0.82 percent in the fourth quarter of 2010, a 32 percent drop on a year-over-year basis.

Credit card charge-offs — loans lenders no longer expect to be repaid and write off their books as losses — have also been falling. Having stayed above 9 percent for the previous 20 consecutive months, the Fitch's Prime Credit Card Chargeoff Index decreased by 0.62 percent in January on a month-to-month basis, to 8.37 percent. The January charge-off level is 3.00 percent lower than the all-time record of 11.37 percent set in February 2010 and is has fallen 18 percent on a year-over-year basis, a two-year low.

Credit Card Takeaway

The recovering economy has emboldened consumers to increase spending again, even as unemployment is still very high, and the latest government data showed that retail sales in January grew by 0.3 percent. A larger gain is expected for February, when the sales numbers are released on Friday.

The encouraging news is that the rising spending is not coming at the expense of expanded credit card balances. On the contrary, consumers continue to pay down credit card debt, even as they are opening their wallets again.