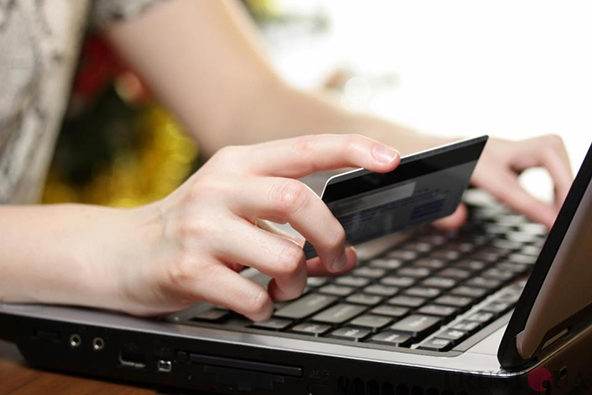 Credit and debit card fraud in the U.K. fell in 2010 for a second year in a row to its lowest level in a decade, according to a new report released earlier this week by the U.K. Cards Association, a trade association for the cards industry.

U.K. Credit Card Fraud Down 17%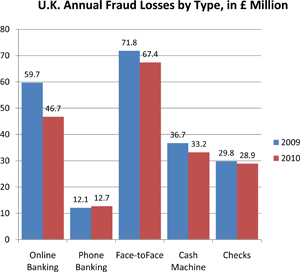 The losses from fraudulent credit and debit card transactions in 2010 totaled ?ú365.4 million ($591.7 million), according to the report, down 17 percent from 2009 and 40 percent lower than the all-time high level recorded in 2008 — ?ú610 million ($987.8 million).

The gains were not evenly spread, with some transaction types faring better than others:
Online banking fraud losses decreased by 22 percent on a year-over-year basis to ?ú46.7 million ($75.6 million), despite a 21 percent increase in phishing attacks for the period.
Phone banking fraud losses rose by 5 percent in 2010, reaching ?ú12.7 million ($20.6 million). These losses are mostly due to customers disclosing their account information to fraudsters pretending to be calling from their bank.
Retail face-to-face fraud losses dropped by 6 percent to ?ú67.4 million in 2010 ($109.1).
Cash machine fraud losses fell by 9 percent to ?ú33.2 million ($53.8 million) for the year.
Check fraud losses fell by 3 percent to ?ú28.9 million ($46.8 million) during 2010.
Lower Fraud Level Due to Higher Fraud Awareness

The U.K. Cards Association's report credits the fall in fraud levels to the higher awareness among retailers and consumers on how to prevent fraud. The following factors were the biggest contributors to the downward fraud trend:
Better protection from retailers of their chip and PIN credit card equipment. In Europe chip and PIN credit cards are much more prevalent that the type used in the U.S., which require a signature to complete a transaction.
Increased consumer participation in Verified by Visa and MasterCard SecureCode. These authentication services managed by the two credit card associations verify the identity of the customer through a password created by the cardholder when she signed up for the service.
Improved sharing of fraud data.
Increased use of fraud detection services by banks and businesses.

Consumers are also contributing to the drop in card fraud and Paul Barnard, Head of the Dedicated Cheque and Plastic Crime Unit, encourages them to do more:

"By taking simple steps, such as: shielding our PIN with our free hand whenever we enter it, particularly at cash machines; being wary of unsolicited emails or calls; and making sure that our computers have regularly updated anti-virus software in place, we can make life harder for the criminals."

The Takeaway: Technology Helps

The report clearly shows that the increased use of fraud prevention tools has led to a substantial drop in the overall fraud rate. The only two areas that did register a higher fraud rate — phone banking and mail non-receipt — were the ones least reliant on technology, where criminals could either trick their victims into divulging their account information or simply steal it from their mail boxes. Whatever the cause, however, consumers are fully protected against fraud and the losses are borne by the card issuers.

Image credit: Trust.ua.