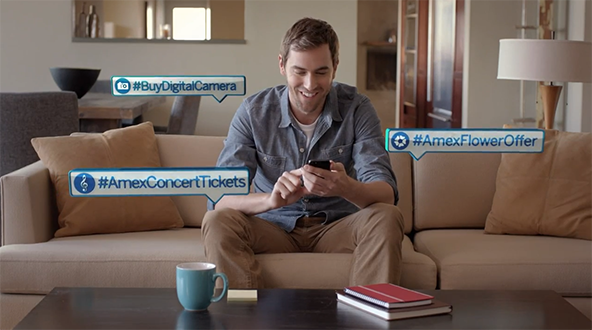 That is precisely what AmEx is now allowing its cardholders to do, the credit card company is telling us in a press release. In addition to gift cards, American Express now lets you use your Twitter account to buy specially-priced products from several retailers, including Amazon and Sony. The deals are exclusively available on Twitter, the entire sales process is completed in two tweets and your purchase is shipped to you for free.

I really liked AmEx's Twitter program when it was first launched in March of last year and this latest development makes me like it even better. Back then, AmEx cardholders were asked to send out a promotional tweet about a discount at a participating merchant and in exchange the card issuer allowed them to get the discount they tweeted about. Moreover, these discounts were separate from any regular rewards program that may have been linked to the cardholders' cards. So it was a really good deal as it was, but this week's upgrade makes it even better, as we no longer have to send out any promotional tweets and all we have to do is just ask for the discount.

How Does It Work?

In order to take part in American Express' Twitter program, you need to have an AmEx card and to have linked it to your Twitter account through the card issuer's Sync service. The purchase itself is a three-step process and here is how it would look like if you were buying the discounted gift card that was the first product to be launched:
Tweet #BuyAmexGiftCard25 to get started. You'll be prompted by @AmexSync to sync your card for purchases, if you haven't already.
You will receive a confirmation from @AmexSync. Check your Twitter mentions in the @Connect tab of your account (https://twitter.com/i/connect) for a response from @AmexSync containing a confirmation #hashtag. Tweet this #hashtag within 15 minutes of the response from @AmexSync to confirm your purchase.
Confirm your purchase. Once your purchase is confirmed, your product will be shipped via free 2-day shipping.

Then your American Express credit card will be charged $15 and you will receive a gift card worth $25. Whatever you may think of AmEx's reasons for wanting to pay you $10 just for sending a tweet, the fact is that they do and I see no reason not to take advantage of it. The full list of #hashtags for the products available for purchase will be featured as "favorites" on the @AmericanExpress Twitter page.

As far as security is concerned, if someone gained access to your Twitter account, he wouldn't be able to do any damage to your American Express account, even if you had already synced the two. If that were the case and the hacker tweeted one of the promotional hashtags, he might able to complete the transaction, but the delivery would be made to the cardholder's billing address. At that point you would know that something was wrong, if you hadn't already figured it out, contact American Express and report the incident. The transaction would be reversed and the product shipped back to the sender. The best thing is that the hacker would not have gained access to your AmEx account information, simply because it was never shared with Twitter.

What's in It for American Express?

So consumers are getting a pretty good deal out of AmEx's Twitter program, but what does the card issuer itself get? Now, it would be perfectly all right if you didn't care much about that, as long as you got your discount, but it's an interesting question all the same. Moreover, if AmEx judges its program a success, it will probably expand it and you will benefit even more from it.

So I see two separate objectives being pursued here. On the one hand, American Express is testing the possibilities of social media to drive sales and that is what most commentators have focused on. As The Financial Times' Richard Waters says, this is "one of the most ambitious attempts yet to build ecommerce directly into a social media site." He goes on to remind us of the e-commerce experience of the two biggest social networks so far, noting that retailers who have used Facebook to "stimulate transactions" have reported "disappointing results" and that much the same is true for merchants who tested Twitter's own "Twitsclusives" service for issuing discount codes. Well, American Express clearly believes that its experience and expertise in the e-commerce industry will help it do better. We shall see.

But it is AmEx's strong push of its prepaid card that is more interesting to me and which for some reason has received no attention at all, so far as I can see. As regular readers will remember, back in June of 2011 American Express launched one of the best prepaid cards in the market—a virtually fee-free product. About a year later the issuer did a major upgrade to its offering by adding a provision that made it possible for prepaid users with good track records to eventually upgrade to a charge card (a form of a credit card where monthly charges must be paid in full at the end of each cycle), which was the first such program. Then in October of last year, together with retail giant Wal-Mart AmEx launched Bluebird—a prepaid card that is better than most checking accounts. With that in mind, the Twitter effort seems to be a part of a long-standing strategy. And the $10 discount (40 percent of the card's value) shows just how serious AmEx is about it.

The Takeaway

I do like what American Express has been doing on Twitter and am not at all surprised to hear that its Sync program has so far been a success. There is every reason to believe that the steeply discounted gift card will be every bit as successful—after all you get free money for sending a tweet. So is there a reason not do it?

Image credit: YouTube / American Express.