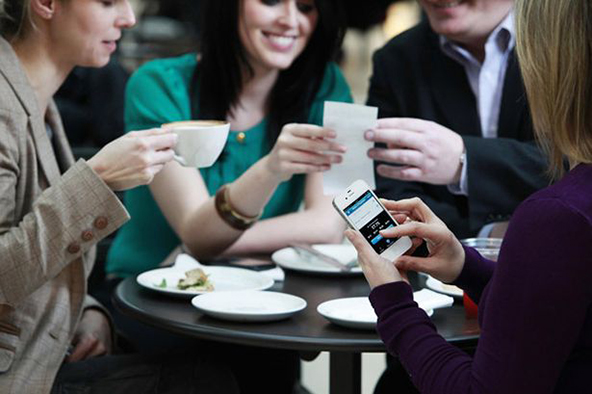 Mobile shopping is on the rise in the U.S. and the pace is accelerating, according to a new report by ForeSee, a market research company. According to the survey, 33 percent of the respondents have visited a retailer's website from their phones in 2010, up from 24 percent in 2009, and 26 percent more plan to do so in the future, down from 28 percent a year ago.

ForeSee's definition of shopping includes the mere visiting of a website, whether or not an actual purchase is completed, which may appear a bit too broad to some people. Still, the data are very interesting and here are the report's key findings for 2010:
11 percent of the respondents reported making a purchase from their phones this holiday season, up from 2 percent during the same period last year.
56 percent of respondents who visited an e-commerce website form their phones (mobile shoppers) did it to compare price information; 46 percent did it to compare different products, 35 percent to look up product specifications and 27 percent to view product reviews.
69 percent of mobile shoppers visited a store's website from their phones, while at the store's physical location and 46 percent visited a competitor's website.
Respondents were better satisfied with e-commerce websites (78 on the study's 100-point scale) than with mobile apps and sites (75).
Respondents who were highly satisfied with a retailer's mobile app and / or site said they were 30 percent more likely to buy from that retailer online and 30 percent more likely to buy offline.

A substantial number of the respondents — 40 percent — said that they have not used their phone to access either a retailer's e-commerce website or mobile website or app. However, this number is down from 48 percent last year, according to the report.

The researchers conclude that mobile websites and apps "are a must-have for retailers" and it is hard to argue with that statement. A string of reports, surveys and analyses in recent months reach the same conclusion.

The real question seems to be how quickly mobile websites and apps will evolve to reach a level of functionality that will rival that of e-commerce websites. One obvious factor that will influence this process is the evolution of smart phones, but some of them already have the capabilities of laptops from just a few years ago. Data security has also improved quite a bit.

Is it possible that the size of the phone's screen will turn out to be the biggest limiting factor? Or do mobile site and app developers just need some more time to figure out just what the best way is to use these new technologies? Or perhaps marketers need some time to figure out the differences between e-commerce and m-commerce? Whatever it is, chances are that we will get an answer soon enough.

Image credit: Barclays.