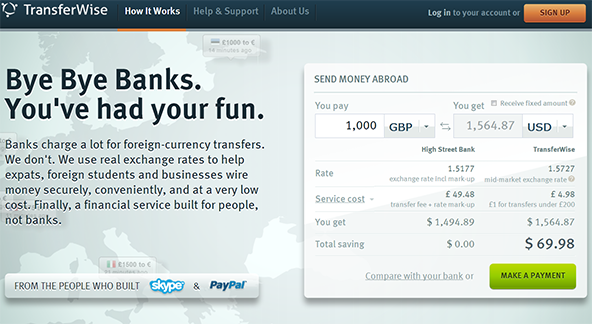 A London-based start-up is applying the peer-to-peer (P2P) principle to money transfers, The Economist reports this morning. Unsurprisingly, the start-up in question was co-founded by the first employee of Skype—the ubiquitous voice over IP service, which is arguably the most popular and perhaps the most widely used P2P-based service in the world.

TransferWise, as the start-up is called, aims to make it cheaper for people to transfer smaller amounts of money internationally and the way it does that is by effectively forgoing profits from currency exchange fees, which, as the company justly claims, make up the bulk of the traditional money transferers' profits. So I looked at the start-up and really liked what I saw. TransferWise delivers real value to its users, is transparent about its pricing structure and has made the transaction process about as straightforward as it could be. Yet, there is a challenge to the start-up's progress, whose solution, as The Economist points out, may be beyond the company's reach.

What Is TransferWise?

Here is what you would need to do to complete a TransferWise money transfer:
To initiate the transfer, you would go the start-up's website, enter the amount you would wish to send, fill in the recipient's bank account details and provide some additional personal information, as required by law.
Then you would need to make a domestic bank transfer in your currency to TransferWise's bank in your country. The start-up does not provide information about how much that would cost, simply because they don't know how much your bank would charge you. However, the company is correct in in stating that domestic online transfers in the countries in which it operates are usually free or very cheap.
Once the money arrives in TransferWise's bank, it is converted into the recipient's currency within two days and transferred into the recipient's bank account.

That's it. At present, senders can choose from either G.B. pounds or euros and the recipients can receive the funds in U.S. dollars, Polish zloty, Swiss francs, Danish krone, Swedish krona or Norwegian krone.

The Economist tells us that TransferWise transferred £10m ($16m) in 2011—its first year of operation—and it had reached the £50m mark in December of last year. Then the author gives us some details about the start-up's customers:
Its 10,000-odd customers are spread across Britain, Switzerland, Poland, Sweden and Denmark. They are mostly young working professionals who either have a mortgage to pay or a family to support back home. Retirees with a second home abroad and startups with foreign subsidiaries also use the site.

You can send as little money as you wish and the upper limit is 100 000 GBP / EUR, although the start-up's website says that "[i]f you wish to transfer a sum that exceeds the current limit, we'll be happy to assist you with that."

Why Is TransferWise Better?

The start-up's cost structure is very simple. Here is what the website tells us:
Payments up to 200 GBP/EUR cost you just a flat fee of £1 or €1. For larger payments we charge just 0,5% of the payment amount.

To that, you would need to add whatever fee your own bank may charge you for the initial transfer of the funds into TransferWise's bank account. For currency conversion purposes, the company uses the mid-market exchange rate and that is what separates the start-up from its traditional competitors. Currency is bought at a "buy rate" and sold at a "sell rate". The mid-market rate is the mid-point between these two rates. In other words, a bank would always convert your money using an exchange rate that is less advantageous than the one used by TransferWise and the larger the amount, the greater the cost difference would be.

Here is what co-founder Taavet Hinrikus has to say on the subject of currency exchange rates:
There's only one REAL exchange rate, and that's the mid-market rate, which is tweaked and bumped up by banks and brokers to suit their purposes. Until now, consumers had very little say in the matter, as the real exchange rate was never available. But thanks to companies like us, all that is changing. Not only do we exchange your currency using none other than the mid-market exchange rate, we also tell you upfront what our transaction fee is.

However, it is a bit more complicated than that.

The Challenge

The thing is that TransferWise can only do what it does (or at least do it profitably), so long as it is able to avoid using banks for currency conversion purposes. Here is how The Economist frames the challenge:
A bigger problem is scaling up in countries that have fewer immigrants than ??migr??s. The demand for converting Indian rupees, say, into pounds may be less than the demand the other way.

So, if the start-up runs out of funds in a particular currency, it would need to purchase the amount it needs, presumably at the higher buy rate. In the above example, there would be many more users depositing pounds in the start-up's U.K. account to be sent to India and disbursed in rupees than users depositing rupees into the company's bank account in India to be sent to the U.K. and disbursed in pounds. Of course, at present TransferWise does not support rupees, but you get the point. And The Economist goes on to conclude that:
That means you still need a bank to stand in the middle of a transaction. Not "bye-bye", then, but a possible black eye.

It is difficult to disagree with that assessment. The thing is that achieving large scale, a solution to many a start-up problem, in this case would not solve the issue, as it could not correct the imbalance.

The Takeaway

As I said, I really liked TransferWise and believe that there is a huge demand for what they are offering. The international money transfer business is still dominated by big financial institutions and is not really designed for transfers of small amounts of money. That makes it ripe for disruption and this start-up's transparent and user-friendly fee structure may well go some way toward achieving that objective. I wish them the best.

Image credit: TransferWise.