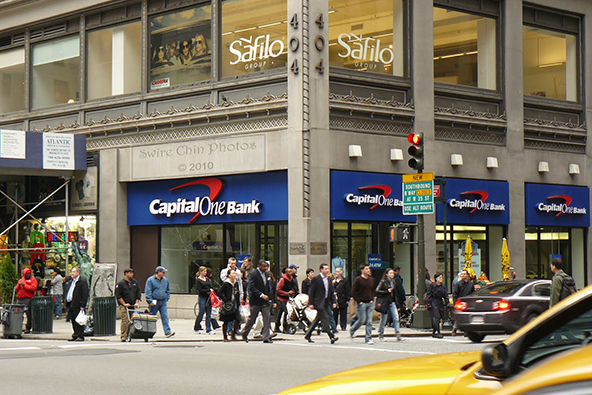 It's been a whole week since this event took place and I have somehow managed to ignore it quite successfully. It's not that I haven't been paying attention, but there were all kinds of much more glamorous things going on that kept getting in the way. I mean, how can a $7.25 billion settlement heralded as a huge victory by the lawyers who negotiated it, only to be roundly rejected by their own clients a few days later, not take precedence? And how could I resist saying a word or two about Visa's decision to raze rivals' ATMs at the London Olympic venues, while declaring that its actions would in no way inconvenience cardholders?

Yet, though not nearly as entertaining as either of the above events, the decision of the Consumer Financial Protection Bureau (CFPB) to levy a fine of $25 million on Capital One and force the bank to refund $150 million more to its cardholders was arguably the most important industry development of this past week. On top of that, another government agency has fined Capital One additional $35 million for the same offense.

So we've now learned that the bureau is not afraid to actually take enforcement actions, and pretty strong ones at that. More importantly, the banks now know that, too.

Capital One Misleading Consumers into Paying for "Add-on Products"

The CFPB found Capital One to have engaged in deceptive practices employed when consumers were calling the bank's call centers to activate their new cards. These practices involved getting consumers to sign up for services like payment protection and credit monitoring. I'm sure most of you have been offered such things when you have activated your own cards, whether issued by Capital One or by some other bank. So what's new? Well, according to the CFPB, Capital One cardholders were:
Misled about the benefits of the products: Consumers were sometimes led to believe that the product would improve their credit scores and help them increase the credit limit on their Capital One credit card.
Deceived about the nature of the products: Consumers were not always told that buying the products was optional. In other cases, consumers were wrongly told they were required to purchase the product in order to receive full information about it, but that they could cancel the product if they were not satisfied. Many of these consumers later had difficulty canceling when they called to do so.
Misled about eligibility: Although most of the payment protection benefits kicked in when consumers became disabled or lost a job, some call center representatives marketed and sold the product to ineligible unemployed and disabled consumers. Despite paying the full fees, they could not get all the benefits of payment protection; some later filed claims that were denied because their "loss" (e.g. loss of job or onset of disability) occurred prior to enrollment.
Misinformed about cost of the products: Consumers were sometimes led to believe that they would be enrolling in a free product rather than making a purchase.
Enrolled without their consent: Some call center vendors processed the add-on product purchases without the consumer's consent. Consumers were then automatically billed for the product and often had trouble cancelling the product when they called to do so.

Well, if Capital One was doing all these things, it has richly deserved the punishment that has now been meted out.

Capital One to Pay $210 in Penalties and Refunds

To take enforcement action against Capital One, the CFPB has teamed up with the Office of the Comptroller of the Currency (OCC). Here is what the two agencies have decided that Capital One should pay in fines and refunds:
$150 million to be paid back to the estimated two million consumers harmed by Capital One's deceptive practices.
$35 million civil money penalty, assessed by the OCC.
$25 million penalty payment to the CFPB's Civil Penalty Fund, which was established by the Dodd-Frank act to be used for payments to victims of financial wrongdoing.

So that's not chump change, but the better news is that Capital One has promised to stop marketing these add-ons.

The Takeaway

I hate it when I call my card issuer and they try to upsell me on some service or another. And payment protection and credit monitoring are certainly everyone's favorites. However, the reps I've spoken with have always been able to take a "no" for an answer, eventually, so I haven't had any issues, other than getting mildly annoyed every time one of them gets overly zealous at what they were doing. Moreover, at least in my experience, such sales pitches have been getting increasingly rare over the past couple of years and I hope that in the wake of this Capital One decision they will get rarer still.

Image credit: Luxuryrentalsmanhattan.com.