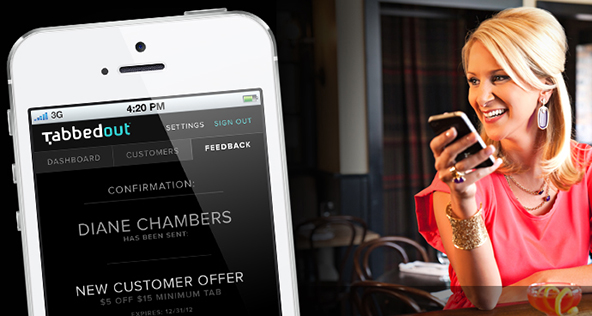 PayPal is continuing its aggressive expansion into physical retail and is developing multiple strategies for attack. Last month the payment processor made a splash with its entry into Home Depot and its plan to subsidize the processing costs of retailers who agree to add the PayPal option to their point-of-sale (POS) terminals. Now we learn that the company has found a possible entrance into another region of the vast brick-and-mortar territory.

The news is that PayPal has partnered with Tabbedout, an Austin-based start-up that enables its users to pay their restaurant and bar tabs through their mobile phones. Tabbedout is currently only accepted at a few hundred locations and we don't know whether in the long run the start-up will succeed or will fizzle out, but I like what it does and I think it is worth a look. Moreover, whatever the start-up's ultimate fate, I think that the concept behind it will eventually gain acceptance and evidently PayPal is at least admitting that possibility.

What Is Tabbedout?

Tabbedout is an app (available for iPhones and Android-based devices) that enables users to close their restaurant and bar tabs (hence the start-up's name) directly from their phones and without the help of the waiter or bartender. Similarly to Square, once the transaction is completed, an electronic receipt can be emailed to the user. Oh, and the Tabbedout guys have created this really cool video to show us why we need their service (I'm convinced!):

Looking into Tabbedout, I found the parallels with PayPal's own service inescapable. The underlying concept is pretty much the same, only the technology is different. Just as you would do when setting up your PayPal account, you would store your credit card information into your Tabbedout account. Then, when it's time to make a payment, you would log in, choose the card you want to use and hit the pay tab. This is precisely what you would do to complete a PayPal payment.

Of course, the app also comes with the inevitable nowadays, and cool, social features. Tabbedout uses your phone's GPS to discover participating locations nearby and display a map view and directions. It is integrated with Facebook, Twitter and Foursquare to let you share your Tabbedout activities with your friends and let them know where you are at the moment and where you are headed next. Especially conveniently for bars and restaurants, the app makes it possible for users to split bills with their friends and pay the way they want: either through Tabbedout or some other way. So this is a really cool app!

What's in It for PayPal?

Cool as it is, Tabbedout is only supported at "more than 400 locations nationwide." That is chump change for PayPal and one can make the argument that the processor is only doing it because it doesn't really cost anything. So it would be nice if the app gained popularity, but if it didn't, well, it didn't hurt trying. That may well be the case, but there are probably hundreds of mobile payment start-ups and PayPal is not partnering with all of them.

That brings me back to the similarity between the start-up's payment processing concept and PayPal's, which couldn't have escaped the notice of the processor's executives. Seeing a mirror image of their company's service applied to a transaction setting (brick-and-mortar) in which they are acutely interested, PayPal's bosses would have been immediately captivated by the possibilities. And one of these possibilities may well turn out to be to acquire the start-up.

The Takeaway

It is clear what Tabbedout gets out of a partnership with PayPal. Yes, it is the additional payment option, but the extra publicity is the most valuable benefit the start-up is getting out of the deal. That and the possibility of being acquired. Of course, the Tabbedout guys may well turn out to be much more ambitious and decide to go it alone, but we'll find that out in due time.

For PayPal, this partnership is just another stab at the brick-and-mortar checkout. It is nowhere near as important for the processor as the Home Depot deal, but if successful, it would add another weapon into PayPal's arsenal. And if it acquired Tabbedout, the processor may well decide to make it unavailable for the competition. So really, why not give it a try?

Image credit: Tabbedout.com.