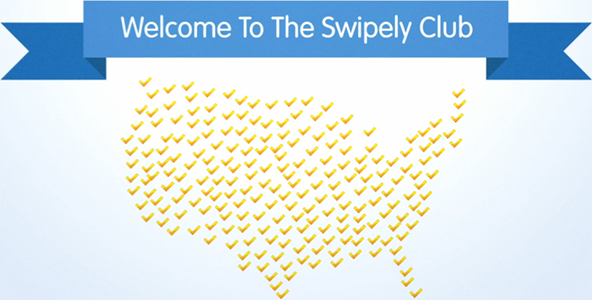 Swipely, a social shopping network, is the latest entrant in the increasingly crowded field of social networks who offer users the ability to share their credit card purchases with friends, we learn today from ReadWriteWeb's Adrianne Jeffries. After several months of private beta testing, today Swipely opened its doors for everyone.

Given the track record of similar services in the recent past, Swipely has its work cut out for them. To say that its competitors have had a hard time both convincing a skeptical public and protecting users' personal information would be a huge understatement.

You may remember, for example, what happened with Facebook's ill-fated Beacon project. It was supposed to "help people share information with their friends about things they do on the web," according to Facebook's founder Mark Zuckerberg. A month after Beacon's release, Zuckerberg was already apologizing for making "a lot of mistakes building this feature" and simply doing "a bad job with this release." Eventually, Beacon was shut down and Facebook had to pay $9.5 million to settle a lawsuit alleging privacy violations.

Earlier this year, Blippy, another start-up that offers users a platform to share credit card purchases with others, accidentally revealed the credit card details of some of its users on Google. As announced on Blippy's blog:
In early February, due to a technical oversight on our part, some raw transaction data appeared within the HTML code on some Blippy pages for about half a day. Raw transaction data is the messy one-line sentence that appears on a bank or credit card statement.

Half a day of course was all the time needed to cause the trouble:
Google had crawled and indexed a portion of Blippy's pages. Even though the sensitive information was hidden in the HTML and not visible in plain view, the Google crawler observed it and recorded the information to put into its search index. Google effectively took a snapshot of Blippy during that half day period.

Undaunted, Swipely is going ahead with its own service and says it has learned from others' mistakes. Here is how it works, as explained by Jeffries:
Swipely collects purchase information from more than 4,000 banks and credit card companies, using the Localeze database to match transaction codes to physical locations. Users can also forward email receipts to Swipely or install a Gmail plugin that pulls receipt data automatically.


You can broadcast all your purchases, all your purchases from a specific store, or pick individual purchases to show on Swipely, Twitter and Facebook.

…

The data is used to target users for ads and discounts. Users can also search for all the comments for a store or item, similar to user reviews on a site like Yelp or Amazon.

Swipely founder Angus Davis acknowledges the obvious – that convincing people to trust them with their personal information will be hugely challenging. His major selling point seems to be Swipely's potential to save users money. Whether people will buy into it remains to be seen.

Image credit: Swipely.