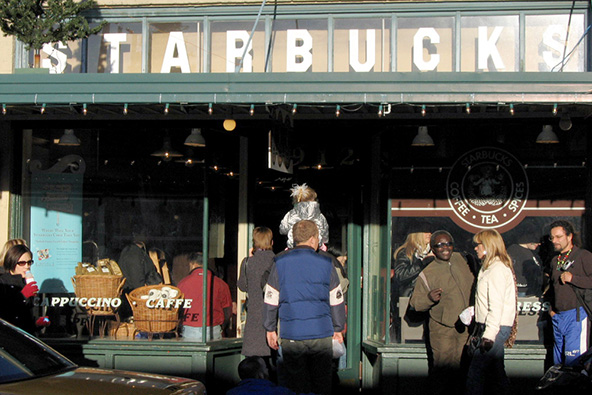 Starbucks has expanded its mobile payments pilot to include more than 300 stand-alone stores in New York City and parts of Long Island, the company announced this week. The coffee chain launched the mobile payments test just over a year ago when it equipped 16 of its stores with the wireless technology. Earlier this year, Starbucks expanded the pilot program by adding more than 1,000 outlets located within Target stores.

The service, called Starbucks Card Mobile, allows customers to pay for their coffee by displaying a bar code on their smart phone, which is then read by a 2-D scanner linked to the point-of-sale terminal.

The Starbucks Card Mobile app is currently available to most BlackBerry models, the iPhone and the Ipod Touch. Starbucks has calculated that these devices are used by 71 percent of Starbucks smart phone-carrying customers. An Android version could be coming soon.

The app links the customer's phone to his or her Starbucks Loyalty card, which is a prepaid card. Once the funds are used up, the card can be reloaded through the Starbucks Card Mobile app or through PayPal's new Mobile Express Checkout service. Additionally, the app allows customers to check their My Starbucks Rewards status, or find nearby Starbucks stores.

Almost 20 percent of all in-store transactions are now paid with the Starbucks card, the company said. The chain expects customers to load more than $1 billion on their Starbucks Cards this year. The company said that card sales were up by 17 percent in the third quarter over last year and reloads on existing cards increased by more than 59 percent during the same period.

We have written extensively about the multitude of mobile payments solutions that have been cropping up all over the place over the past year or so. The number of technologies being tested is almost as great.

Starbucks, however, is counting mostly on technologies that have been around for decades, rather than going for something more headline-grabbing. They may have a point.

Firstly, the payment method is a prepaid card. People know what they are and how to use them. Apparently they also like them, judging by the above statistics.

Secondly, the payment acceptance technology is rather commonplace. That's not necessarily a bad thing, either. The scanner may not be quite as edgy as, say, a near-field communication (NFC)-enabled POS terminal, but it has its advantages. It can be found everywhere and it has been proved to work, securely. Moreover, there just aren't that many NFC-enable phones out there anyway.

But is this the way mobile payments should go forward? Would you want to have to use a separate app for each retailer and provide sensitive personal information over and over again? It seems to me that a mobile payments service that can be used everywhere would be a much more logical solution.

Image credit: Wikimedia Commons.