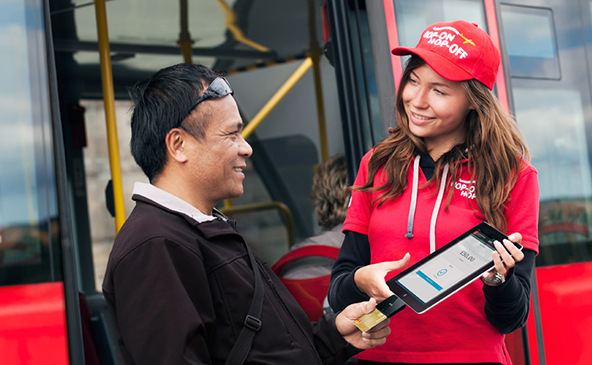 Following a six-month test pilot, iZettle — the best known Square copycat in Europe — has officially launched in the U.K., the Stockholm-based start-up tells us on its website. The launch is a joint affair with Everything Everywhere (EE) — U.K.'s largest mobile network provider, which operates under the T-Mobile, Orange and EE brands and which will be selling the iZettle card readers in its physical outlets and through its "telesales channel", we learn.

By all appearances, iZettle has been doing quite well in the European markets where it operates and evidently the U.K. test has been at the very least successful enough to warrant a full-scale launch. What makes the start-up's success all the more impressive is the fact that the processor has managed to survive a ban on accepting Visa payment cards and has found a way to regain the biggest card network's favor. Well, it should be pointed out that as yet Visa is not exactly madly in love with iZettle, but more on that in a moment. First, let's take a look at the Swedish start-up's latest offensive.

iZettle in the U.K.

iZettle launched its U.K. pilot program in mid-May. It enabled a select group of users to take credit and debit cards for payment through their smart phones. At the time, the service was only compatible with iPhones and iPads and it did not support Android-based devices. Moreover, users could not take Visa cards. Now that iZettle is available to all British consumers, as well as businesses, compatibility is extended to Android-based devices and the line-up of accepted cards does include Visa, along with MasterCard, American Express and Diners Club (Discover cards are accepted wherever Diners Club is accepted).

The start-up charges no set-up fees and no monthly fees. Users pay £20 for the card reader, but get a voucher for the same amount, which is applied against future transaction fees, and are charged 2.75 percent of the amount of each payment. Unlike Square and its U.S. clones, iZettle appears to charge no premium for key-entered payments, or at least I wasn't able to find anything stating otherwise. Now, as we have previously been accused of not emphasizing this point strongly enough, let me mention that iZettle is designed to process EMV (chip-and-PIN) card transactions, because that is the dominant standard in the U.K. But this is a minor technical aspect of the service and one that does not provide iZettle with much of a competitive advantage. See, if Square decided to enter the European market, which they eventually will, devising an EMV-compliant card reader would be the least of their worries. Here is a cool video of iZettle in action:
iZettle vs. Visa
Now let's get back to the issue with Visa. Back in late July, iZettle CEO Jacob de Geer told us that
based on a policy decision by Visa Europe, we have no choice but to stop processing Visa card payments in Denmark, Finland and Norway on August 1.

At the time, Visa acceptance was not an option in the U.K. as well, but users could take the giant network's cards in the other markets where the start-up was operating, for example in Sweden. Unsurprisingly, de Geer did not offer any explanation for Visa's decision, nor could we make any sense of it. And yet, we couldn't help but notice that only a month before Visa's iZettle ban, rival MasterCard had made a sizeable investment in the Swedish start-up. For its part, Visa had backed Square a year earlier. And even as Visa has now relented, it hasn't exactly embraced the start-up. BBC's Rory Cellan-Jones has attended an iZettle launch event and has some interesting observations to share with us:
And what people couldn't help noticing at the iZettle launch event was that paying with Visa was a lot harder than with other cards. Whereas with Mastercard or American Express the consumer just presents their card and signs, Visa users had to hand over their phone numbers and tap in security details on their own phones.


It seems that Visa is not too keen on the "chip 'n' signature" security that iZettle uses, even though the Swedish company says it has a lower fraud rate than for chip and pin transactions. When I asked Visa about the issue, the company sent me this statement: "We're continuing to work with iZettle to develop a fully Visa Europe compliant mobile point of sale solution."

Now, I ask you, why would MasterCard, American Express and Diners Club all deem iZettle a sufficiently "compliant mobile point of sale solution" and only Visa would not?

The Takeaway

So iZettle has had a bumpy ride so far and yet it has managed to survive and keep growing. De Geer tells us that his company's service is now used by more than 75,000 small businesses and individuals and the U.K. launch will surely increase this total quite substantially. More importantly, iZettle is now much better positioned to fend off serious competition, so that if or when Square or PayPal decided to enter the European market, they would have to fight really hard their way in. Then again, one these U.S. processors could simply acquire the pesky Swedish rival.

Image credit: iZettle.