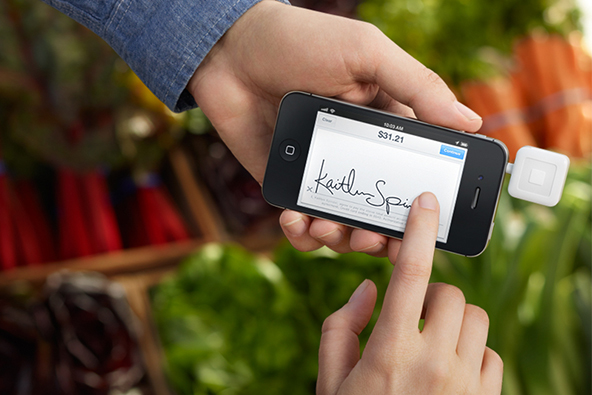 Back in 2010 at UniBul we were thinking hard about entering the then-fledgling mobile payments field with a service that would compete directly with Square, which had just ended its beta testing and had gone live. We didn't want to just copy what Jack Dorsey had done, partly because even then it was obvious that he had done it very well, but mostly because we had no chance of raising even a fraction of the millions Dorsey had raised to develop and market his service. No, in order for a competitor to stand a chance, it would have to come up with a genuinely unique approach and one that would offer an advantage over Square's, we thought.

Well, since the very beginning we thought that one obvious way to improve on Square's offering was to get rid of the card reader. After all, this small piece of plastic is easy to forget or lose, especially if you are a casual user. Moreover, there was a ready replacement for the reader — the phone's camera. You could just take a picture of your customer's credit or debit card and then use an app to recognize the card's number, expiration date and the cardholder's name and have the transaction processed. The technology existed, so all we had to do was build the app and start looking for money. In the event we weren't able to get the funding we thought we needed to make this work and abandoned the idea, but yesterday I stumbled on the project outline I had written and thought I'd share it with you. Why? Well, three years on, my little "battle plan" reads more like a case study of what makes Square as successful as it is. So here is how this niche of the mobile payments industry looked to me back then.

The Outline of a Mobile Payments Project

UniBul Mobile Payments will enable American consumers to accept credit cards for payment through their smart phones. Our service will satisfy all of the following requirements:
Simple to use. Users will immediately understand how the service works.
No hardware required. Users will need only their smart phones to accept payments.
No monthly fees. Users will not pay any monthly service fees. Users will only be charged processing fees, as stated in our Terms of Use, whenever they use our service to accept payments.
No long-term contract. Users will be allowed to cancel their service at any time, without any penalty.
Transparency of terms and conditions of use. Users will be given a complete and clear statement of all terms of the contract, before signing up for our service. The Terms of Use will be accessible from all pages of our website.
Data security. Sensitive account information will be protected by the best available tools. User information will not be shared with third parties.

Our payment acceptance process. UniBul will enable users to accept credit card payments with their smart phones. Payments will be processed through the following stages:
User logs into her UniBul account from her phone and takes a picture of a customer's credit card.
The picture is transmitted to UniBul's server.
The server "reads" the cardholder's name and the account's number and expiration date from the card and sends the information back to the user's phone.
The user receives the information as a filled-in payment form on her phone and is prompted to enter the card's security code into it.
The application then produces a transaction receipt for the customer to sign on the phone's screen and complete the transaction.
The application then sends the transaction receipt to the customer via SMS or email.

The picture of the credit card will not be stored on the phone. The application will securely transmit it to the company's server for processing and immediately delete it from the phone's memory.

Alternatively, users will have the option to key-enter their customers' account information into the payment form through a Virtual Terminal. The Virtual Terminal will be hosted on our server and will be available for use on the company's regular website, as well as on the mobile website.

Our pricing. We will be using a two-tiered pricing model:
Picture-based payments will be processed at a rate of 2.75% of the amount plus 15?ó per transaction.
Key-entered payments will be processed at a rate of 3.50% of the amount plus 15?ó per transaction. A key-entered transaction will be processed when the user accepts a payment either in a non-face-to-face setting or is having technical issues with her phone.
There will be no fixed monthly fee and no long-term contract.

For each transaction, the company will be paying fees to the Associations of Visa and MasterCard in the range 1.80% – 1.95% of the sales amount plus 10?ó per transaction. Discover's fees will be similar and American Express' will be higher. We will pay our processing banks about 0.05% of the transaction amount.

Who will be using our service? Similarly to PayPal, our service will be designed primarily for consumers and small businesses.
Consumers. We expect that our service will be used by consumers for transactions, such as collecting money for events, dues, donations, fundraisings, rents, Craigslist sales, professional services, splitting bills, etc.
Small businesses.Our service will be particularly well-suited for the following types of small businesses:

Businesses that currently accept credit card payments through wireless terminals for sales at customer locations, street fairs, industry gatherings, conferences, etc. UniBul's biggest advantage over the existing model is that our service will be substantially cheaper. Wireless terminals typically cost between $500 – $1,000, although some processors offer them for free, provided you sign a long-term contract. Whether the terminals are free or not, there is a monthly wireless service fee of anywhere between $20 – $40 for the use of the carrier's network and at least one other monthly fee of around $10. UniBul will charge no such fees and its clients will not have to carry around yet another piece of hardware.
Delivery services that currently accept cash at customer locations:

Deliveries to consumers, such as food deliveries.
Deliveries to businesses. These include vendors delivering various items to convenience stores.

Very small operations, which do not qualify for a merchant account or will not pay for one, but would be taking cards, if the terms were acceptable. Street vendors, plumbers and other types of contractors immediately come to mind here.

In all, there are millions of potential users (25 million of them, by Jack Dorsey's count).

Why will consumers and businesses use our service? In order for us to be successful, we will need to convince consumers that our service provides great value, adequately protects personal information and our fees are exactly as advertised.
Great value. Our platform will enable users to accept payments from their smart phones, without the need for any hardware. All you will need is a smart phone to take a picture of your customer's credit card and a data plan to connect to our servers. We will only charge processing fees and there will be no fixed fees, which means that if you don't use our service, you don't pay anything.
Data security. We will only use SSL-encrypted connections to transmit transaction information. All data processing will be done on our secure servers. Pictures will be automatically deleted from our clients' phones, after transmission to our servers.


Consumers may be uncomfortable with having pictures taken of their credit cards. It is essential that we communicate clearly that a picture of a card actually contains much less data than the card's magnetic stripe. For example, our pictures will not contain the card's security code, which is located on the back of the card. Security codes are required for processing card-not-present transactions (the only transaction type a criminal can participate in without being in a physical possession of the card), so the card will be useless without it.

Clear fee structure. Our fees will be exactly as stated above and will be listed in our service agreement. There will be no monthly or annual fees of any kind. Clients will not be charged an annual PCI compliance fee.

Market potential. The volume of mobile payments in the U.S. is predicted to balloon to $214 billion in 2015, up from just $16 billion in 2010, according to a report from the Aite Group, a research and advisory firm. Aite's researchers forecast that the volume of mobile payments in the U.S. will be growing at a compound annual growth rate of 68 percent between 2010 and 2015.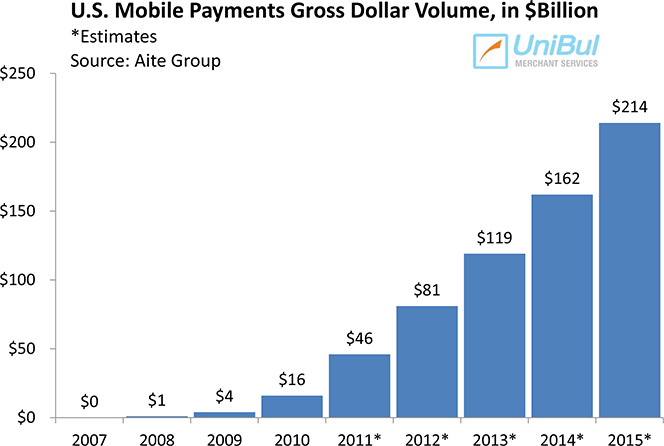 UniBul will be competing in the second-biggest sector of the mobile payments market — mobile bank card acceptance. According to Aite's research, the total volume of bank card payments (payment cards issued by banks, e.g. credit, debit, check cards, etc.) will grow to $54.8 billion by 2015. The top five markets by projected volume are shown in Table 1 below.
Table 1 — Projected Top Five Mobile Payments Markets by Volume in 2015
| | |
| --- | --- |
| Mobile Payments Type | Volume |
| Bill Payments | $82 Billion |
| Bank Card Acceptance | $54.8 Billion |
| E-commerce over Mobile Phones (M-Commerce) | $27.3 Billion |
| Point-of-Sale Payments (NFC Payments) | $22.6 Billion |
| Person-to-Person Transactions | $13.8 Billion |

What do we want to achieve? Our goal is UniBul Mobile Payments to become the top provider of mobile bank card acceptance services in the U.S. by 2015, with a market share of at least 25 percent. Based on Aite's forecasts, that would translate into processing volumes of $13.7 billion in 2015.

How will we be making money? Our revenues will come solely from processing fees, paid by our clients each time they accept a payment.

We expect that, on average, most of our users — about 80% of the total — will be consumers accepting payments twice a month, with an average ticket of about $30 (based on a study by Javelin, a research and consulting company, showing that the majority of mobile P2P transactions initiated in the U.S. fell in the $10 to $50 value range). However, most of our small business clients, about 15% of the total, will be using their accounts at least twice a week and the average ticket will be about $180.00 (based on the average transaction amount in our own portfolio). About a quarter of our small business clients (again based on data from our existing portfolio), about 5% of the total, will be using their accounts as often as 5 times a day, with an average ticket of $180.

We expect that our monthly processing volumes for every 10,000 users will be as shown in Table 2 below.
Table 2 — Monthly Volume per 10,000 Users
| | | | | |
| --- | --- | --- | --- | --- |
| Account Type | Consumer | Light Business | Heavy Business | Total |
| Number of Users | 8,000 | 1,500 | 500 | 10,000 |
| Transaction Count, per User | 2 | 9 | 150 | 104,500 |
| Average Transaction Amount, in $ | 30.00 | 180.00 | 180.00 | $157.03 |
| Volume, in $ | 480,000.00 | 2,430,000.00 | 13,500,000.00 | 16,410,000.00 |

Our profit from picture-based payments will be 0.85% of the sales amount plus 5?ó per transaction, on average. Our profit from key-entered transactions will be 1.55% of the sales amount plus 5?ó per transaction, on average. We expect picture-based payments to make up about 65% of the total (based on data from our existing portfolio). Our monthly revenue will be as shown in Table 3 below.
Table 3 — Monthly Revenue per 10,000 Users
| | | | |
| --- | --- | --- | --- |
| Transaction Type | Picture-Based | Key-Entered | Total |
| Volume, in $ | 10,666,500.00 | 5,743,500.00 | 16,410,000.00 |
| Profit Margin, in % | 0.85 | 1.55 | – |
| Transaction Count | 67,925 | 36,575 | 104,500 |
| Revenue per Transaction | $0.05 | $0.05 | – |
| Revenue, in $ | 94,061.50 | 90,853.00 | 184,914.50 |

Growth forecasts. We expect that, by the seventh month of operations, 10,000 consumers will be signing up for our service per month. By the end of our first year, we expect to have a total of about 100,000 users. By the end of our second year, we expect the numbers to be 60,000 and 500,000 respectively.

By the end of our fourth year of operations, we expect that our user base will have grown to 8.5 million and monthly profit will be about $157.2 million on processing volumes of 13.9 billion.

What kind of technology will we use? We will use optical character recognition (OCR) to "read" the credit card information from the pictures taken by our clients. The data processing will be done on our servers. Neither the picture, nor the account information will be stored on our clients' phones.

How will we market our service? We will be marketing our service through inbound marketing. Our primary marketing tool will be our blog, which will be updated at least once a day. We will be producing videos and will be organizing webinars and live events on a weekly basis and will be actively promoting them on Twitter and Facebook. We will be actively looking for guerrilla marketing opportunities for greater media exposure, similar to what WePay, a start-up that competes with PayPal, recently did quite successfully.

Who will we be competing against? UniBul Mobile Payments will be competing against companies that facilitate the processing of mobile bank card payments. The industry is still in its infancy and there is no company that has established itself as the dominant player in this segment of the market, although there are plenty of contestants already. Square appears to have taken the early lead, having signed up 50,000 users during the beta testing of its product, which lasted until the end of October, and is reportedly shipping 10,000 card readers per month. Other competitors include Intuit / Mophie, and VeriFone PAYware. All of these services facilitate payments by plugging a card reader into the user's phone and having the customer's card swiped through it.

Our edge. Our platform will enable users to accept payments from their smart phones, without the need for any hardware. All you will need is your smart phone. Our competitors, on the other hand, rely on swiping cards through physical readers plugged into the phones. As convenient as it is to be able to swipe a card, the reader is one more thing that you have to remember to carry on your person and be careful not to lose or misplace it, which, given that the service is designed for a relatively infrequent use, is likely to occur quite often.

UniBul, like Square, will not be charging monthly fees and will not require users to sign long-term contracts. Unlike Square, our service requires no hardware, other than a smart phone.

Intuit / Mophie has a monthly fee of $12.95 and charges $179.95 for the card reader, which most consumers will find unacceptable. VeriFone PAYware requires that users first set up a merchant account, which is a service that is only available to businesses and typically comes with various monthly fees and a two-year commitment. Additionally, the VeriFone PAYware's reader costs $144 – $150.

The Takeaway

Many of you will recognize in the above description a service that actually did come to life. Card.io appeared in early 2012, but could not make much of a headway and was eventually swallowed by PayPal, for an undisclosed amount. Apart from being a bit too late, the start-up was woefully undercapitalized to take on Square and the other heavyweights, which by that time had cornered the market.

So how do I feel about this three years on? Well, I believe that it was a good idea, but the only way we could have stood a chance against Square would've involved spending huge amounts on marketing. Otherwise, Square would've buried us, as it has been doing with its real-world competitors for three years running. And we couldn't find the money. Instead, we doubled down on the high-risk end of the merchant spectrum and that strategy has worked rather well for us.

But I hope that the above analysis of the mobile payments industry as I saw it three years ago will help you see why Square made so much business sense from the very beginning. Since then, the processor has been focused solely on establishing its dominance and the annihilation of its clones. So far that strategy has worked and I expect that when the dust finally settles, Square will be the undisputed champion of the world of mobile payments.

Image credit: Square.