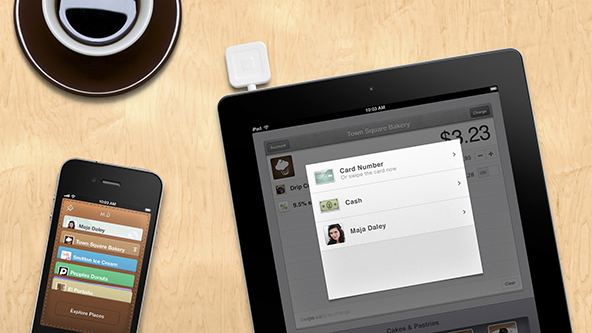 Square, the fastest-growing mobile payments company in the U.S., has just closed its latest financing round, the start-up told us in a short announcement on its website. No details are provided, but according to various sources the company has raised $200 million at a $3.25 billion valuation. By comparison, in its previous funding round last year, Square had raised $100 million at a valuation of $1.6 billion. Since then, the company's processing volume has grown exponentially and its staff has more than doubled.

The start-up plans to use the money to bankroll an international expansion later this year, we are told. That would be the first such campaign for the company and it will be very interesting to see how successful it will be. Unlike the virgin market in which it plowed when it launched its service in the U.S. in October 2010, when it goes to Europe later this year, Square will be facing off against a number of start-ups, such as iZettle, which copied its business model and managed to achieve some scale. For the first time ever, Square will find itself in the position of having to fight its way to the top, rather than defending its leadership. Well, I think that Jack Dorsey and company stand a very good chance to do to the foreign opposition exactly what they did to the domestic one.

Square by the Numbers

Square has grown huge. The company tells us that it now processes more than $8 billion dollars annually, up from over $1 billion only a year ago. Over the same period, the start-up's workforce has grown from 150 employees to over 400. And it's worth noting that these numbers were achieved with a customer base made up almost exclusively of consumers and very small businesses, such as food stand operators. Generating $8 billion in processing volume from such a client base is an achievement of some note.

But Square is no longer satisfied with signing up millions of one- or two-person types of businesses. The start-up's coming of age was marked when it landed a deal with Starbucks, which made it the coffee chain's exclusive payment processing provider. It will take some time to get all of Starbucks' more than 7,000 U.S. locations equipped with Square-powered iPads, but when the transition is completed, Square will be processing more than $6 billion worth of latte and cappuccino payments, which will almost double its current volume.

Square in Europe

The WSJ's Lizette Chapman is unsure about Square's prospects in Europe. Having Starbucks' Howard Schultz on board, with his experience in running a global company should help, she says, however
unlike charging people to run hot water through coffee grinds, mobile payments is a wee bit more complicated.


Differences in currency and language, along with varying financial and legal regulations, all make entering new markets trickier than simply expanding the U.S. footprint.

Chapman goes on to remind us that Square's European competitors, such as iZettle, Payleven and SumUp, have been operating in their home countries and elsewhere and "have systems in place to scale again in fresh geographies". However, as she acknowledges, these companies are much smaller than Square and have raised much less capital than its U.S. competitor. Moreover, at least one of them – iZettle – hasn't managed to get its system compliant with industry regulations and was recently punished by Visa, which banned it from processing Visa payments in three European countries. Whatever you may think of this ban, and at UniBul we think it's excessive, Square is unlikely to have to deal with similar issues, not least because Visa is one of its early investors.

The Takeaway

Back in May, when we reviewed iZettle and mused about the Swedish start-up's chances for survival in a hypothetical match-up against Square, we weren't too optimistic about the European processor's prospects:
So it is clear that iZettle is still very much a work in progress. Apart from the pricing issue, the start-up is yet to add the biggest payment card brand to its list of supported cards and to enable payment acceptance on Android-based devices. These are all significant shortcomings and need to be addressed just as quickly as possible. So far, the start-up has benefited from the lack of competition, but if Square or PayPal entered the European market tomorrow, iZettle would quickly go the way of the dodo (or MySpace or Google Buzz, if you prefer). At the end, sleekness can only take you so far.

I've seen nothing since then to make me change my mind.

Image credit: Squareup.com.