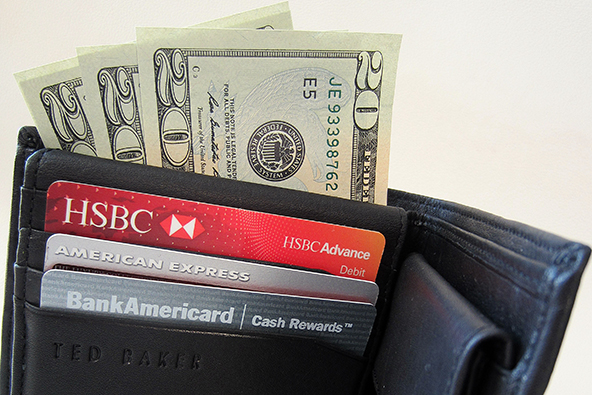 NYT's James Warren grabs our attention from the very beginning of his piece on an identity theft case that resulted in the convictions and prison sentences of the perpetrators (the ring leader received quite a lengthy one). "You would ditch your credit cards and just carry cash if you knew the tale of" the criminals, he warns us.

Well, I did read the tale and it is indeed a scary one. The criminals stole credit card information from the "clientele books" of several high-end stores, which they then used to place orders on these retailers' websites. The merchandise was then kept for personal use, sold or returned for cash or store credit, Warren tells us. Here I have to say that, if the report is correct, by issuing cash credit for returns of merchandise purchased with credit cards, the stores have been in clear violation of payment card industry rules. Credits should have been issued to the same cards that were used in the sales transactions.

So I did get scared by the story, but I also do love my credit cards. They give me cash-back, while relieving me of the necessity of having to carry cash and to fill my pockets with coins. So I'm quite reluctant to throw them away. Is there really nothing that can be done to protect ourselves against identity thieves? Well, there is actually quite a bit that we can do, as evidenced by the long list that follows. We really shouldn't allow criminals to scare us into making decisions we wouldn't make on our own free will.

14 Tips for Protecting Your Credit Card Information

1. Never share your personal information over the phone. You should also avoid, when possible, mailing out forms containing personal information, as they can be easily intercepted. Use SSL-secured websites instead.

2. Examine all of your credit card and other financial statements for any unusual activity. If you see an item that you don't recognize, contact your bank for more information.

3. Shred your credit card statements before throwing them out. Better yet, sign up for online statements.

4. Carry no more than two credit cards. If you own more than two credit cards, there is no reason to carry all of them on your person at any given time. Most of us have one primary card and another one can be used as a back-up.

5. Never carry your social security card on your person. There is absolutely no reason for doing that.

6. Only share your SSN when required by law or when absolutely necessary. An example for a necessary sharing of your SSN would be to prove your identity when calling your card issuer. However, you should never reveal it to someone who is calling you, whoever they claim to be.

7. Be creative with your personal identification numbers (PINs) and passwords. Do not make it easy for the criminals to guess them.

8. Do not carry your PINs and passwords on your person. You should memorize them instead.

9. Do not throw credit card and ATM receipts in a public trash container. At the very least, you should tear up the receipt into pieces, before throwing it away.

10. Keep an eye out for the new card you are expecting. Make a note to yourself about when the card you were approved for should arrive. If it is late, contact the issuer.

11. Do not use your card, if you suspect that the merchant cannot be trusted to protect your information. It can be difficult to know how trustworthy a retailer is, but use your common sense. If it tells you to be careful, use cash.

12. Do not use your card on e-commerce websites that are not SSL-protected. You should never make an online payment, unless the checkout pages are SSL-protected, i.e. the URL starts with "https," not with just "http."

13. Contact your card issuer immediately if your card is lost or stolen. If you don't have their phone number memorized in your phone, you will be able to quickly find it online. Even if you don't have your card number available, the issuer's representative will be able to locate it.

14. Do not give your personal information to anyone who asks for donations. Nor should you make a donation in response to a phone call. Instead, you should make your donations directly to organizations you know and trust. If unsure, check the non-profit's Better Business Bureau profile.

The Takeaway

Now, I know that many more items can be added to this list, but the most important thing you should get out of it is the need to be vigilant when handling your cards. It is true that there is not much you can do to protect the credit card information that is stored in a retailer's system. However, if you follow my advice, you will be able to quickly identify any unauthorized use of your card and alert your issuer. The transaction will be immediately reversed, you will be issued a new card, the old one will no longer be valid and that will be the end of it. You will not suffer any financial loss, nor will your credit history be damaged in any way.

So I, for one, refuse to be scared into ditching my credit cards and choose to keep using them and be rewarded for it.

Image credit: Flickr / 401(K) 2013.