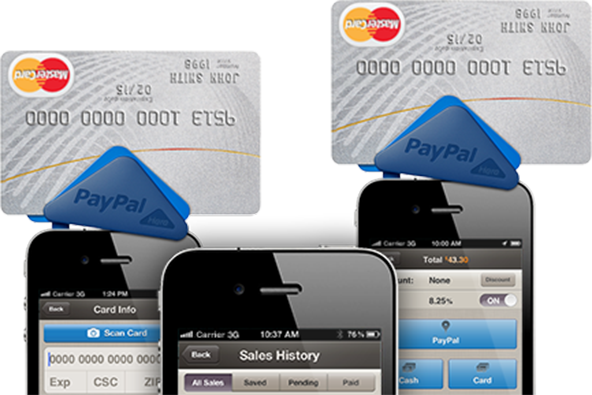 PayPal continues to grow at an incredibly fast rate for a company of its size and it now accounts for 40 percent of its parent company's revenue, according to eBay's latest regulatory filing. In the first quarter of this year, the payment processor has brought in $1.3 billion in revenue, a 32 percent increase on a year-over-year basis. And there is no reason to expect its growth to slow down.

PayPal has been very aggressive in its pursuit of opportunities in the quickly expanding and diverse field of mobile payments. Moreover, the processor has the resources to compete in several different sub-sectors of the fledgling industry at once and has not been afraid to use them. At least one of PayPal's mobile initiatives — the Square-like PayPal Here — which was launched just over a month ago, is already showing all signs of a huge success and for good reason. But this is just one element of the processor's multi-prong m-payment strategy, which is designed to appeal to both consumers and retailers. And it is already bearing fruit.

PayPal by the Numbers

We don't usually do reporting on companies' financial performances, but let me just briefly quote the headline numbers concerning PayPal's Q1 2012 performance out of eBay's quarterly report, just to give you an idea of the type of growth the processor is experiencing.

Payments revenue grew by 5.6 percent on a quarterly and 31.9 on a yearly basis. Revenue from transactions increased by 5.1 percent and by 29.0 percent, respectively. Total payment volume (TPV) rose by 1.5 percent and 22.5 respectively, respectively.

PayPal continued to add more than 1 million new accounts per month in the first quarter, ending it with almost 110 million active accounts. The processor's latest mobile payments initiative — PayPal Here — has attracted more than 200,000 subscribers since it went live in the middle of March and the sign-up rate was 1,000 per hour during its first day of availability.

PayPal's Mobile Initiatives

PayPal has been very busy on the mobile payments front. A couple of months ago the processor entered the physical retail territory for a first time through a partnership with Home Depot. Consumers can now check out of more than 2,000 of the home improvement retailer's stores with their PayPal accounts by entering their mobile telephone number and PIN. The biggest news, however, and the one that best demonstrates just how committed PayPal is to making this a success, is that the processor is in effect subsidizing Home Depot's credit and debit card processing cost, making up for its losses from bank card transactions with the very high-margin profits it gets when PayPal users fund the purchase amount from their bank accounts.

The processor's other recent big mobile payments initiative was PayPal Here, the Square-like service that enables everyone to accept credit and debit cards for payment through their phones. And as our initial review of the service showed, PayPal Here is better than Square, for two major reasons and a couple of smaller ones. Firstly, it provides users with an immediate access to their funds and secondly, it comes with live customer support. Additionally, PayPal Here's pricing is marginally better and it offers a couple of extra payment choices (PayPal and checks), which are not supported by Square. Here is what we wrote back then:
So PayPal has set new standards for the industry and they are quite high. Square will be forced to build its own live customer support center, which it should have done long ago anyway, but probably didn't want to invest any precious resources into it. But whether or not Square will be willing or able to match PayPal's immediate funding provision (Square takes a couple of days to make funds available to its users) and lower rate remains to be seen. What is certain is that few others will be able to come anywhere close to that.

In other words, the barrier to entry into the direct payment acceptance segment of the mobile payments industry has been raised very, very high.

Busy as it was in the first three months of the year, PayPal also found the time to acquire Tabbedout, a start-up that enables its users to pay their restaurant and bar tabs through their mobile phones. It was a small acquisition, but it nevertheless demonstrated yet again just how heavily invested the processor is betting on the future of mobile payments.

The Takeaway

PayPal gets mobile payments, as evidenced by the rapidly rising share of the m-payment portion of its processing volumes, and that share is set to keep growing. We don't have any information on how well its Home Depot test is going, but we do know that people love PayPal Here, which, barely in its second month of existence, is already a fifth of the size of Square, which has been around for a year and a half. And PayPal's success is well-deserved and there is no secret to it. The processor's m-payment offerings are very good!

Image credit: PayPal.