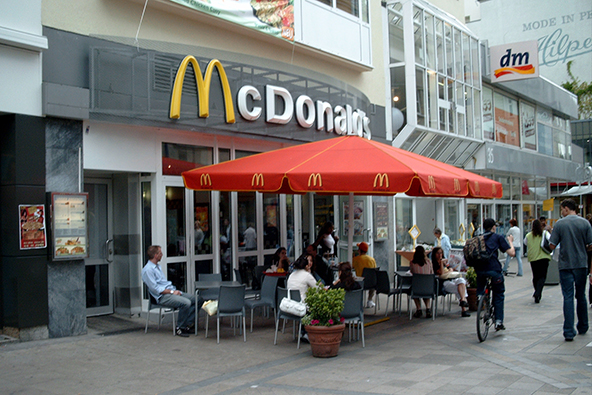 McDonald's is testing PayPal's mobile payments app at 30 of its restaurants in France (of all places), Reuters' Alistair Barr is telling us this morning. The fast-food chain is the latest big brick-and-mortar merchant to offer the former online-only payment processor's service as a checkout option to its customers. As regular readers of this blog know, PayPal's most significant move into physical retail territory to date is its highly publicized entry into Home Depot, but a potential entry into each of McDonald's 33,500 locations worldwide could be every bit as important.

There is no question that the McDonald's deal is a big coup for PayPal, and a much needed one, following rival Square's announcement of a partnership with Starbucks and the decision of Wal-Mart and a dozen of other big retailers to build their own mobile wallet, rather than rely on the Googles and PayPals of the world to do it for them. However, it should be noted that, big as it is, PayPal's McDonald's coup is not nearly as significant as either of these two events.

PayPal Enters McDonald's

As Reuters explains, the test at 30 restaurants in France allows McDonald's customers to place an order through the fast food chain's mobile app or online, pay for it using their PayPal account, then pick up their food at a separate line.

We don't know the details, but it is very likely that PayPal would have sweetened the deal by offering to McDonald's the same below-cost processing arrangement that the processor has provided to Home Depot. We've already explained in some detail how that works, but the bottom line is that in such an arrangement PayPal is subsidizing the retailer's credit card processing costs. They can do that and still be in the red, because PayPal's margins on the transactions funded directly from its users' bank accounts, rather than from a credit or debit card, are more than enough to offset the losses from the bank card transactions and allow for some profit.

For its part, McDonald's gets to be seen to be keeping up with the latest and coolest technologies. Additionally, as Reuters' Barr notes, there is also a more practical benefit in the form of potentially shorter checkout lines.

PayPal vs. Square

That PayPal has scored a big win is clear. But how does its McDonald's deal compare to rival Square's Starbucks one? The answer is that it pales in significance. The difference between the two is that, while Square gets to process all of Starbucks' transactions, PayPal gets to facilitate only a portion of McDonald's payments, and one that is likely to remain fairly small for some time to come. How has Square been able to pull off such a feat with Starbucks?

Well, Square has, at least so far, been much more successful than PayPal in convincing merchants that its service is good not only for accepting payments at garage sales and in Craigslist-types of transactions. The Square Register is indeed a full-fledged point-of-sale system that comes with a custom inventory feature and other cool add-ons. And it's free! Moreover, the Pay with Square app enables users to find Square merchants nearby, open a tab with them, place an order, and make a payment by just giving their name at the register. The user's name and photo appear on the register's (iPad) screen to enable the merchant to confirm her identity. I'm convinced that Square's coolness has played no small part in Starbucks' decision to let the start-up process all of its transactions, even as the coffee chain had already developed a hugely successful mobile payments app of its own. And it is very unlikely that the usual reason for switching processors — lowering processing fees — would have played any part, as it is virtually impossible that Square would have been able to make such a proposal.

The Takeaway

Square has been the mobile payments leader ever since it opened for business in October of 2010 and PayPal has been forced to play catch up with its rival all along. So far, the payments giant has not been able to narrow the gap significantly, if at all, but it has been making incremental progress and the McDonald's deal marks another step in the right direction. Moreover, PayPal's mobile payments offerings are really good and the processor is spending a lot of money to keep improving them. Yet, PayPal has a weakness, which may yet prevent it from catching up with its upstart rival. Unlike Square, PayPal has been around long enough to manage to antagonize a good number of merchants and consumers. Square has also managed to provoke some customer pushback, as is to be expected from a company servicing such a huge number of users, but it is still largely perceived as a cool new company that is set on disrupting a sclerotic industry, of which PayPal is a prominent member. So PayPal still has its work cut out for it.

Image credit: Wikimedia Commons.