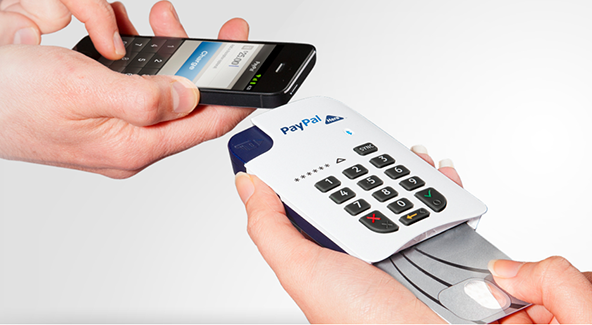 PayPal has managed to get more media coverage for its mobile payments offerings than Square over the past few months and that is no easy feat, considering that creating media hype is arguably Jack Dorsey's biggest forte. Even more impressively, PayPal has kept itself in the news for all the right reasons, which historically has not always been the case, far from it.

More importantly, through its recent launch in the U.K. and expansion in Japan, PayPal Here is quickly gaining ground on Square internationally, which is greatly helped by the fact that Jack Dorsey's high-powered start-up is yet to launch anywhere outside of North America. On the domestic front, eBay's payment processing arm has just introduced an iPad app, which seems a worthy rival to Square Register. We don't have reliable data on PayPal Here's penetration in the U.S. market and abroad, but if the processor's own figures are to be believed, its m-payments service is well received everywhere it's made an appearance. In any case, it is safe to say that PayPal Here is, by some margin, Square's biggest rival.

PayPal Here in Japan and the U.K.

In a blog post, Hill Ferguson, PayPal's VP of Global Product, updates us on the progress his company's mobile payments products are making in Japan and the U.K. In Japan PayPal Here has struck a joint venture with telecommunications giant SoftBank and its card readers are now available in 2,700 SoftBank stores throughout the country. Ferguson doesn't give us specific user numbers, but he does give us an idea of how well the joint venture has been working:
Since PayPal Here started selling in SoftBank Mobile stores last fall, thousands of Japanese small business owners have used it to grow their sales and have provided valuable feedback to help us enhance the total customer experience. With SoftBank's countrywide store network and thousands of sales staff, we're going to bring PayPal Here to the vast majority of small businesses in Japan.

In the U.K., PayPal launched its mobile payments service less than a month ago and the British version is very different from the American original. As Visa apparently prohibits the use of smart phones as PIN pads for the acceptance of chip-and PIN credit card payments, PayPal and its U.K. rivals were forced to develop Visa-compliant devices to serve as portable credit card terminals. The external card reader is then paired with the user's phone, on which the mobile payments app is operating, through Bluetooth connection. So you end up using two devices to perform a function, for which here in the U.S. your phone is quite sufficient by itself. And the fact that the external card reader is not free is sure to put off everyone but business users, because regular consumers are very unlikely to pay for something they may or may not use more often than once a month. But then, that seems to be precisely the market segment which PayPal is targeting — in his blog post Ferguson constantly equates PayPal Here users with "small business owners" who in the U.K., he tells us, "have reacted with enthusiasm", adding that "we saw more than 11,000 people registering their interest in the device". That is a pretty good number, although it is not quite clear what "registering their interest" means.

PayPal Here for iPad

On the domestic front, the news is that the PayPal Here app has now been optimized for the iPad to rival Square Register. And PayPal's app is a worthy competitor. Similarly to Register, PayPal's app wirelessly connects the merchant's iPad with the cash register and the receipt printer and comes with a reporting feature for tracking sales activity.

However, PayPal's version sports features which are not available in Square Register. For example, it comes with a bar code scanner, which makes the iPad look like a full-fledged checkout terminal. PayPal's app also includes multi-user log-in capabilities, which is an important feature for larger merchants. Another unique PayPal feature is the ability to scan a payment card on acceptance, using technology developed by Card.io, a start-up acquired by PayPal in July of last year. Another difference from Square, and perhaps the most important one, is that PayPal is making its iPad app compatible with traditional POS systems. Here is what Ferguson is telling us:
It's perfect for those small businesses that don't already have an existing solution, but we are also working with dozens of existing vendors that supply retail POS solutions — from large ones like NCR to mid-market providers like Shopkeep, Leapset, Vend, Kounta and Erply — so that we can offer businesses new ways to connect with their customers without ripping out their existing solutions.

Compatibility with traditional POS terminals may turn out to be PayPal's biggest competitive advantage over Square, which has shown no signs of adopting a similar approach.

The Takeaway

PayPal is telling us that its mobile payments service has been adopted by "hundreds of thousands" of merchants worldwide, although the processor won't give us a precise number and there is no way of verifying the claim. If true, that would constitute a huge success — after all PayPal Here has only been around for about a year. But more importantly, PayPal is busy establishing its mobile payments service in markets from which Square is absent, even as it is giving Jack Dorsey's outfit a run for its money in the U.S. and Canada. Yes, there are other contestants in Europe and Asia, but none of them has Square's deep pockets. By the time Square finally crosses the Atlantic — as I believe it will do once it's figured out the chip-and-PIN riddle — PayPal's lead may have become insurmountable.

Image credit: Thepaypalblog.com.