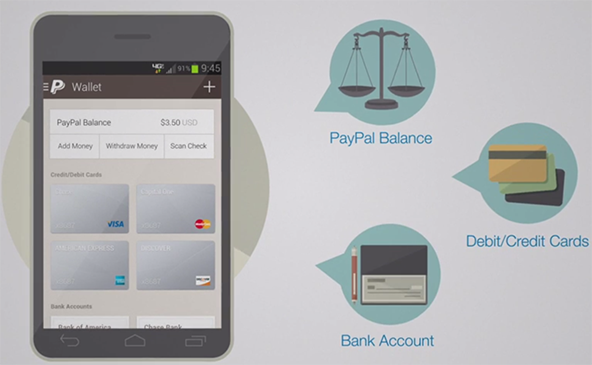 PayPal has just launched the latest version of its mobile payments app and everyone is talking about it. For the most part, the reviews are positive, but most commentators are also making it clear that they had expected more of the update. Still, there seems to be broad agreement that PayPal has taken the lead in the ever more crowded mobile wallet field — that is, if the processor had ever lost its lead to a competitor in the first place.

Yet, even as their reviews are largely positive, some commentators — The Verge's Casey Newton's is a case in point — are frustrated with the app's complexity. Newton, for one, makes it very clear that she would much prefer if PayPal's app were more of a single-use type of service, preferably not much more than merely a digital version of a credit card. But I believe that, by turning the app into a fully-fledged version of its desktop service, PayPal is generally taking its mobile wallet in the right direction. After all, a mobile wallet is meant to, some day, replace its old-fashioned, real-life counterpart. And the succession will not take place until the virtual wallet can do all the things the leather one can do. So, yes, I like what PayPal is doing.

The New PayPal App

Hill Ferguson, PayPal's Vice President of Global Product, gives us an overview of the app on his company's blog. It lets you do most of the things you can do by accessing your PayPal account from your laptop, plus the following:
Order ahead — as its name suggests, this feature allows you to place orders before entering a store and so bypass the line when you get there. For the time being, Ferguson tells us, that this option is available only at Eat24 — a food delivery service — "with more restaurants and cafes coming soon".
Pay at table — enables you to "check-in to view your bill, give a tip and pay your restaurant bill through the PayPal app". At some locations, you can also place orders.
Offers — the virtual replacement of your paper coupons are stored in your PayPal wallet to be redeemed at checkout. Ferguson tells us that "$100 in offers is available in your PayPal app from local US businesses", but no specifics are given.
Credit line built in — gives you mobile access to PayPal's Bill Me Later financing option. Additionally, the feature lets you choose from financing and promotional offers, such as "six months to pay on purchases of $99 or more", directly from participating PayPal retailers.

Here is the new PayPal app in action:
A Mobile Wallet Is Supposed to Do Many Things

Not everyone is convinced that PayPal's approach is the right way to design a mobile wallet. The Verge's Casey Newton, for one, doubts that "many people [will take] the time to master the new PayPal's many different features". Then she quotes a former Twitter executive to help make her point:
"WhatsApp, Instagram and Shazam are great examples of products and companies that expertly address a single, well-defined need in a simple way that satisfies a large number of people," he wrote. "A single-purpose app makes it easier for a user to remember why she should use that app at the moment that she has a specific need."

Clearly, Newton would prefer a much simpler PayPal mobile wallet, one that would do "a single thing spectacularly well". But would that be a winning strategy for PayPal, or any other mobile wallet provider, for that matter? Well, Anuj Nayar, PayPal's senior director of global initiatives, doesn't think so. He tells The New York Times that the reason the new app boasts all of the features listed above is that "[t]hese are the things that will drive consumer adoption". If a mobile wallet's sole function were to provide virtual access to its user's credit cards, Nayar contends, it would never take off. "It's what you build on top, like offers and the ability to order ahead" that makes a difference, he adds.

I agree with Nayar that, as Newton herself acknowledges, people like their credit cards just as they are, not least because they are so easy to use — it only takes seconds to pull one out of your pocket and swipe it through a retailer's POS terminal. Why offer a solution to a problem that not only does not exist, but you can't hope to create?

Moreover, in order for a mobile wallet to ever live up to its name, it would have to be able to store all of the things we can now put in the physical version it aims to replace; otherwise, we would never get to a point where we can leave our leather wallets at home. And, by the way, that includes not only credit and debit cards, cash and coupons, but also our driver's license and other forms of identification.

So I fully expect that future iterations of PayPal's app and the versions of whichever of its rivals manage to stay in the race (Square, Google Wallet and Isis immediately come to mind, but there are other worthy competitors as well), will be able to accommodate all these things and perhaps many others of which we can't even think at present. Would that make the thing more complex, as Newton says? Of course it would. Where Newton and I part ways is in our predictions of the consumer response. I disagree that people would be unwilling to take the time to learn how to use a sophisticated, multi-featured mobile wallet. On the contrary, if the payoff is worth it, they would do it. And anyway, just how difficult can using PayPal on your mobile phone possibly be? After all, most of us are intimately familiar with the service through years of using it on our laptops and desktops. From what I've seen, the mobile version is not all that different.

The Takeaway

So PayPal is taking its mobile wallet in the right direction. It is still very early days and it is impossible to say who would become the dominant player in this field, but the continual struggles of Google Wallet and Isis, both of which are reliant on an NFC technology, which the vast majority of merchants do not support, give their competitors a leg up in the race to the top. Square's mobile wallet looks good and seems to be doing relatively well, but, as Newton points out, since the company made a lot of headlines when Starbucks began accepting it last year, no other big retailer has adopted Square Wallet. Overall, the major competitors are still fairly close to each other and there are plenty of opportunities for smaller contestants to exploit. The race is wide open.

Image credit: YouTube / PayPal.