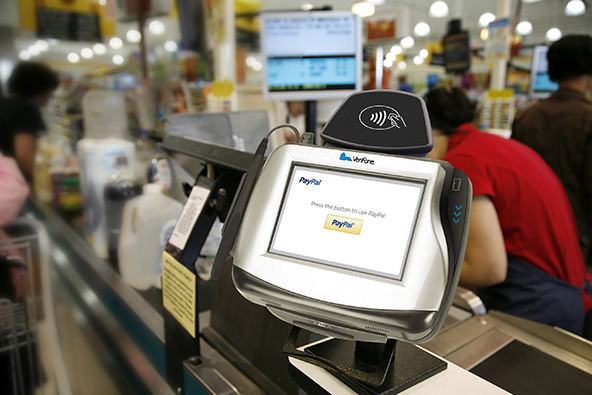 PayPal's move into physical retail territory has received plenty of media attention, and for good reason. It is not every day that Visa and MasterCard are challenged in such a direct fashion in their own back yard. And the credit card networks should better take PayPal's challenge more seriously this time around than they did a decade ago, when their arrogant oversight allowed eBay's payment processor to grow to a huge size in the person-to-person and online payment processing segments of the market right underneath their noses.

The story is nuanced, as even if PayPal does manage to grab any meaningful chunk of the physical point-of-sale (POS) market, about half of its transactions will still be processed on bank cards (the majority of them bearing Visa's or MasterCard's logo). And yet, the other half will not, so given the huge size of the market, even if PayPal only steals a few percentage points from the credit card networks' POS business, the damage (or gain, depending on your point of view) would still be measured in billions of dollars. Let's take a look at exactly how PayPal is planning to do that.

PayPal's Goal: to Get into All of the Top Retailers

Reuters' Alistair Barr is telling us in his excellent account of the developing story what PayPal wants to achieve with its incursion into POS territory:
EBay Inc, which owns PayPal, has set a public goal of 20 major retailers testing the point-of-sale, or POS, service by the end of 2012. Home Depot, the largest home improvement retailer, is running a test already and Office Depot is planning one.

However, Don Kingsborough, PayPal's VP / GM of Retail and Prepaid, is much more ambitious than that. Here is what he told Reuters:
We are going to do it with the greatest brands in the world – Home Depot and every other top-100 retailer. There isn't a major brand who we haven't talked to.

And there is a lot at stake. Barr:
If PayPal can grab a 2 percent share of checkout at physical stores that would create a $70 billion business, according to eBay Chief Executive John Donahoe.

But the most interesting part of the story has to do with PayPal's strategy for achieving its ambitious goal: the company will be competing on price with its far larger competitors, even as PayPal's own wholesale cost is set by its rivals. Let's take a closer look.

PayPal Will Be Subsidizing Retailers

So here is how Kingsborough sees his company's advantage over traditional processors:
EBay's structure gives us a lot more flexibility than if we were starting out as a POS stand-alone business. That enables us to invest in the POS business.

And this is not just PR, even though it may sound to you as if it is. Barr has done an excellent job of explaining what this rather ambiguous statement means, so I will simply outsource it to him:
PayPal can afford to compete on price because of the way it funds customer payments, according to Gil Luria, an analyst at Wedbush Securities.


Just over half of PayPal transactions are currently funded through debit and credit cards on existing payment networks such as Visa and MasterCard, he estimated.


PayPal has to pay the networks for this. If it charges 1.5 percent or less for in-store payments that are funded this way, the company will likely lose money on every transaction, Stalder said.


But about 45 percent of PayPal transactions are funded through users' bank accounts, or an existing PayPal balance, Luria noted.


"If any of those sources are used, PayPal margins approach 100 percent," Luria said.


That's the key that will allow PayPal to price its POS service aggressively and still make a profit, Luria and Stalder said.

So PayPal's plan is to entice retailers with below-cost credit and debit card processing, which is an offer no merchant will refuse. The company will subsidize its losses from bank card transactions with the very high-margin profits it gets when users fund the purchase amount from their bank accounts. All I can say to that is that I wish we at UniBul Merchant Services had the same option available to us.

The Takeaway

PayPal's plan of POS attack is bold and the value proposition for the retail industry seems irresistible. However, the benefits for consumers are somewhat less conspicuous and the first thing that I noticed was that the PayPal POS checkout process is a bit cumbersome. In addition to a PIN, the customer is asked to enter her cell phone number, before a transaction can be completed. The idea is that a payment confirmation can be texted to the user, alerting her that a receipt is stored into her PayPal account. That's unnecessary and excessive. The receipt will have already been printed out at the checkout and I know that I can look up the transaction in my PayPal account anyway. Not to mention that I, for one, would never give my cell phone number to a retailer (or PayPal, for that matter) to avoid being spammed with promotions.

Yet, I think that winning over retailers should be (and is) PayPal's primary objective for the time being. Once it establishes itself as a payment option at the point of sale, the company will have plenty of time to figure out how best to convince consumers to use it. And given the amazing deal that merchants get out of it, I like PayPal's chances.

Image credit: Plusworld.org.