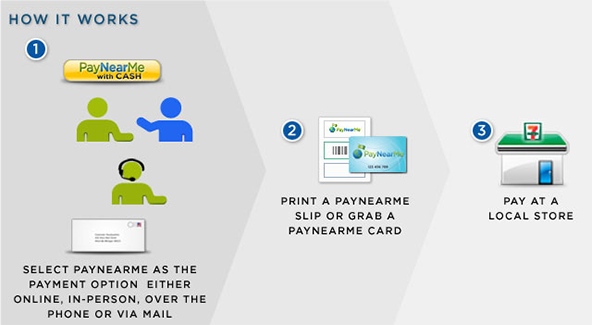 PayNearMe, a Mountain View, CA-based start-up, has launched a new mobile payments service targeted at the "unbanked" – consumers with no access to credit cards and no bank accounts. To back it up, PayNearMe has raised $16 million in funding.

The new service is provided through the PayNearMe card, which users can get for free from more than 6,000 7-Eleven locations across the U.S., according to the company. To make a mobile payment at a participating merchant, after selecting an item online, the user needs to do the following:
Provide your mobile phone number to the merchant.
Reply to a text message from PayNearMe with the card's number.
Give the PayNearMe card and cash to 7-Eleven store associate who completes the transaction.

The process sounds a bit complicated, but Danny Shader, PayNearMe's CEO, claims that it is actually quite simple, once you've done it once.

PayNearMe payments are free for consumers. Unlike prepaid cards, PayNearMe cards have no value. They are not a payment instrument but rather serve as an identification card for each transaction. Because the card carries no value, there are no risks of fraud or chargebacks, which are major e-commerce issues. Moreover, according to the company, the funds cannot be frozen, which is something PayPal merchants can certainly appreciate.

What is not clear, however, is how much merchants pay for accepting PayNearMe payments. Their website says that the service is "extremely competitive in price" and adds:

"For online commerce merchants, we offer a discount rate that is comparable to interchange, with the added benefit of no chargeback risk. For money transfer, loan payments and other remote transaction services, we offer a variable convenience fee structure that is more affordable than traditional walk-in payment solutions."

That's it! They can surely do better than that.

The company runs another payment service, called Kwedit, which also allows consumers to purchase digital content or virtual goods without credit cards. Kwedit is designed specifically for social games and was initially offered by online game companies FooPets and Puzzle Pirates. It comes in two varieties.

Kwedit Promise enables consumers to receive goods immediately if they promise to pay for them later. If you keep your promise, your Kwedit score goes up and you can borrow larger amounts of money (initially you can borrow amounts of up to $5). Kwedit Direct allows you to pay off your Kwedit balance by mail or at any 7-Eleven store, or you can ask someone with a credit card to do it for you.

In case you wonder, Kwedit said in May that about 33 percent of the payment promises were being kept. Apparently that is enough for the company to make profit, because the service is still running.

Image credit: PayNearMe.