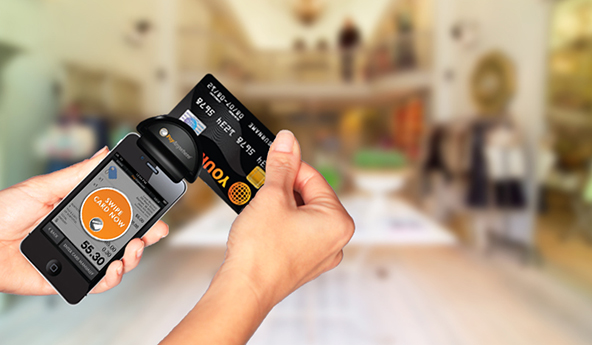 USAToday's Jon Swartz directs me to a mobile payments company, which UniBul has somehow managed to entirely neglect so far. And it's not because we didn't know it existed. Actually, Detroit-based PayAnywhere was one of the first Square copycats to hit the U.S. market, launching less than three months after Jack Dorsey announced Square's arrival in a now-famous tweet. Neither was our neglect caused by a poor service offering. On the contrary, PayAnywhere's value proposition is quite straightforward and compelling.

Yet, in spite of its merits and the fact that it is backed by a well-established U.S. payment processor, PayAnywhere, like most other Square clones, has largely been flying under the mobile payments radar. And that reminds us once more of just how good a job Jack Dorsey and his company have done in cordoning off their mobile payments niche, for the fact is that most people today associate the acceptance of credit cards via smart phones with Square. In fact, the only thing that prevents Square from achieving Google-like verb stature is its name itself. I mean, you can't really be "squaring" credit cards, can you? Still, Square's dominance is comprehensive and PayAnywhere will have a very hard time competing with the leader.

PayAnywhere at a Glance

PayAnywhere offers mobile credit card acceptance to U.S. consumers and businesses. Users can get their card readers for free online or they can purchase them for $9.95 at a number of retailers, including Wal-Mart, Home Depot and Sears. In addition to Apple and Android-powered devices, PayAnywhere works on BlackBerry phones, which is something neither Square nor PayPal Here can boast. Another advantage over Jack Dorsey's offering, though not over PayPal's, is that PayAnywhere provides a round-the-clock phone-based customer support, which is a feature many Square users would surely wish they had access to. The pricing model is similar and the headline "swiped" rate is slightly lower than both Square's and PayPal's. Furthermore, PayAnywhere users have in-app and online access to real-time account activity reports. And similarly to Square, PayAnywhere offers a full-fledged iPad-based point-of-sale system, which integrates with QuickBooks.

So, as I said, this is a really good credit card acceptance offering and I'm sure that if users were basing their choices exclusively on a service's objective qualities and characteristics, many would opt for PayAnywhere. However, this is not how buying decisions are made in real life and it is why the Detroit-based processor has been unable to keep up with Square. And yet, CEO Marc Gardner promises to double down and keep pushing.

'Massive Fourth-Quarter Roll-out'

That is what Gardner's company intends to do in its bid to "take on Square head-to-head", the CEO tells Swartz in an interview. As part of the offensive, PayAnywhere will be launching "a multimillion-dollar national TV, radio and print ad campaign later this week", we are told. The video below gives us a sense of what this campaign will be like.

However, as Swartz points out,
the competitive headwinds could be stiff, given that Square is now used at Starbucks' 7,000 U.S. stores, is expected to sign more deals with high-profile retailers shortly and has more than 2 million users in the U.S.and Canada — largely through word of mouth.

Moreover, Square is now "processing $10B in payments annually", the company announced in a tweet. How big is that? Well, first of all, consider that only seven months ago Square was processing $5 billion. And here is a snapshot of Square's growth up until the end of March of this year: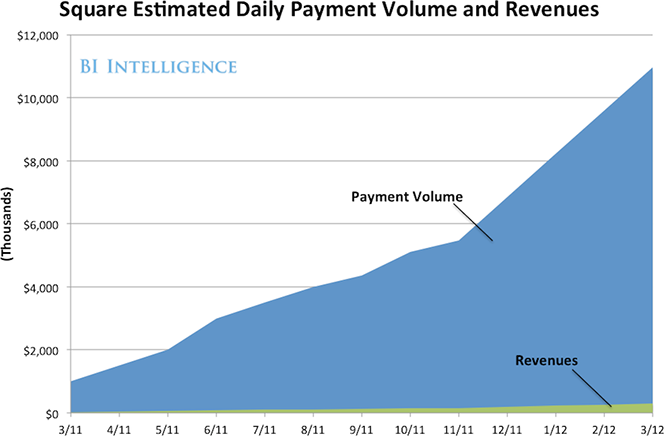 That is an absolutely unheard-of growth rate in our industry. For perspective, when PayAnywhere was launched in January 2011, its parent company — North American Bancard — was also processing $10 billion annually, but it had taken it two decades to get there.

The Takeaway

It seems to me that PayAnywhere's new strategy of spending big on marketing is being implemented more than a bit too late. If Gardner had had the courage to back up his new mobile payments service when it was first launched with the massive "TV, radio and print ad campaign" he now promises, PayAnywhere might have been able to make a bigger impact than it has. By contrast, Jack Dorsey has been spending huge amounts on marketing since day one and it has definitely achieved the objective of making Square the first name that comes to mind when one thinks of mobile credit card acceptance. It was a huge bet that is now paying off in a big way. Fortune does favor the bold.

Image credit: PayAnywhere.