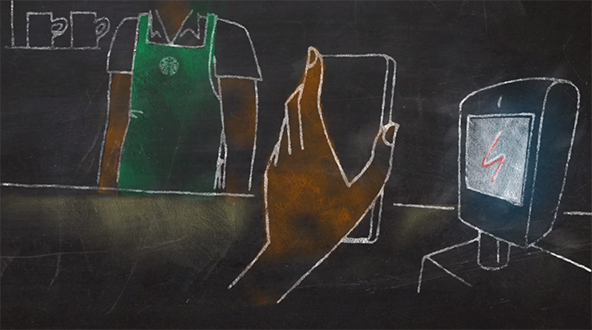 Mobile payments tend to elicit strong opinions from bloggers. Partly, of course, that is due to the fact that bold predictions and vigorous commentary attract more attention, especially when they are preceded by catchy titles (which is why there is a mini-industry on the art of writing attention-grabbing titles). But there is also little doubt that many (perhaps most) of the commentators have genuinely strong feelings about the subject and this morning a couple of articles with almost identical titles present a perfect case in point.

One of them, by Reuters' Felix Salmon, is titled "Why Mobile Payments Will Never Take Off" and the other, by Business Insider's Josh Luger — "Why Mobile Payments Are Poised For Takeoff". I have to admit that, whereas I do have quite a bit of sympathy with Salmon's contention that mobile payments are neither "clearly superior" to credit cards in their plastic form, nor do they offer "any incentive for consumers to switch", I just can't agree with his conclusion. Luger's piece is a summary (one of many over the past month) of the main points of a recent Business Insider report on the current state and prospects of mobile payments. The report is full of various statistics and I think it clearly shows that the future of mobile payments is indeed bright.

Mobile Payments Are not Easy

Salmon's article seems to have been inspired by a great piece by ReadWrite's Dan Rowinski on the recent stir caused by Clinkle — a mobile payments start-up which managed to collect $25 million in seed capital from an assorted collection of Silicon Valley investors. In fact, this blogger also found himself in complete agreement with Rowinski in his own coverage of the matter. Rowinski's argument is that "good software, an interesting business model based on incentives and a burning desire to take over the world" are not enough. As Salmon summarizes it:
[P]ayments technology is the easy bit. The hard bit is changing behavior.

Writing from personal experience, Salmon argues that, far from being simpler and easier to use than the traditional payment methods, mobile payments are actually harder. Moreover, he adds that, whereas using credit cards "is normal behavior", "mobile payments are not". Yes, mobile payments have taken off in places like Kenya and Somalia, he concedes, but that is only because there are no alternatives there:
In countries where cards are not ubiquitous, then, and where cash can be hard to obtain, there's a good chance that mobile payments might take off. But in the US, there are literally billions of cards already. They're not perfect; certainly they all should have EMV chips, and almost none of them do. But they're good enough: they're not so bad that mobile payments offer something clearly superior, or any incentive for consumers to switch.

Salmon's verdict:
[M]obile payments, although they are sometimes very cool, are going to remain a marginal technology in the US for the foreseeable future.

Well, as I said, I have much sympathy with Salmon's feelings, but all of the available data strongly indicate that mobile payments, in their varying guises, are growing incredibly rapidly in popularity and are indeed poised for take-off, as the BI report argues.

Mobile Payments Are Taking Off

Growth is not limited to developing countries, the data show. On the contrary, the U.S. is quickly catching up with the mobile payments leaders and is already home to several of the world's biggest m-payments companies. We already reviewed BI's report at some length last week, so for the purposes of the present exercise let's just focus on two charts, which I think lend the strongest support for BI's argument.

Firstly, in contrast to Kenya, in the U.S. and the other developed countries, the primary tool for facilitating mobile payments is the smart phone. And smart phone adoption is increasing at a very fast rate. The chart below uses global smartphone shipments forecast as a pace-setter for overall growth Business Insider's: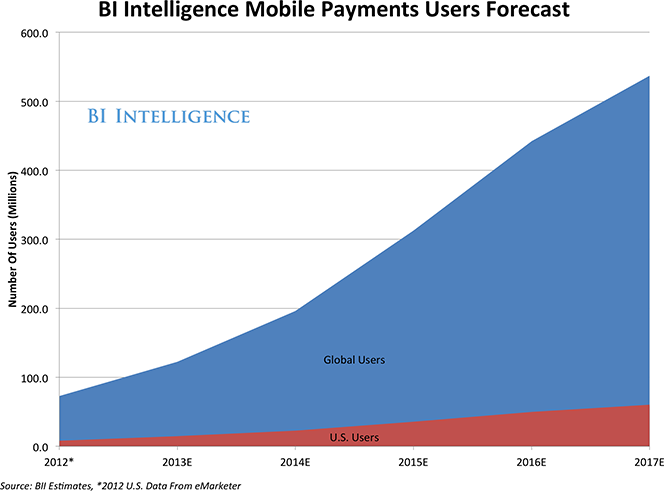 Secondly, Square — the pioneer of smart-phone-based credit card acceptance — has been growing at a break-neck speed. As the chart below illustrates, Americans have clearly loved the idea of accepting card payments through their phones.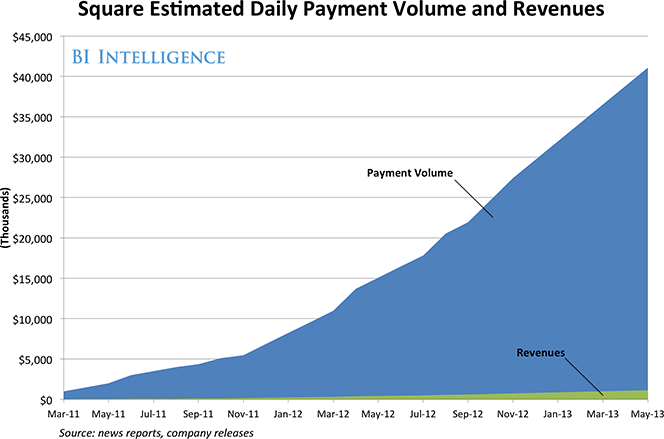 Yes, Salmon is correct that Square's mobile wallet is yet to gain any traction, even though the processor's deal with Starbucks was meant to give it a much needed boost. But then, a digital wallet is a much more novel concept than a card reader, whether a mobile one or otherwise, so I don't find it all that surprising that it should need more time to gather speed. Moreover, since I mentioned Starbucks, let me note that the coffee chain has been wildly successful with its own m-payments offering — the Mobile Pay app is reportedly processing four million transactions a week, up from two million at the end of 2012. Mobile Pay can be seen as a mobile wallet in its simplest form — it only contains one card and can only be used for payment at one merchant (although one with thousands of locations). But people love it, apparently because it is fun and it doesn't rely on one of those new and untested technologies which irk Salmon (Mobile Pay works with the 2-D scanning devices that are already deployed in all Starbucks' stores and are linked to the point-of-sale terminals).

The Takeaway

So, it seems to me that consumers are more than ready for mobile payments and are quick to adopt the ones which are simple and fun to use, whether or not they bring much value. But now imagine how much more popular an app like Mobile Pay could become if it were designed to work at any store and to accept any type of card. Well, that is precisely the model on which the leading mobile wallet contenders — Google, Isis, Merchant Customer Exchange and others — are working. Yes, all of these companies are struggling to bring into the mainstream a brand new technology — near-field communication (NFC) — for which the necessary infrastructure does not yet exist, but they are very determined and it is highly probable that at least one of them will succeed. And from a consumer's perspective, participating in an NFC-powered transaction is just about indistinguishable from using Starbucks' Mobile Pay. So, given that an NFC wallet would store all of their cards and be accepted at any store, why wouldn't they use it? As I have repeatedly argued on this blog, the mobile wallet concept makes too much sense not to be successfully implemented at some not-too-distant point.

Image credit: YouTube / Square.