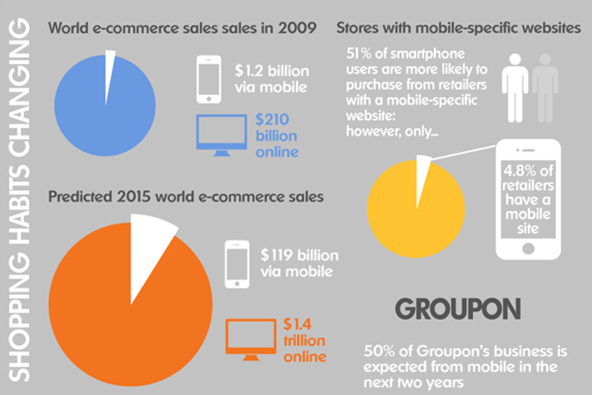 That is what a new infographic, published by Microsoft on its Tag website, is meant to convince us — that, and to present a newish product. But before I get started, I have to share an amazing experience I had when Google News sent me to this Tag website, which I'd never visited before. In fact, I didn't even know what it was (for the uninitiated, Microsoft Tag is "a 2-D barcode that connects the physical world with information, entertainment, and interactive experiences in the digital realm" — got it?). And it was amazing in the worst possible sense: Tag — a Microsoft.com subdomain — didn't open in my Internet Explorer browser, despite my repeated attempts, stretched over several hours! It did, however, open in every other browser I use, of which I have several active at any given time.

Anyway, it is a beautiful infographic, which is why I wanted to share it with you, but it is also aimed at presenting the whole "tag" concept to the world. And it turns out that it is Microsoft's attempt to expand on Starbucks' use of 2-D barcodes as the basis for the coffee chain's hugely successful mobile payments platform. See, back in 2009, at a time when the near-field communication (NFC) technology was all the rage (come to think of it, it still is) and just about everyone was planning to build a digital wallet around it, Starbucks chose to instead rely on the far less glamorous 2-D scanning devices that the company already had deployed and linked to the point-of-sale (POS) terminals at its stores. And customers loved it. Well, now Microsoft tells us in its new infographic that it wants to build on the coffee giant's success and use these "tags" to link users to things like product reviews, recommended apps, Twitter results, Facebook groups, etc. Nothing revolutionary, you might observe, but it's being built on a sound foundation. Let's take look.

Tagging Mobile Payments

"Internet commerce changed how we do business, and now the rapid expansion of mobile is morphing [transforming?] the retail environment again", the infographic declares at the onset and then immediately gets to the main point — information. We are reminded that our smartphones now give us immediate and limitless access to information "to help with purchase decisions at the touch of a button, whether they're shopping online or in-store". A list of "methods to gather information" quickly follows.

A little further down the graph we are presented with what to me was quite a surprise — out of all the companies they could have included in what, after all, is a mobile commerce presentation, the authors have chosen to focus on Groupon! In the next two years, we are informed, 50 percent of the daily deal site's business "is expected from mobile". OK, assuming that the company is still operating as an independent outfit in two years' time, is Groupon really a leading player in the evolution of m-commerce?

On Starbucks

Having covered Groupon, the authors decide it safe to pay Starbucks some attention and inform us that the coffee giant "has seen over 3 million micro-payment transactions". Well, as such a statement seems grossly inadequate to me, I feel obliged to reiterate just how well planned and even better executed Starbucks' mobile payments strategy has been. And it worked as well as it did, because of its simplicity. Here is how Mobile Pay, as Starbucks' m-payments service is called, works.

Before you can use your phone to pay for your latte, you have to get the Starbucks prepaid card, which is the only payment method supported by Mobile Pay. Then you need to download Starbucks' mobile app, link your Starbucks card to it and you are ready to go. At checkout, the app will display a 2-D barcode on your phone's screen, which is then scanned by the barista and the payment is completed. Whenever you need to replenish your prepaid card's balance, you can do so using PayPal or a credit card. Now, as regular readers know, I have some issues with Mobile Pay and I've spelled them out before:
My first issue is that Mobile Pay can only be used at Starbucks locations. By contrast, all digital wallets are designed to allow users to make payments at any participating merchant. Of course, the mobile wallet concept suffers from its reliance on NFC, which requires that existing POS terminals are retrofitted or replaced with ones that are NFC-compatible, which is both expensive and time consuming. However, when (and it is not "if") the infrastructure is in place, consumers will be able to use one service for payment at any merchant. The alternative is that we download an app for every retailer whose stores we are frequenting and get one of its prepaid cards. And that brings me to my second issue.


I, and many other consumers, just don't want to be using prepaid cards, even ones that are as good as Starbucks' (and it is a good one, as prepaid cards go). There is absolutely no reason anyone with an access to credit cards should be using prepaid cards, which have no effect on your credit history and offer no rewards. And anyway, why should I get a card, which I can only use at Starbucks? Should I do the same for Whole Foods, Trader Joe's, Marshalls? Where does it end? It just makes no sense to me.

None of that, however, should detract from Starbucks' huge achievement — things can always be done better and building an open-loop m-payments platform is not exactly a trivial exercise (ask Isis).

But I digressed. Here is Microsoft Tag's infographic: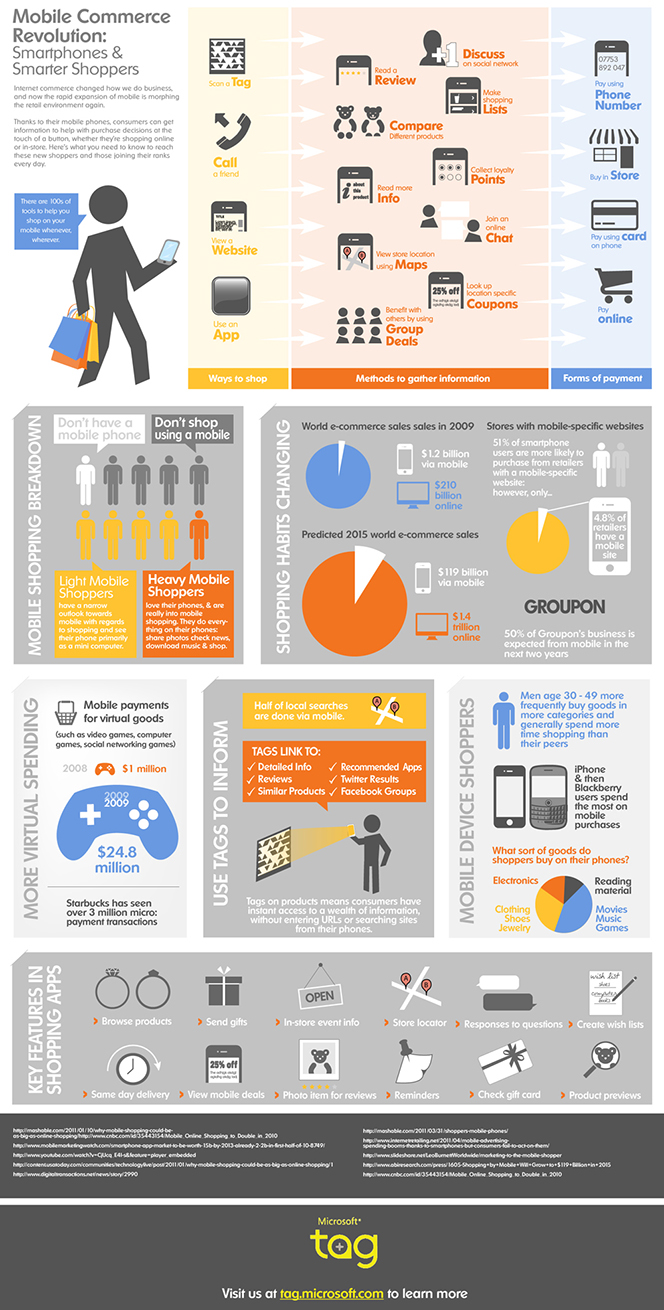 Image credit: Microsoft Tag.