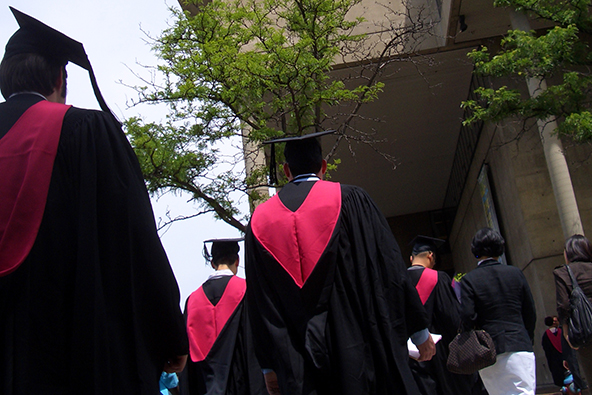 The interest rates on federally-subsidized Stafford student loans have now doubled, from 3.4 percent to 6.8 percent, after Democrats and Republicans in Congress could not reach a deal on how to prevent the increase. Unless a bill reversing some or all of the increase is passed, which is very probable, for more than 7 million borrowers the cost of repaying their student loans has now increased by $2,600, on average, according to the Congress' Joint Economic Committee's estimate. While going through the commentaries, I stumbled upon a fascinating infographic, which offered a couple of state-by-state charts illustrating the changes in college tuition and public funding. It also gave us a ranking of the states with the highest and lowest average debt levels for the class of 2011. Much to my surprise, it turns out that New Hampshire leads the table.

On the Rising Cost of Higher Education

About two-thirds of the students who graduated in 2011 had student loans, Adrienne Lu, staff writer for the Pew Charitable Trusts's Stateline, reminds us in the infographic she co-created to draw attention to the issue of rising Stafford interest rates. The average amount of student debt for these borrowers was $26,600. Although much of the student debt debate is taking place at the federal level, the states have played a central role in rising college costs, Lu tells us, which presumably is why she had decided to offer a state-by-state comparison in her infographic.

Adjusted for inflation, states are now spending 28 percent — $2,353 — less per student on higher education than they did five years ago, Lu tells us, citing a recent report by the Center on Budget and Policy Priorities, a nonpartisan think tank. On a per-student basis, with the exception of North Dakota and Wyoming, every state now spends less on higher education than they did before the recession and Arizona and New Hampshire have cut higher education spending per student in half, we learn. The impact of the cuts is evident in the rising tuitions at public colleges and universities. Adjusted for inflation, the average published tuition at four-year public colleges grew by 27 percent — $1,850 — since 2007-08 and increases in Arizona and California were greater than 70 percent.

At the same time, some states have created or expanded eligibility for state scholarships, Lu tells us. For example, New Mexico has increased the maximum family income for students applying for a state scholarship from $30,000 to $60,000 and Arkansas has raised the maximum amount of scholarships funded by the state lottery for non-traditional students, from $12 million to $16 million.

Regarding the Stafford-loan rate hike, Lu has calculated that who borrow the maximum amount in subsidized Stafford loans will be paying an extra $4,500. Now here is the infographic:


Image credit: Wikimedia Commons.