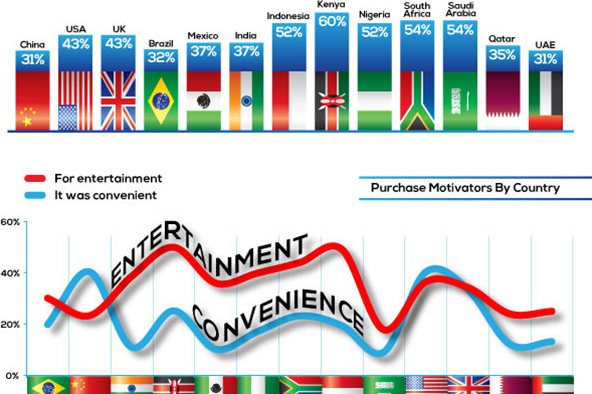 In the first phase of the mobile content and commerce revolution, consumers bought simple personalization products, such as ringtones and text-based alerts, the Mobile Entertainment Forum (MEF) reminds us in a new report. Then they started downloading apps and now, the authors inform us, consumers are using their phones to shop online while embracing a new breed of "super apps" while they are at it. The latter facilitate things like music and movie subscriptions (think Spotify and Netflix), "cannibalizing" the individual song and film download model in the process. At the same time, "a new breed of… games, with immersive gameplay engines and in-app purchasing models, provide months of play rather than a few days' diversion".

Moreover, the authors are quick to point out, these trends are not limited to the developed markets covered in the study: US, UK and China. On the contrary, a significant number of users in far less developed countries are "moving past the premium content phase and into a space defined by smartphones and apps". In fact, the researchers find that, in mobile content and commerce activity, two African countries lead the field of 13 countries covered in the study. Let's take a closer look at the survey's findings.

Kenya and South Africa Lead the Way

MEF's 13-country study finds that the use of mobile phones for the purchasing of digital goods has now become a mainstream activity and has ushered in the "era of Mobile 3.0". Here are some data:
Mobile content and commerce activity is booming across all regions, but is led by "mobile-first markets", such as Kenya and South Africa, where 97 percent and 94 percent, respectively, of consumers actively engage on mobile devices.
65 percent of all mobile media users globally have bought goods or services from their mobile devices.
A fall in purchase volumes of digital content was identified for the first time in 2013: from 54 percent of mobile media users in 2012 to 42 percent in 2013.
The value of goods and services bought on mobile phones has shifted with a decline in smaller-ticket items (those up to $150.99) by 6 percent and an increase of 39 percent in the volume of big-ticket items.
61 percent of mobile users have downloaded a free app.
The freemium model is most prevalent in developed markets (U.S., U.K., China), where 72 percent of mobile users have downloaded a free app in the last six months. Growth markets lag in this category, with the exception of Brazil and Mexico, where the share is 67 percent.
Trust is a greater barrier to mobile content and commerce adoption than ever, cited by 40 percent of 2013 respondents.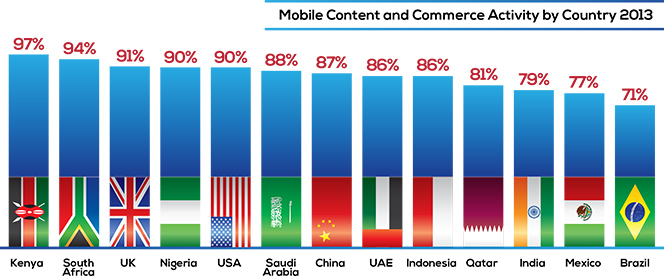 Spending Bigger

At 42 percent, digital goods are still the type of product consumers are most likely to buy on mobile phones. However, a quarter of consumers in the 13 countries in the study now buy physical and perishable goods, we learn. The study finds a slight decrease in this year's share of mobile users who have made a purchase from their mobile phones — from 70 percent in 2012 to 65 percent in 2013.

On the other hand, the research identifies a substantial rise in the share of mobile users prepared to buy big-ticket items through their phones. So, whereas the number of purchases may be falling, the value of individual purchases is increasing.

In 2012, 43 percent of all purchases were defined as "low spend" (under $15.99 or the equivalent), 26 percent were "medium spend" ($16 – $150.99) and 31 percent were "high spend" (over $151). In 2013, the proportion of low- and medium-priced purchases both fell, whereas high spend increased by eight points to 39 percent. This trend, the researchers predict, is set to continue. In 2012, 28 percent of respondents were prepared to buy high value items; in 2013 that ratio rose to 35 percent.

Trust Is the Key Barrier to Making a Mobile Purchase

In 2011, 27 percent of the respondents had cited trust as a determinant of their decision to make a mobile purchase. By 2012, that share had grown to 35 percent and in 2013 it had risen to 40 percent. It is easily the most significant impediment to making a mobile purchase, the researchers observe.

There are other barriers m-commerce companies need to overcome. More than a quarter — 26 percent — of respondents say that they simply "don't see a need" to make a mobile purchase and 25 percent say that they are deterred by slow network speeds.

The 'Second Screen Habit' Goes Mainstream

The survey finds that 89 percent of all mobile users "use another media while browsing the web on their phone": 35 percent of the respondents watch TV and 20 percent of them use a PC or a laptop. This "second screen habit" is well-established across all of the countries covered in the survey, we are told. However, there are significant differences between countries when it comes to individual media. For example, 49 percent of mobile users in developed markets use the TV while browsing on their phones, whereas just 24 per cent of Asian users do so. The share for Latin America is 42 percent.

Interestingly, a substantial share of consumers in growth markets is using another phone as a "second screen". The study shows that Mexico, UAE and Qatar all score above the global average in their use of another phone as a second screen. However, at 51 percent, Indonesia stands out from the rest in this category.


Finally, here is the infographic, which the survey's authors have produced to illustrate their findings:


Image credit: Mefminute.com.