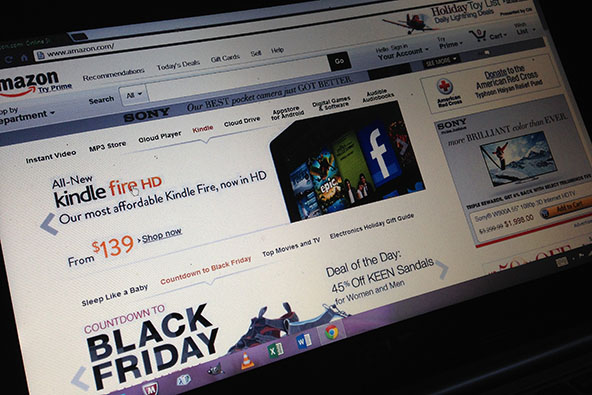 Once again, this year's Black Friday actually began on Thursday (Thanksgiving) evening and, as this is likely to become a trend going forward, we might want to consider rechristening this surreal festival of waiting in long lines for hours on end in the middle of the (often cold) night, pushing and shoving fellow bargain-hunters at retailers' doors on opening and stampeding into the aisles in the hope of getting first to some coveted gadget selling at 50 percent off the regular price or other. One thing, however, is unlikely to change anytime soon: as Black Friday, and the holiday shopping season it ushers in, is a make-or-break time for American retailers, they are certain to remain deathly serious about getting their sales strategies right. And if they become convinced that it takes starting Black Friday on Wednesday to make it a success, there is little doubt that they'd do it in a heartbeat.

There is a lot of money at stake, as Black Friday is a truly big shopping day and even the Great Recession failed to slow it down. In fact, the same is true for the whole weekend, which culminates with the Cyber Monday — a much more recent phenomenon, but one that is now eclipsing in importance Black Friday itself. The term "Cyber Monday" was coined in 2006 by Shop.org, a division of the National Retail Federation, after a study found that 77 percent of e-commerce merchants had reported a significant increase in their sales on the Monday after Thanksgiving.

Well, on this Black Friday morning I decided to share with you some of the more interesting findings of the 2013 Holiday Spending Forecast, published by Nielsen — an information and measurement company — and meant to cover the whole shopping season. As is now customary for such reports, this one is accompanied by an infographic to illustrate the results. Let's take a look.

Black Friday Is Losing Its Magic

That is one of the main takeaways from Nielsen's report. No less than 85 percent of American consumers, and up from 80 percent in 2010, plan on skipping the stores on Black Friday this year, we learn. At the same time, close to half of consumers (46 percent) said they would be shopping online this coming Cyber Monday, a huge increase from the 30-percent level measured in 2012.

Now, the first weekend of the holiday shopping season is not a homogeneous event. On the contrary, whereas Black Friday is mostly an in-store retail phenomenon, Cyber Monday is exclusively an online one. Nielsen tells us that consumers' top two choices for Black Friday holiday shopping venues were department stores (71 percent), followed by electronics stores (58 percent). In response, last year advertisers spent $526.2 million on department store advertising across all media types in November (up by 5 percent from 2011) and over $400 million on wireless ads (up by 4 percent on an annual basis).

And there is no sign at all that the waning consumer interest in shopping on Black Friday is having any negative effect on advertising spending volumes. On the contrary, we learn that spending on Black Friday-themed TV ads topped $11 million in 2012, close to five times the volume ($2.4 million) spent in 2011. Moreover, Black Friday-specific ads comprised more than 5 percent of all national TV ads shown on Black Friday in 2012, up from 2 percent in 2011 and less than 1 percent in 2008!

But there is a good reason why retailers are not skimping on Black Friday advertising spending. See, they are not actually seeing their sales volumes decline. What we are seeing instead is a merger between Black Friday and Cyber Monday, as more than half of consumers (51 percent) say they will do their Black Friday shopping online this year.

Cyber Monday Takes Over the Lead

The statistics on this point are unambiguous. No less than 88 percent of U.S. consumers told Nielsen that they would shop from their computers again this coming Cyber Monday. Furthermore, mobile shopping seems to be coming of age, with 37 percent of consumers planning to use tablets and 27 percent saying they would be using their cell phones to shop this Cyber Monday. Three-quarters of consumers plan to go directly to store websites and as many will rely on word of mouth to get information about Cyber Monday deals, while half of us will turn to Cyber Monday deal sites or Facebook and Twitter for ideas.

I found one piece of statistics particularly striking. Even as visits to Cyber Monday deal sites are down (by 14 percent on an annual basis in 2012), the time spent on them has increased considerably among some consumer categories and especially among males (by 24 percent) and Asian-American shoppers (by 85 percent). On the other end of the spectrum, females have spent 7.6 percent less time on such sites and African-Americans — 11.9 percent less time. Here is the full breakdown:
Cyber Monday — Year-over-Year Change in Total Minutes, in %
From home and work computers in the U.S.

| | | |
| --- | --- | --- |
| Category | Retail Sites | Coupons / Rewards Sites |
| Total | 1.8% | 1.6% |
| Female | 4.4% | -7.6% |
| Male | -3.4% | 24.0% |
| 12 – 17 | 9.7% | -38.7% |
| 18 – 34 | 7.2% | 1.7% |
| 35 – 49 | -19.8% | -6.4% |
| 50 – 64 | 20.5% | 15.7% |
| 65+ | 40.0% | 9.5% |
| African-American | -5.2% | -11.9% |
| Hispanic | 18.8% | -12.1% |
| Asian-American | 45.3% | 85.2% |
| White | 0.5% | -1.9% |
Read as: On Cyber Monday in 2012, U.S. consumers spent 1.8 percent more total time on retail sites compared to Cyber Monday in 2011.

Now here is the infographic to illustrate the report's highlights:


Image credit: Wikimedia Commons.