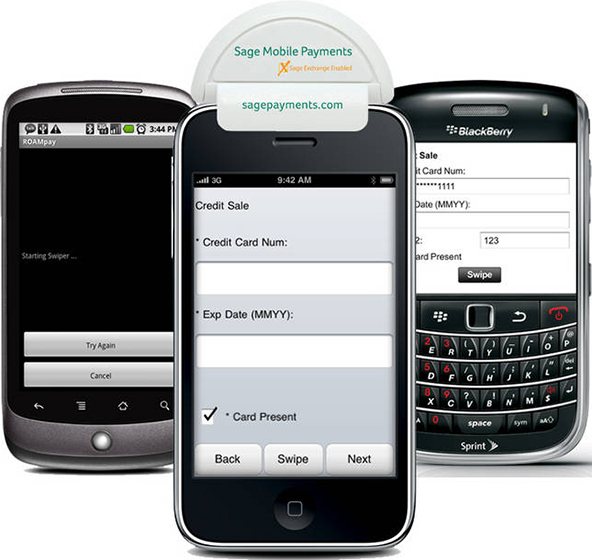 The world of mobile payments is getting more crowded by the day. Sage Payment Solutions, a U.S. payment processor, has just launched Sage Mobile Payments, a service that would enable users to accept credit card payments through their smart phones, we learn from a press release.

What Does the New Mobile Payments Service Do?

Similarly to Square, a start-up launched by Twitter co-founder Jack Dorsey, and Intuit's GoPayment, Sage Mobile Payments works by enabling users to swipe customers' cards through a device that plugs into the user's smart phone. Sage's service works on most of the popular smart phones, including the iPhone, iPad, BlackBerry, Motorola's DROID phones and a range of HTC, LG, Samsung, Sony Ericsson and other devices.

Sage have explicitly stated in the press release that their mobile payments service is designed for small and midsized businesses (SMBs), which puts it in direct competition with GoPayment, rather than Square, whose services are designed primarily for consumers and low-volume small businesses.

The difference between the two approaches is quite substantial and we wrote about it at some length when we examined Square some time ago. The biggest one is that traditional payment processors, Sage and Intuit very much included, only provide credit card acceptance services to business entities, either incorporated ones or at the very least sole proprietorships. Square, on the other hand, lets individuals accept payments, which makes it the mobile payments equivalent of PayPal.

Sage's Pricing

In a previous post we ran some numbers to see how Square compares on the cost front to GoPayment and Mophie, another Intuit-backed mobile payment service. Unfortunately, I cannot do the same for Sage and not only because its pricing structure is different from its competitors', but also because there are not enough details about it.

Here is what Sage says about its pricing on its website:
While other vendors are fighting it out over no monthly fees but very high processing fees, Sage Mobile is saying no to marking up processing fees, which is the right thing to do for SMB customers that process a lot of volume.


Sage is focused on a reasonable monthly fee and no additional markup on processing fees which is much more cost effective for the SMB customer. SMBs need to look at the total cost of ownership. For example, competing mobile payment solutions can add 1% plus an additional .15 to .37 cents to the processing fees, which is well over $130 in extra fees for every $10,000 in credit card volume.

That's it and it's not enough, to say the least. Still, we can try to make an educated guess about what it means. It sounds like Sage users will be charged the interchange fees set by Visa and MasterCard for transactions with their cards and collected by the card issuers. For its services Sage will be charging a "nominal set-up fee" and a monthly fee, without adding anything to the interchange. The press release tells us that the monthly fee will be "as low as $10.95," so it is safe to assume that it could be higher. Without having any more details, however, we cannot verify Sage's claim that its offering is more cost effective than their competitors'.

Payment Processing Takeaway

It is very frustrating when a processor is so guarded about its pricing. In our experience pricing is the single biggest factor influencing small business owner decisions on selecting a merchant services provider. It is by no means the exclusive one, but it is the biggest factor all the same. There is no reason why Sage should not have posted pricing details on their website and I'm sure they will hear about it from merchants.

What do you think about the pricing issue? Should Sage have been more straightforward with their pricing or is what they have released just fine by you?

Image credit: SagePayments.com.