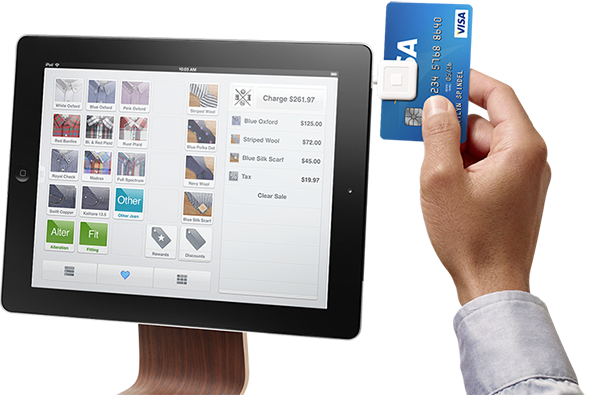 Square, the mobile payments start-up founded by Twitter creator Jack Dorsey, has landed a major deal — its credit card acceptance services are now being offered on Apple's online store. According to TechCrunch, later this week Square's card readers will be sold in Apple's brick-and-mortar stores as well.

The Deal

Apple has officially endorsed Jack Dorsey's payment processing service and now "recommends" it to "[a]nyone who wants to accept credit cards on their iPod touch, iPhone, or iPad." Apple's faithful can get the card reader for $9.95 apiece (you can get it for free on Square's own website, but more on that a bit later).

What Users Get

Having written several posts dedicated to Square already and referred to the start-up in a few other articles, I think it is about time that I list exactly what Square offers and to whom:
The service is available only to U.S. citizens, legal residents and businesses and can only be used in the U.S.
Square places restrictions to the types of sales users are allowed to accept payments for that are in line with industry regulations. So you cannot accept payments for things like gambling, drugs, escort services, bankruptcy attorneys, etc. The usual stuff.
Users can accept Visa, MasterCard, American Express and Discover cards. Apple's website tells us that users can only accept these brands' US-issued cards, but Square, as all other processors, explicitly tells us that it can process "most non-US issued credit, debit, pre-paid, or gift cards" bearing the logos of these companies so I don't see how Apple customers can be barred from accepting non-U.S. cards.
Flat rate of 2.75% for swiped transactions and (not stated on Apple's website but a fact all the same) 3.50% + $0.15 for key-entered payments.
Sales receipts sent to customers by email or SMS.
Transaction reporting. Users can track their sales online.
Daily fund deposits. So Square will deposit funds into its users' bank accounts at the end of each business day, but there is more to it:


If you are a new user to Square and have already received $1,000 during the last seven days, Square will defer initiating the amount in excess of $1,000 for 30 days. Payouts to your bank account will normally register in your account within 1-2 business days.


This is one way for Square to protect itself against possible fraud.

Specific for users who sign up for the service through Apple is the $10 credit upon account activation. This is the part I don't quite get. It is clear that the $9.95 sign-up fee is collected by Apple, as Square does not charge any such fee. Then it is given back, once the account is set up. What's the point?

The Credit Card Processing Takeaway

Regular readers know that we like our competitor (of sorts) Square here at UniBul. We have done multiple analyses of the start-up's pricing and how it measures up against its direct competitors and have clearly shown, I think, that pricing is not Square's main selling point.

What we like the most about Jack Dorsey's start-up is the fact that it is the only payment processing company that is targeting consumers, not businesses. My guess is that this is what Steve Jobs and company liked the most about it as well.

Image credit: Squareup.com.