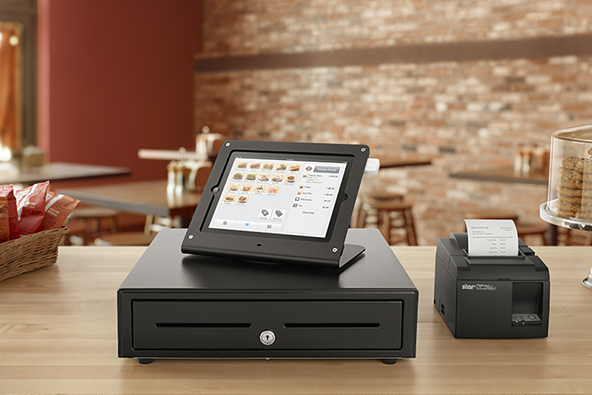 This is one of the most salient takeaways from a recent Business Insider report on the current state of the mobile payments industry. In their various guises, m-payments have indeed been growing at a break-neck pace for some time, yet this year their overall transaction volume is projected to make up no more than one-fiftieth of all credit and debit card volume in the United States. That ratio is greater for the Asia-Pacific region, but that part of the world had adopted mobile payments much earlier than North America.

Yet, though still diminutive in size, the mobile payments industry has been punching above its weight for quite some time. In the U.S. and Europe, in three short years, Square and its army of clones have transformed the way individuals and small businesses accept credit and debit cards, turning smartphones and tablets into full-featured point-of-sale (POS) terminals, replete with account management features that were theretofore only available to large merchants. Even more impressively, in Africa, M-Pesa has enabled people living in remote villages, whose only connection to the outside world is their mobile phone, to send and receive money to far-flung places and use other bank account-like features. Incredibly, though perhaps unsurprisingly, only six years after it opened for business, in its home market of Kenya M-Pesa was processing transactions totaling a third of the country's GDP. So yes, mobile payments have been disrupting industries and changing people's lives and the revolution has only just begun. Let's take a look at Business Insider's report.

M-Payments Volumes Are Growing but Still Tiny

Even though since 2008 mobile transactions have grown at an average annual rate of 118 percent, they will still make up only about 2 percent of all credit and debit card volume in the United States this year, as seen in the chart below.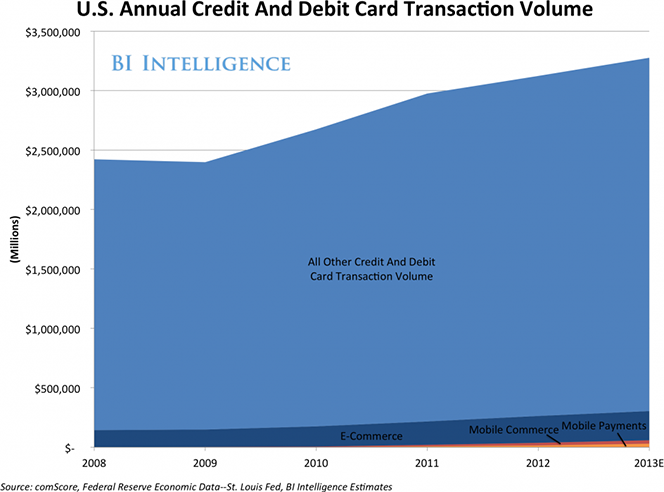 Markets in Africa and the Asia-Pacific region, however, are seeing a much larger share of mobile transactions, which will account for about 4 percent of the total global credit and debit card transaction volume in 2013, as seen in the chart below.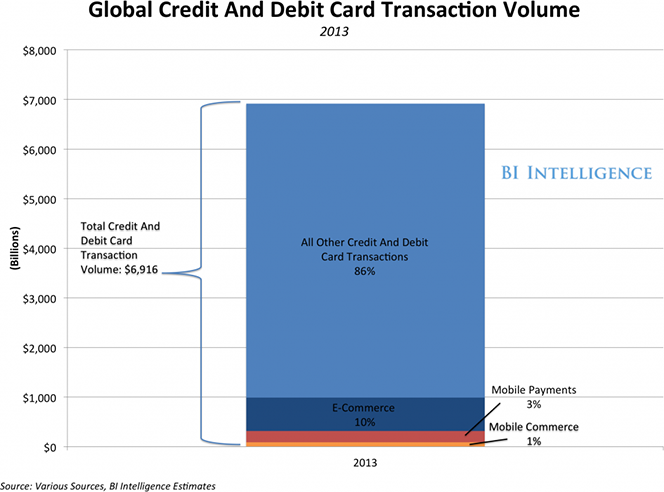 The increase of the mobile payments volume is driven primarily by the explosive global growth in smartphone adoption, BI tells us, which translates into more transactions processed through mobile apps and services, especially in countries with underdeveloped consumer banking systems. The proliferation of smartphones and tablets used as low-cost POS systems is nicely complemented by the explosion of mobile payment apps. The combination makes mobile payments "almost as easy to use as physical credit cards and cash".

Awareness vs. Usage

Now here is one of the most revealing findings of the report. As expected, in the mobile wallet category, PayPal tops both the consumer awareness and usage charts, with 83 percent of the respondents claiming to have used the service. None of PayPal's competitors comes even remotely close to either score. But what's more striking is to see just how poorly all non-PayPal wallets score on the usage front. The highest-scoring competitor — Starbucks! — has a 15-percent usage ratio, while all others are at less than 10 percent. Note that the much-ballyhooed Isis has a grand total of 1 percent usage.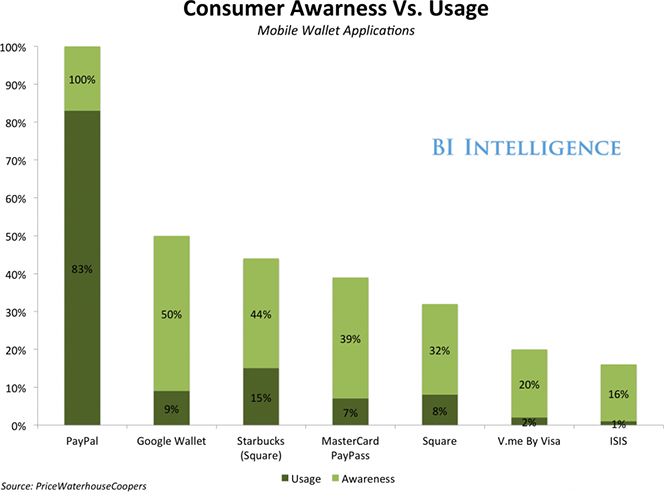 Amazingly, Starbucks reported that 1 in 10 transactions in their shops are initiated on a smartphone. In total, the coffee chain processes three million mobile-based transactions every week.

Small Merchants Are Warming up to M-Payments

Small and medium-sized businesses have been eager to adopt mobile card readers, because they come with value-added services, like payments and accounting software, BI reminds us. According to a BIA / Kelsey survey of 600 small and medium-sized businesses, 40 percent of the respondents currently accept payments through a Square-like service and by the end of next year their share is expected to grow to 56 percent.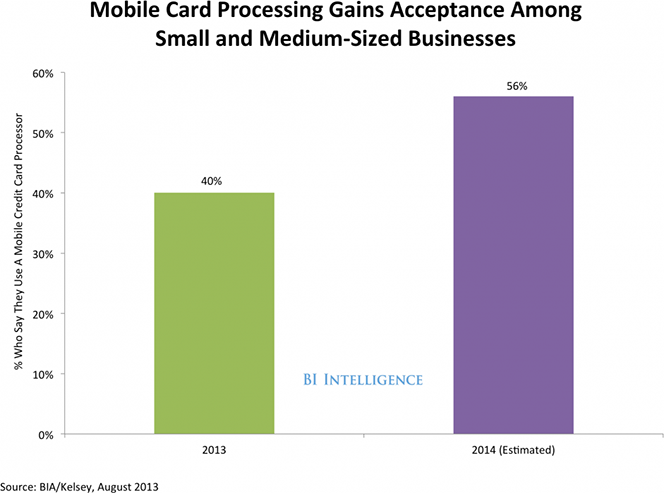 PayPal vs. Square

Two companies have become the undisputed leaders of the fledgling industry: PayPal, which pioneered online payments a decade and a half ago, and Square, which did in the mobile payments field what PayPal did in the e-commerce one all these years ago. A month ago, PayPal acquired Braintree, a specialist in processing mobile-commerce transactions, for about $800 million, which, BI tells us, gives eBay's processor "a pretty significant boost in mobile transaction volume".

In all, PayPal projects it will process about $20 billion in mobile transactions in 2013 and Braintree will add around $4 billion. The combined volume would represent a 170-percent annual increase in PayPal's mobile transaction volume. The chart below illustrates the growth of PayPal's total transaction volume — digital and mobile — which in 2013 is expected to be bigger by 33 percent than the total for 2012.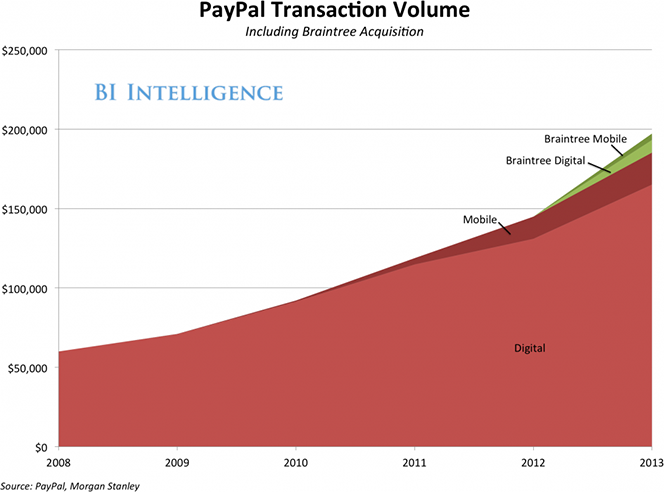 Square, PayPal's biggest mobile payments competitor, began with a free credit card reader for smartphones, but now offers a wide range of payment acceptance and management tools, including Square Register, Square Market, Square Wallet, and Square Stand. An increasing number of small businesses are attracted to the start-up's simple pricing model and sleek products, as illustrated by the accelerating growth of Square's processing volume.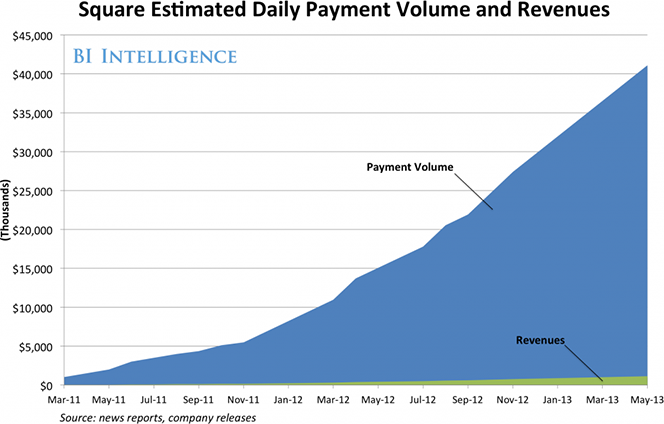 The Takeaway

Even though the mobile payments industry is still in a very early stage of development, some trends are quite clear. Smaller merchants have been quick to incorporate mobile card readers and companion apps, which gives them access to features previously reserved solely for their bigger competitors. Square has been the biggest enabler and beneficiary of this market shift. However, mobile wallets, while gaining in name recognition, have been unable to gain much traction, as technological challenges and consumer skepticism have converged to slow down their adoption by a wider audience. Moreover, NFC-powered wallets (for example, Google Wallet and Isis) have been a complete failure, at least so far. Yet, there is a lot of money at stake and a myriad of contestants are vying for a piece of the action. So mobile payments is certain to remain a dynamic field for some time.

Image credit: Square.