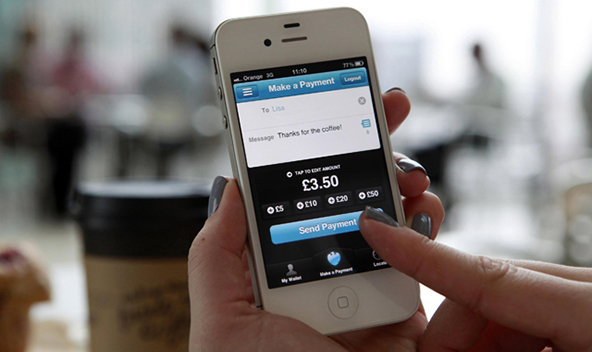 Major technology companies on both sides of the Atlantic have been talking up mobile payments, in all of their shapes and forms, for quite some time now, but this week it seems that the clamor has reached a feverish pitch. Announcements of new product launches and projects have been coming in spades from the Mobile World Congress in Barcelona and elsewhere.

Orange and Samsung to Roll Out NFC-based Mobile Payments in Europe

Less than a month after Visa and Wireless Dynamics announced the release of a mobile contactless payment service for European iPhone owners, Orange, a large wireless carrier, announced that it will start offering touchless payments in the U.K., Spain, France, and Poland beginning in the second quarter of this year.

The service will be based on near-field communication (NFC) technology, which allows data to be transmitted between enabled devices within a range of less than four inches. The first Orange phone to support NFC will be the Samsung Wave 578 handset. The carrier intends to have half of its phones NFC-enabled by the end of the year.

Just a week ago Orange teamed up with a couple of French carriers and a payment processor to create a mobile payments platform that would allow users to link a credit card account to their phone and use it for payments in both physical and web stores.

Additionally, Orange has launched a contactless MasterCard prepaid card that is available to its British customers. The card costs ?ú5 ($8) and can be loaded up to ?ú5,000 ($8,000) at 22,000 stores and gas stations. The card can be used for purchases of up to ?ú15 ($24) and earns a reward point for every ?ú1 spent.

Deutsche Telekom to Launch 'Mobile Wallet' in Europe and the U.S.

Deutsche Telekom, another large European carrier and the parent company of T-Mobile USA, has also announced plans to launch an NFC-based mobile payments service. Its 'Mobile Wallet' will be rolled out in Germany and Poland later this year and in the Czech Republic, the Netherlands, and the U.S. in 2012.

Deutsche Telekom's Mobile Wallet is very similar to Isis, a U.S. joint-venture, AT&T, Verizon and Deutsche Telekom's U.S. subsidiary. The two services are not identical, however. Isis payments will be underwritten by Barclays, a large British bank and processed on Discover's payment network. By contrast, Deutsche Telekom's payments will be posted on the users' monthly phone bills.

RIM is Also In It

Research In Motion (RIM), the maker of BlackBerry, also promised in Barcelona that most of their handsets to be NFC-enabled by the year's end. "We'd be fools not to" do it, said co-CEO Jim Balsillie.

Google Thinks Mobile Ads

Not surprisingly, Google is interested in the future of mobile ads, as much as it is in mobile payments. CEO Eric Schmidt said advertisers will be able to "extend offers to phones with NFC chips." Here is how Schmidt sees the future of mobile advertising:

"My phone remembers I need new pants," he said, "and it knows ahead of me are two stores-one offering the product at a 20 percent discount, the other offering a 30 percent discount. I enter the store with the bigger discount, the pants are ready, and out I go. You don't think this is going to work? It should revolutionize electronic commerce and payments. We're seeing that models around consumerism are working when they're tied to location and advertising."

Payment Processing Takeaway

With so much buzz around mobile payments launches and announcements, you would think that the m-payment revolution has already arrived. It could be easy to forget that in the U.S. currently there is only one NFC-enabled handset — the Samsung-built Nexus S — and that its m-payment support is still unutilized. The Europeans are only slightly ahead of us.

The situation is about to change, however, and it will happen very quickly. By the end of the year at least a third of all new smart phones will support NFC and there will be several mobile payments platforms to choose from. What isn't as clear yet is whether they will provide sufficient value for consumers to convince them to leave their credit cards at home.

Image credit: Barclays Pingit.