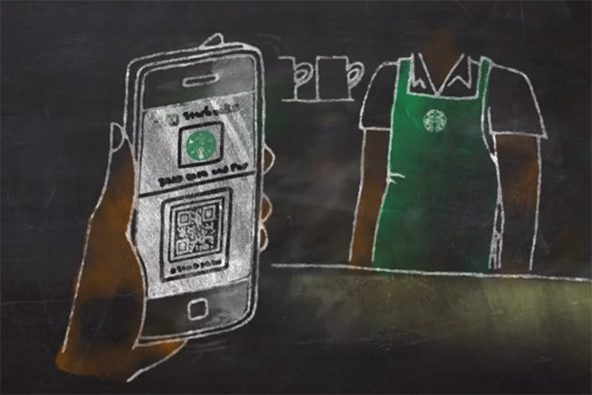 There is a huge divergence in the way and speed with which mobile payments are taken up in the developed and developing world. Just last week, we reviewed Tanzania where in September 2013 mobile financial services were adopted by 90 percent of the adult population — up from zero just five years earlier — and are actively used by about half of them. Of course Tanzania was following in the footsteps of Kenya, whose example is also being followed by other developing countries.

In developed countries, however, the story has been very different, even though mobile payments technologies are much more abundant there than they are in emerging markets. Yes, there have been some notable success stories and perhaps the stand-out m-payments technology in the rich world is the direct billing, which allows consumers to charge small-amount payments to their monthly cell phone bill. Of course, Square also comes to mind here in the U.S., as well as its countless clones on both sides of the Atlantic. Yet, none of these, or any other, rich-world m-payments services can boast anything close to M-Pesa's success in Kenya, where the company is facilitating transactions worth 43 percent of the country's GDP.

Well, the latest Federal Reserve Consumers and Mobile Financial Services survey and report is helping us figure out why we treat m-payments the way we do in the U.S. and is giving us the most current data. I, for one, wasn't surprised to learn that the biggest reason for the relatively slow adoption of both mobile banking and mobile payments is that for many consumers these new technologies aren't needed: their needs are already being met perfectly well by non-mobile options and they don't see any clear benefits from using the new alternatives.

Still, albeit slowly, mobile payments are taking hold, helped by the ever increasing number of smartphones and the Fed researchers reasonably expect that the use of both mobile banking and mobile payments will continue to increase. Let's take a closer look at their findings.

Use of Mobile Banking, Payments Up

The Fed defines mobile banking as "[s]ervices that allow consumers to obtain financial account information and conduct transactions with their financial institution" using their phones, whereas mobile payments are services that "allow consumers to make payments, transfer money, or pay for goods and services". Both have become more widely used over the past year. Mobile banking usage has increased from 21 percent of mobile phone users and 42 percent of smartphone users in December 2011 to 28 percent and 48 percent, respectively, in November 2012 and 33 percent and 51 percent in 2013.


The use of mobile payments has increased less rapidly. In December 2011, 11 percent of mobile phone users and 23 percent of smartphone users reported using mobile payments. By November 2012, these ratios had increased to 15 percent and 24 percent, respectively, but in 2013, there has been no progress: 17 percent and 24 percent.

In-Person still Preferred Way of Banking

As you can see in the figure below, the preferred way of interacting with a bank remains in-person at a branch, with 82 percent of consumers with a bank account reporting that they had visited a branch and spoken with a teller in the past year. ATM use was the second most common means of access in the past 12 months, at 75 percent, followed by online banking at 72 percent. About a third of all consumers with bank accounts used telephone banking and just 30 percent used mobile banking, virtually unchanged from the 29-percent ratio in 2012. And the ratio of Americans who have made a mobile payment has actually fallen from 15 percent in 2012 to 14 percent in 2013.

The Young Lead the Way

No surprise here. In the 2013 survey, consumers between ages 18 and 29 account accounted for about 39 percent of mobile banking users, relative to 21 percent of mobile phone users overall. These ratios were pretty much unchanged this year.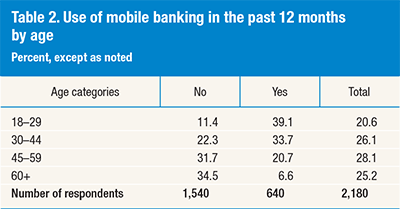 Minorities, Hispanic users in particular, are disproportionately more likely to adopt mobile banking than non-Hispanic whites, comprising 19 percent of all mobile banking users relative to 14 percent of mobile phone users overall, as illustrated in the table below: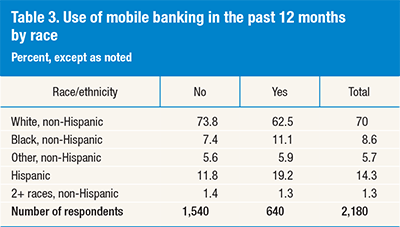 Checking Account Balances Most Common M-Banking Activity

Checking account balances and making transaction inquiries are still consumers' favorite mobile banking activities, with 93 percent of users having performed at least one of them in the past 12 months, up from 87 percent in 2012. Transferring money between accounts is the second most used mobile banking feature — 57 percent of users have reported that they had done so in the past year, up from 53 percent in 2012 and from 42 percent in 2011.


Among users, the frequency with which they use mobile banking has decreased over the past year, we learn. The median reported usage declined from six times per month in 2012 to four times per month in 2013.

Who Needs Mobile Banking?

This is the most striking result from the survey. In 2012, 54 percent of the respondents said that the main reason they didn't use mobile banking was that they believe their banking needs are met otherwise. Well, in 2013, that ratio had grown to 89 percent! Similarly, the ratio of respondents who see no reason to use mobile banking has increased from 47 percent to 75 percent.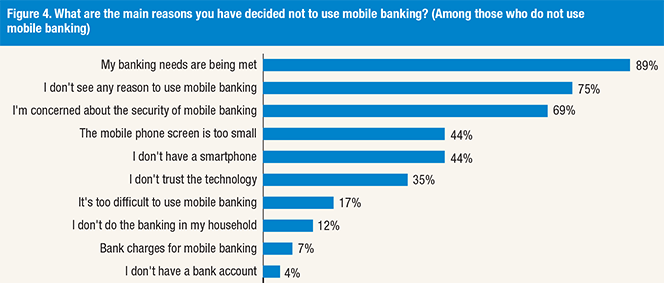 Mobile Payments Limited but Growing

Mobile payments continue to have limited adoption and are less common than mobile banking. Only 17 percent of mobile phone users said that they made a mobile payment in the past 12 months, up from 15 percent a year before and from 12 percent in 2011. Bill payment continues to be the most common type of mobile payments activity, at 66 percent, up from 42 percent in 2012. Online purchases were second at 59 percent, up from 35 percent in 2012. Using mobile phones for person-to-person (P2P) money transfers has also become more common — about 39 percent of users said they did so in the past 12 months, up from 30 percent in 2012.

Point-of-sale (POS) purchases with mobile phones have also increased in popularity, with 17 percent of smartphone users reporting to have made at least one. Additionally, 39 percent of users reported to have scanned a barcode or Quick Response (QR) code to make a payment (up from 9 percent in 2012) and 18 percent saying that they used a mobile app to pay for a purchase (up from 9 percent the year before). The share of users waving or tapping a mobile phone at a cash register to pay for a purchase (using NFC technology) has once again more than doubled from the previous year, to 14 percent in 2013, up from 6 percent in 2012 from just over 2 percent in 2011.

Security Concerns, Alternatives Slow Down M-Payments Progress

Among consumers who do not use mobile payments, the biggest reason they have not adopted any of the available technologies is that they see little or no value or benefit from using mobile payments. As you can see below, 76 percent of respondents say that it is easier to pay with other methods (up from 36 percent in 2012) and 61 percent report that they do not see any benefit from using mobile payments (up from 35 percent in 2012)

To make matters worse, consumers' concerns with the security of m-payments are also becoming more prevalent: that reason for not using the new technologies is cited by 63 percent of the survey's non-user respondents, up from 38 percent in 2012.

The Takeaway

So it is quite clear that, even as Americans continue to adopt mobile banking and mobile payments, they are not exactly ecstatic about the new technologies. Yet, it is also the case that most of the technologies in question, and especially NFC, are still very much in their infancy and consumer attitude towards them may well become more positive as they mature.

I fully expect that once a true mobile wallet — one that can store all of your payment cards, bank accounts, cash and checks and is widely accepted by merchants — becomes available, people will start using it. As of now, however, all available digital wallets are limited in the payment instruments they support and few merchants accept them. Most other types of m-payment services are similarly handicapped. But that will change over time and m-payments will gradually become as mainstream as web payments.

Image credit: YouTube / Square.