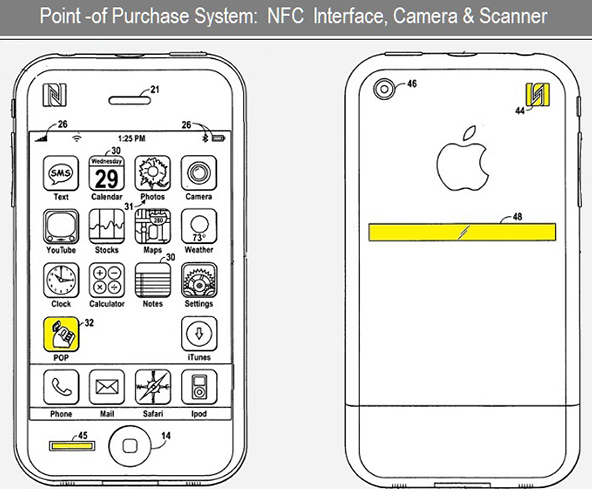 The blogosphere has been buzzing with rumors about the possible incorporation of near field communication (NFC) technology into the next iteration of Apple's iPhone. NFC-enabled mobile phones can be used for making payments using credit or debit card information that is pre-stored on the phone by swiping it by a NFC-equipped reader at participating retailers.

Actually, the idea is not exactly revolutionary. In fact, there have already been several big announcements this year about NFC-related pilot projects. The biggest one is probably the one involving three large mobile network carriers (Verizon, AT&T and T-Mobile), a huge bank (Barclays) and the fourth-biggest U.S. credit card payment network (Discover). The quintet is planning to use NFC technology to enable users to make payments by linking their mobile phone accounts to a Discover credit card account.

The NFC technology uses frequency that allows data transmission between enabled devices within a range of less than 8 in., which limits the risk exposure to threats from hackers.

Now, let's take a look at what Apple is rumored to be working on. According to Finextra:
Apple is working on an NFC-enabled phone, and given their recent hires in the space, it is assumed that the iPhone 5 will be the platform for this change. So how will Apple's NFC-enabled iPhone 5 work? We know a few things about the likely capability of the phone based on the patents issued by Apple. Firstly, the payment application will be a core app integrated into the phone, there will be a biometric strip (presumably enabling fingerprint authentication) and the phone will ostensibly work just like an EMV-chip credit card.

…

We know that the primary payment app will work as an interface to your bank or credit card company as you need it to.

Finextra's piece goes on to suggest that Steve Jobs and company would then take it a step further and actually turn the iPhone 5 into an Apple-backed debit card by providing users with "stored value" through its iTunes store. In effect, Apple would become a bank.

While this is by no means an improbable scenario, is it really inevitable? Would Apple really want to become a bank? Even if it does, would it be willing to put up with all the additional scrutiny and extra regulatory burden?

Before answering these questions, we may want to first take a look at other successful retailers' recent ventures into banking. Actually, the story of the biggest of them all – Wal-Mart – may suffice. For years now the retail giant has been going through a long, tortuous and, as of yet, unsuccessful process in its quest to become a bank. To this day all financial services offered by Wal-Mart are underwritten by a financial institution. It doesn't seem likely that Apple would choose to go the same route.

The added regulatory scrutiny was no doubt among the biggest reasons Verizon, AT&T and T-Mobile chose to partner with financial institutions, rather than go it alone. Technically, they could have easily done it. The billing infrastructure is already in place and their customer service staff is used to handling customer billing inquiries. Yet, the carriers seem to have decided that staying within their core competency would be the more prudent way to go. Apple would probably come to the same conclusion.

Image credit: Finextra.