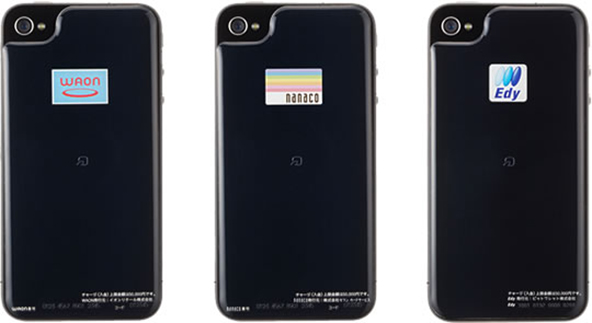 There have been rumors that the next iteration of the iPhone will incorporate near-field communication (NFC) technology to allow users to make payments using credit or debit card information that is pre-stored on the phone by waving it by a NFC-equipped reader at participating retailers. Well, Japan is not waiting for it.

Apple's current iPhone version is getting a Japanese make-up that will get the m-payment job done even before Steve Jobs and company release the full-fledged device, whenever that may be.

According to Engadget, Japanese mobile carrier Softbank has developed an adhesive NFC sticker that gets attached to the back of the iPhone 4 and functions independently from the device, allowing users to make payments wherever NFC scanners are present.

This is no doubt a welcome development for the Japanese who have been accustomed to having e-wallet functionalities standard on their mobile phones for a long time.

Softbank's solution is not without its disadvantages, however. For one, consumers will have to pay for it. The NFC sticker will go on sale in February and will have the somewhat hefty price tag of ?Ñ2,980 ($36).

Yet, there is a bigger concern about it and it has to do with security. Having an independently operating sticker attached to your phone will allow anyone who gets a hold of it to make a payment just by waving the device by a NFC reader. So if your phone is lost or stolen, your e-wallet will be left unprotected until you report the incident to your mobile carrier.

Mobile phones with integrated NFC capabilities solve this vulnerability by requiring the user to keep the phone in a locked state. Whenever a payment needs to be made, the user will first have to unlock it. So even if the phone is stolen, it will be unusable without the PIN.

Recently, many U.S. mobile carriers, hardware manufacturers, financial institutions, as well as businesses from plenty of other industries, have begun testing various NFC platforms to enable Americans to finally catch up with consumers from the Far East and begin using their phones for payments.

The biggest NFC project so far is Isis, a joint venture that will create a national mobile commerce network. It features mobile carriers AT&T, T-Mobile and Verizon. Payments will be processed through Discover's network, the fourth-largest in the U.S. Barclays, a large British bank, will be managing the user accounts and is expected to be the first issuer on the network.

Google's newly released Android 2.3 mobile OS (aka Gingerbread) supports near-field communication (NFC) and the Nexus S phone, the successor to the Nexus One, can be used for making mobile payments. The device, manufactured by Samsung is the first NFC-enabled phone to hit the U.S. market.

The traditional credit card players have also been very active. The Metropolitan Transportation Authority (MTA) managed to bring rivals Visa and MasterCard together earlier this year, in a test of a pilot program that will allow New York commuters to pay their fares by waving their phones or credit cards by NFC-enabled turnstiles. Both credit card networks have all the while been working on separate mobile payments projects of their own.

Others are also testing the potential of the NFC technology. Starbucks, for example, recently expanded its own NFC-based pilot to include more than 300 stand-alone stores in New York City, after adding more than 1,000 outlets located within Target stores to its year-old program earlier this year.

So, while the U.S. is still lagging behind Japan and South Korea in the adoption of mobile payments, the gap is closing quickly and 2011 promises to be the year when NFC will go into the American mainstream. Moreover, other m-payment technologies are developing just as swiftly.

Image credit: Softbankmobile.co.jp.