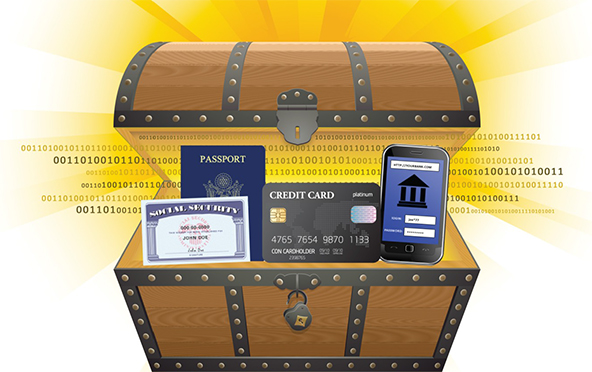 In 2012, the number of identity fraud victims in the U.S. increased for the second year in a row, rising by 1 million to a total of 12.6 million, we learn from a recent Javelin Strategy and Research report. That means that more than 1 in 20 (5.26 percent) American consumers had their identity stolen or otherwise compromised last year. The total amount lost to identity fraud in 2012 — $20.9 billion — was the second biggest since Javelin started tracking it a decade ago, only behind 2009's total of $31.4.

The biggest contributors to the increase were spikes in the two most serious fraud types, new account fraud and account takeover fraud, we learn. Whereas these types of fraud have affected a lower proportion of fraud victims, they have nevertheless consistently produced the highest average fraud amounts and consumer costs, the researchers have found. Let's take a look at the report's most interesting findings.

Identity Fraud Affected 12.6M Americans in 2012, Cost $21B

In 2012, the average consumer cost of identity fraud increased by $11 from 2011, to $365, we learn. These costs include out-of-pocket expenses, unreimbursed monetary losses and lost wages as a result of spending time resolving the fraud. However, 80 percent of the 12.6 million victims did not suffer any such costs, which instead were absorbed by these consumers' financial institutions. On average, fraud resolution took consumers 12 hours, but for more than half it only took three hours or less.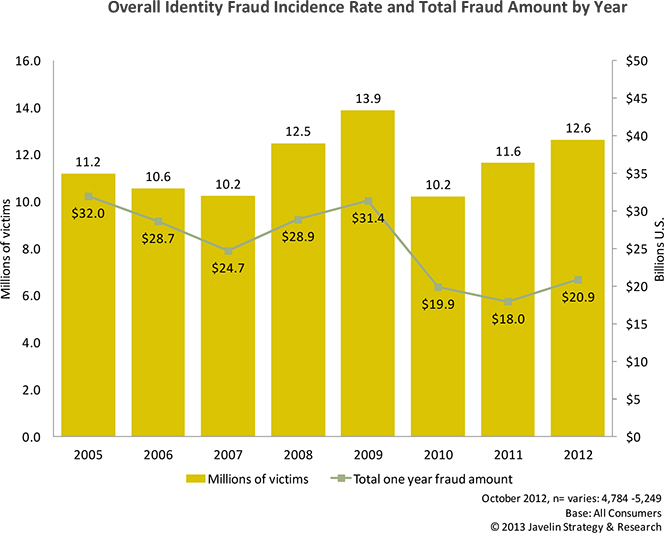 Data Breach Victims More Vulnerable than Others

Perhaps that finding will surprise few — after all, hackers steal personal account information so that they can use it for financial gain. Unfortunately, they are doing a good job at it — about a quarter of all consumers who were notified in 2012 that their account information had been compromised during a data breach actually became fraud victims. Particularly vulnerable were consumers who were notified that their social security numbers were compromised in a data breach incident. These consumers were 5 times more likely to be identity fraud victims than all other consumers and 14 times more likely to be new account fraud victims.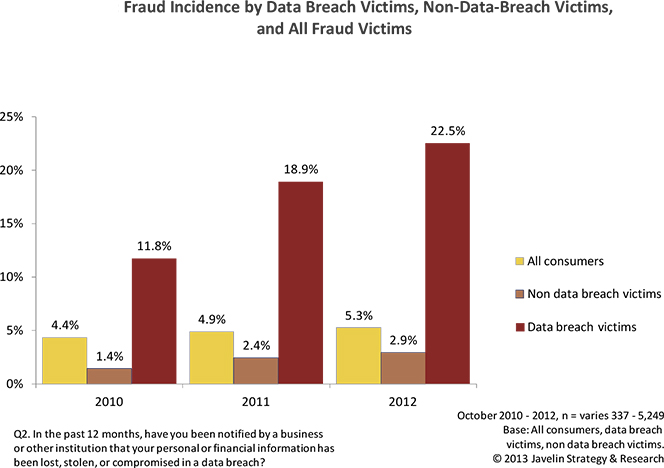 E-Commerce Fraud on the Rise

E-commerce sales volumes are growing, but so is online fraud. As online retail sales grew by 13 percent in 2012, on an annual basis, the ratio of online fraud victims increased from 41 percent to 45 percent, with payment cards accounting for 95 percent of the misused information. In all, 7.5 million Americans were affected. If it is any consolation, at an average consumer cost of $326, online fraud turns out to be the least expensive type of fraud.

Tablets Most Vulnerable to Fraud Attacks

The report finds that tablet users are much more likely to be fraud victims than all consumers (9.6 percent vs. 5.3 percent), which the researchers attribute to the younger age and lower risk aversion of the average tablet user, as well as to the security vulnerabilities inherent in new technologies.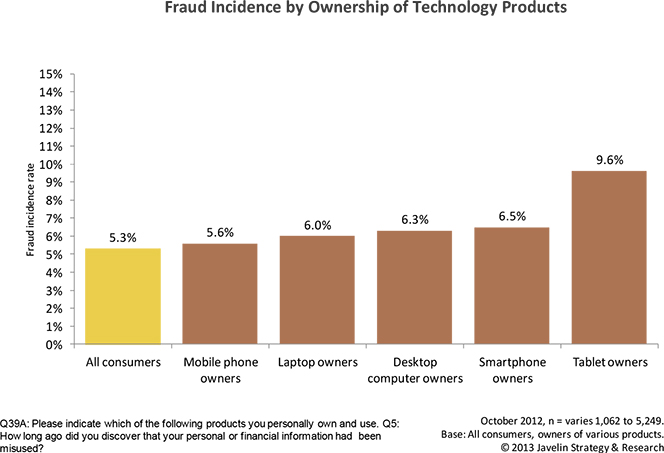 Malware poses an increasing threat for the millions of Americans (211 million in 2012) who use online banking. Criminals stole $4.9 billion last year through various account-takeover schemes, which rely on malicious programs which infect various electronic devices.

How Identity Theft Occurs

Identity theft is often the result of lost or stolen information and not necessarily of hacking or some other scheme. Moreover, identity theft often occurs when a person known to the victim has access to the victim's personal information — this is known as "familiar fraud".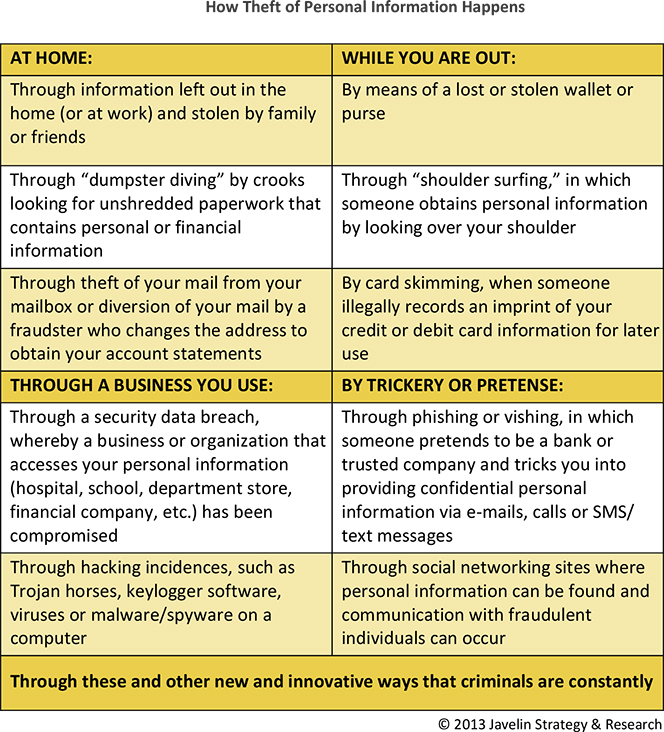 How Fraud Is Detected?

For fraud detection consumers rely as much on themselves as they do on their banks and on law enforcement, the report finds. Half of all victims were able to self-detect fraud by monitoring their accounts and credit reports or through an enrollment into identity protection services. In contrast, only 33 percent of the victims got the bad news from their bank or credit card provider and 17 percent — from other sources.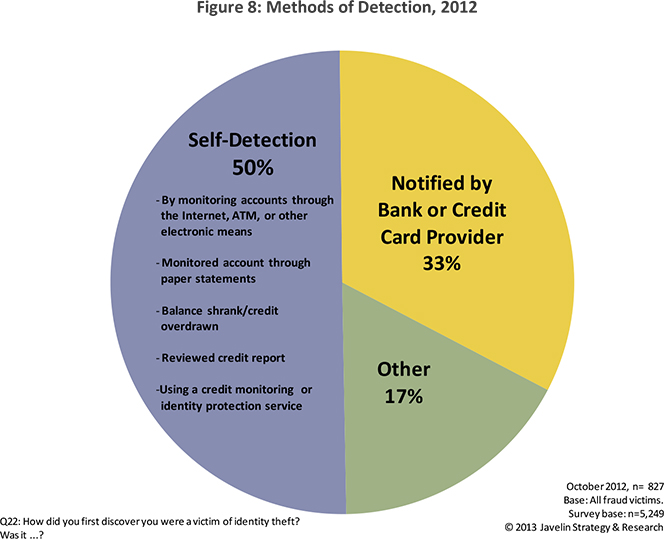 Among the many things we learn in the report is that 7.4 percent of consumers who accessed the internet through public Wi-Fi connections last year became victims of identity fraud, a much higher ratio than the one for consumers who did not — 4.6 percent.

The Takeaway

Quite apart from giving us all these statistics, the report makes it quite clear that keeping vigilant is our best defense against identity theft. In fact, some types of fraud are more difficult for banks to detect than they are for consumers and a perfect case in point is the aforementioned familiar fraud. It turns out that only 10 percent of the victims of this type of fraud are informed for it by their banks, whereas the average for other types of fraud is 33 percent. And anyway, it is in our own best interest to take a proactive role in keeping our identity and financial accounts safe from criminals.

Image credit: Javelinstrategy.com.