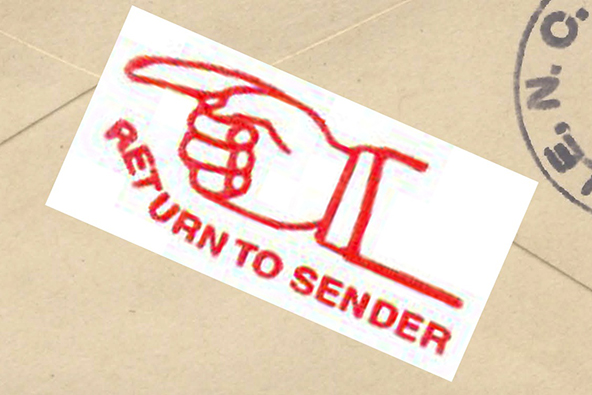 Merchants need to establish terms and conditions for handling returned merchandise and canceled services and for issuing credits and refunds, when applicable. These terms must be clearly communicated with your customers prior to the purchase.

Disclosure of transaction terms and conditions. Your business should develop specific terms governing each transaction, which should take effect in the event of a customer dispute, provided that these terms were disclosed to and accepted by the cardholder prior to the completion of the transaction. These transaction terms may be communicated by, for example, printing them on the invoice or sales receipt close to the cardholder signature line on the transaction invoice or sales receipt. The transaction terms also may be disclosed in other ways, provided the customer is aware of and understand the disclosure before completing the transaction.

The specific transaction terms may include, for example, such words as "No Returns," "Exchange Only," "In-Store Credit Only" or "Original Packaging Required for Returns." The disclosure may also specify terms such as late delivery, delivery charges, or insurance charges.

Returned merchandise and canceled services. Your business is not required to accept returned merchandise or the cancellation of services unless a right of return or cancellation was a condition of the transaction. If you have agreed to accept merchandise for return or refund or to cancel services, you must credit the same card account used to purchase the merchandise or service.

If your customer used a credit or debit card for payment, upon a partial or entire return of merchandise or cancellation of service, or if you agree to a price adjustment, you are only allowed to issue a credit to the card account used to purchase the merchandise or service. Industry regulations prohibit issuing a full or partial refund or adjustment by cash or check or by any means other than by crediting the card used to make the purchase. A cash or check refund is permitted for involuntary refunds by airlines or other carriers or merchants only when required by law. The cardholder must be provided a copy of the credit receipt, which must include the following information:
The date.
A description of the returned merchandise, canceled services or adjustment made.
The amount of the credit.
The merchant's signature.

Handling chargebacks due to defective or inadequately described merchandise. These types of chargebacks are listed with the following reason codes:
MasterCard Reason Code 4853: Cardholder Dispute — Defective Merchandise / Not as Described.
Visa Reason Code 53: Not as Described or Defective Merchandise.

The most common causes for this type of chargebacks are that the merchant:
Sent the wrong merchandise to the cardholder.
Inaccurately described the merchandise or services.
Did not cancel the services purchased by the cardholder.
Did not perform the services as described.
Did not accept the returned merchandise.
Accepted the returned merchandise but did not credit the cardholder's account.

In order to prevent such chargebacks from occurring, you sales and order processing procedures should be designed to incorporate the following best practices:
Ensure accurate merchandise / service description. Make sure that descriptions of merchandise or services shown in catalogs, on websites and sales receipts, or used in telephone order-taking scripts are accurate, complete, and not unintentionally misleading.
Ensure that the correct merchandise is shipped. Your organization's shipping and handling procedures should be regularly reviewed to ensure that orders are being filled accurately.
Train staff on proper procedures. Your organization's staff should be adequately trained on proper procedures for taking and filling orders, and reviews should be held at least annually.

Image credit: Thecapitolviewlive.com.