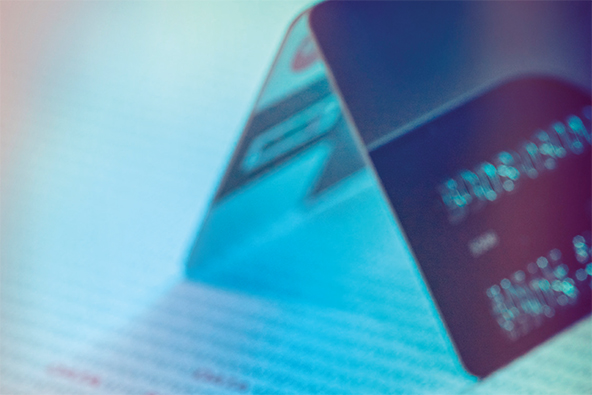 The 2013 Electronic Payments Survey, published by the Association for Financial Professionals (AFP) and underwritten by J.P. Morgan finds that payment fraud in the U.S. has substantially declined for yet another year. The leading cause for the improvement, it turns out, is not some enhancement of our defenses, but the ongoing shift away from the use of paper checks and toward electronic payments. Checks continue to be the most frequently and successfully attacked payment method, but as their use dramatically declines, so does overall fraud or as the authors put it: "[w]ith fewer checks in the system, less check fraud occurs".

So the survey's results are not exactly reassuring, which is a sentiment shared by the authors who caution us not to be fooled by the overall reduction in fraud losses. On the contrary, they warn, as payment options evolve, so do fraudsters' techniques. And anyway, at some point in the not-too-distant future, the transition from paper checks to e-payments will be complete and that will deprive us of our sole source of improvement. But let's take a closer look at the survey's findings.

61% of Financial Organizations Were Fraud Targets in 2012

Here are the survey's highlights:

1. Sixty-one percent of the surveyed organizations experienced attempted or actual payment fraud in 2012, down by five percentage points from 2011's level and by ten points from 2010's rate. However, payment fraud in 2012 was still occurring at a greater frequency than that reported in the initial AFP survey on payments fraud in 2005 when the rate was 55 percent.


A much larger share — sixty-seven percent — of organizations with annual revenues of over $1 billion were victims of payment fraud, compared to half of those with annual revenues of less than $1 billion.


2. Twenty-seven percent of the survey's respondents from affected organizations reported that the number of fraud incidents had increased in 2012 from 2011 while 16 percent said it had decreased and 58 percent reported no change.


3. Checks continued to be the fraudsters' prime target, as reported by 87 percent of the respondents from affected organizations. Corporate purchase cards were a distant-second target, cited by only 29 percent of the respondents, followed by ACH debits with 27 percent and wire transfers and ACH credits with shares of less than 10 percent each.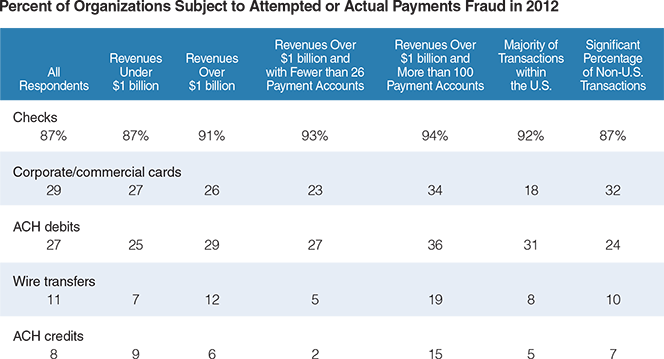 4. Seventy-three percent of the organizations that were victims of actual and / or attempted payment fraud in 2012 reported incurring no financial loss from the occurrences. Among organizations, which did suffer financial loss, the typical loss was $20,300. However, for 38 percent of the organizations, which did experience payment fraud in 2012, the potential loss was between $25,000 and $249,999 and for another 18 percent it was $250,000 or more.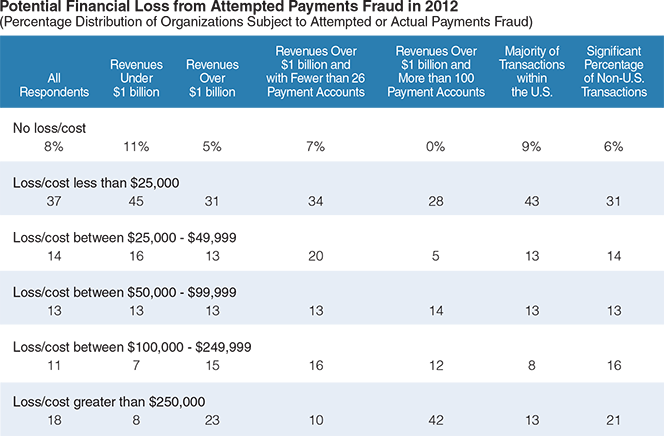 5. As noted in the previous item, nearly three-quarters of the organizations that were subject to at least one payment fraud attempt in 2012 did not incur actual losses from the incidents, largely due to effective fraud detection and controls. Sixteen percent suffered a financial loss of less than $25,000 and the remaining eleven percent reported a loss greater than $25,000. Larger organizations with many payment accounts were more likely to incur direct financial losses, which for 12 percent of them exceeded $250,000.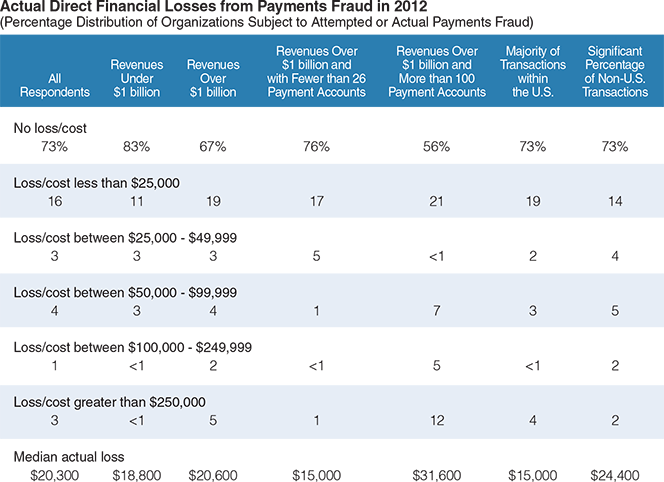 6. Checks were the payment form that accounted for the greatest fraud-related financial loss: 69 percent of organizations that reported incurring financial loss from payments fraud did so primarily as a result of check fraud, up from 60 percent in 2011. Corporate cards followed with 10 percent of actual losses while fraud losses from ACH debits, ACH credits and wire transfers affected fewer respondents.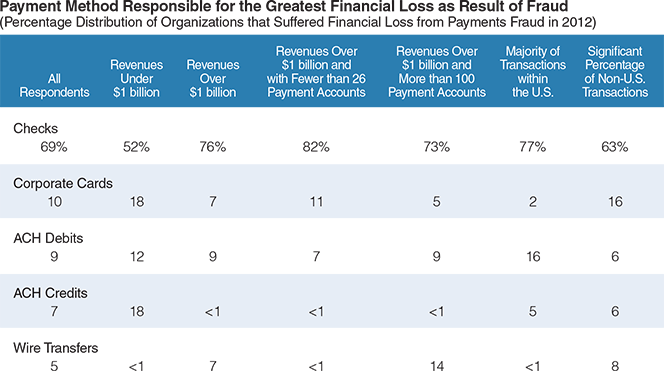 7. In most cases — eighty percent of the total — payment fraud originated outside the victimized organization, compared to ten percent originating from an internal party. Eighteen percent of the victims were subject to payment fraud originating from an organized crime ring.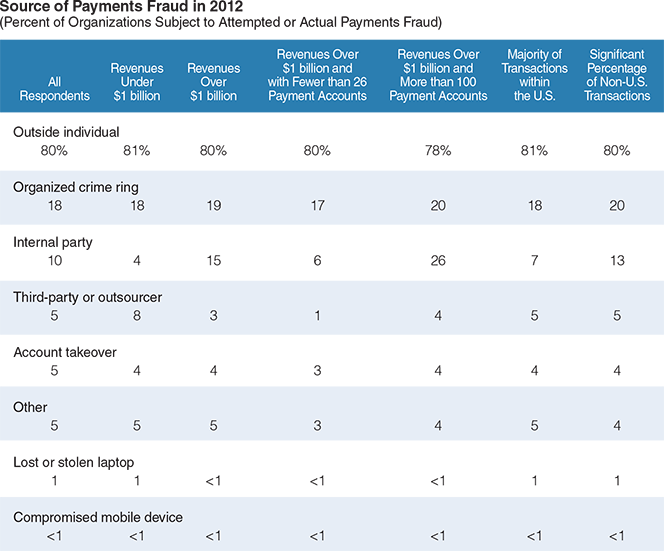 Phasing Checks Out

The most significant trend in payments-related business activity among the surveyed organizations, cited by 84 percent of the respondents, was the decrease in paper check payments and the corresponding increase in electronic payments. Many organizations were also seeing a significant increase in cross-border payments, which was particularly the case at large organization with more than 100 payment accounts. Other trends include increases in the business-to-business (B2B) payment mix, international operations (especially at large organizations and those with significant non-U.S. transactions) and mobile and alternative / emerging payment types.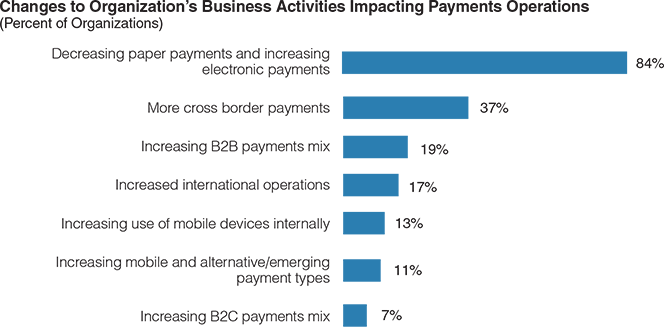 The Takeaway

There are a lot more interesting data to be found in the paper and I suggest that you go read the whole thing. But the most obvious takeaway, at least to me, is that, even as we benefit from our reduced reliance on paper checks, the level of fraudulent activity remains high and the variety of threats is increasing. Of course, that is not exactly news, but it's still a useful reminder that we are under an unremitting attack by disparate groups of resourceful criminals.

Finally, here is a nice visualization of the survey's highlights: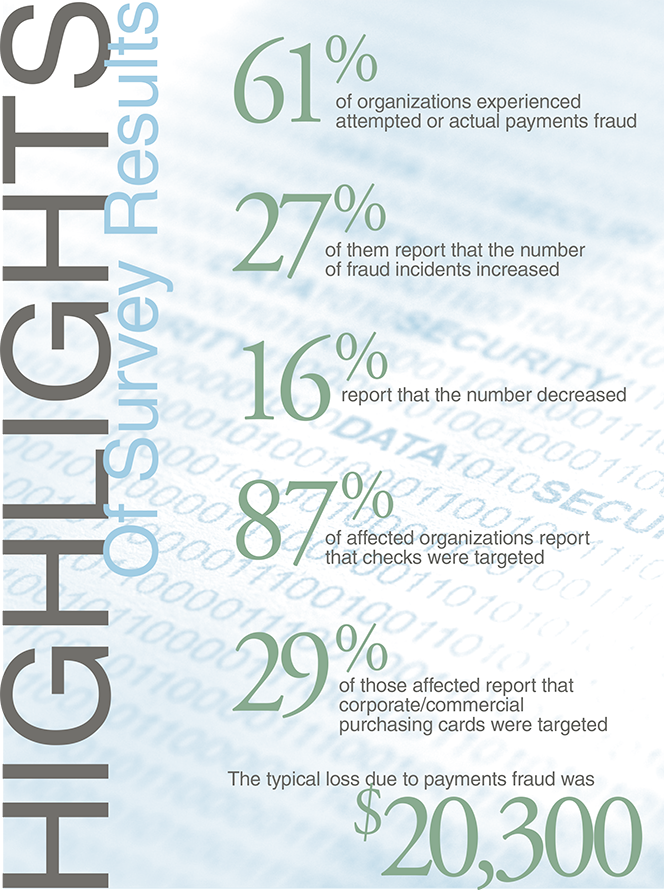 Image credit: J.P. Morgan.