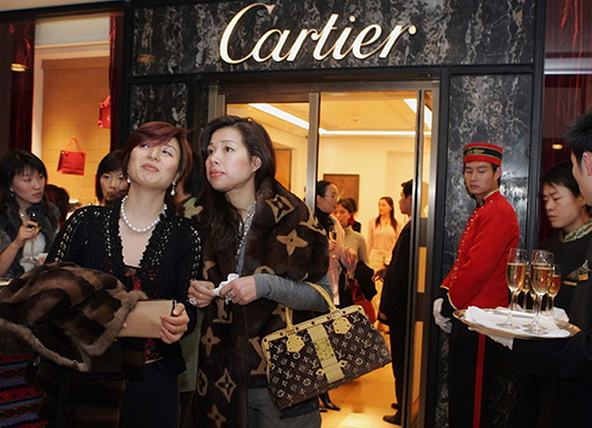 Bloomberg is giving us the latest numbers charting the meteoric rise to world-leader status of China UnionPay — the People's Republic answer to Visa and MasterCard. Founded a mere decade ago, UnionPay now boasts more payment cards in circulation than any of its rivals, we learn, and its share of the global credit and debit transaction volume is second only to that of Visa's. Though the trend is not exactly unexpected, the numbers are nevertheless staggering.

Even as it is busy issuing billions of cards in China, UnionPay is also quickly becoming a fixture at Western high-end retail stores, Bloomberg reminds us. Wealthy Chinese citizens are among the most avid fans and highest spending customers of the world's most famous luxury brands. Moreover, even as the numbers of luxury stores on the mainland is skyrocketing, Chinese nouveaux riches tend to prefer doing their high-end shopping abroad and that, of course, is great news for Western high-end retailers. Let's take a look at the numbers.

UnionPay by the Numbers

Here is what Bloomberg tells us about how UnionPay currently stacks up against its global rivals:
Debit-card transactions drive most of UnionPay's revenue. Its share of combined credit- and debit-card purchase volume for the first half of 2012 rose to 23.8 percent from 20.9 percent a year earlier, propelling UnionPay to No. 2 globally behind Visa, while MasterCard's climbed to 21.7 percent from 21.5 percent, according to the Nilson Report, an industry newsletter. Visa's fell to 46 percent from 48.9 percent.


The share of spending volume at American Express Co. (AXP), which UnionPay supplanted in 2010 as the third-biggest network by transactions processed, slid to 7.2 percent from 7.5 percent.


UnionPay cards issued by banks rose 22 percent in 2011 from a year earlier to 2.9 billion, according to the Carpinteria, California-based newsletter. Visa cards rose 4 percent to 2.3 billion, Nilson said.

And here is how the Chinese credit card market compares to the one in the U.S.:
China will overtake the U.S. as the largest market for credit cards by 2020, with about 900 million cards in circulation, MasterCard said in 2010. Credit cards featuring UnionPay numbered 285 million and debit cards totaled 2.7 billion as of 2011, according to the Nilson Report.

Huge as these numbers are, they are precisely what we should expect to see in China, which is well on its way to becoming a middle-income country. Moreover, the sheer size of its population, combined with the incredible growth rate of its economy, is allowing the People's Republic to produce billionaires and multi-millionaires faster than we've ever seen before. And these newly-rich have to spend their money, somehow.

Creating Wealth in China

Between 2001 and 2011, the disposable income of Chinese urban citizens grew from RMB 6,859.6 ($1,096.7) to RMB 21,810 ($3,486.7), an annual rate of increase of 12 percent, according to this year's Hurun Report.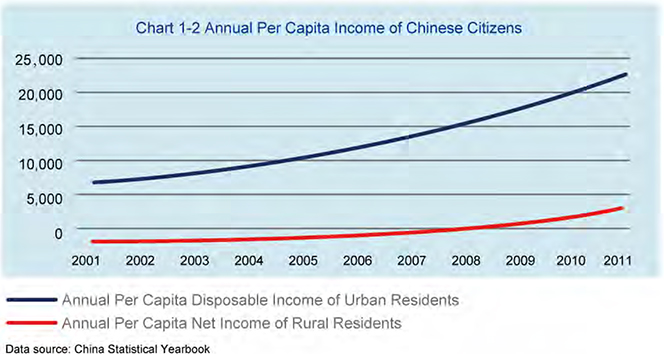 In the process, China has become the third-biggest consumer of luxury goods, according to Bain & Company: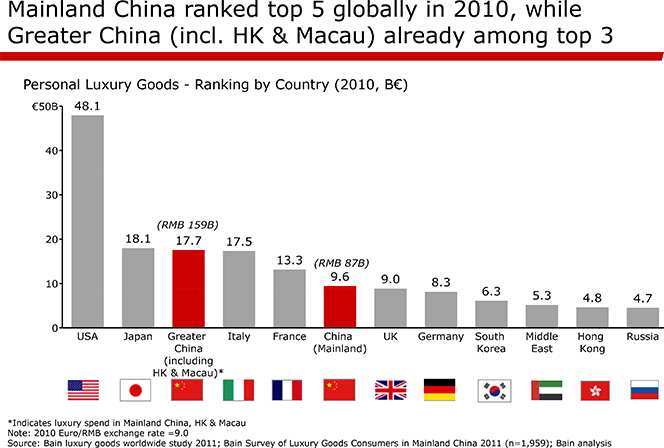 Mainland Chinese citizens spent RMB 212 billion ($33.9 billion) on luxury goods in 2010, 60 percent of which was spent outside the mainland, Bain tells us: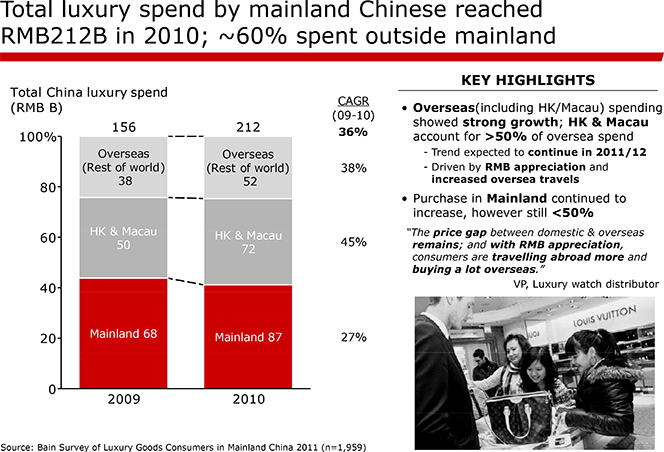 The Hurun Report confirms that the wealthy Chinese prefer to do their luxury shopping abroad: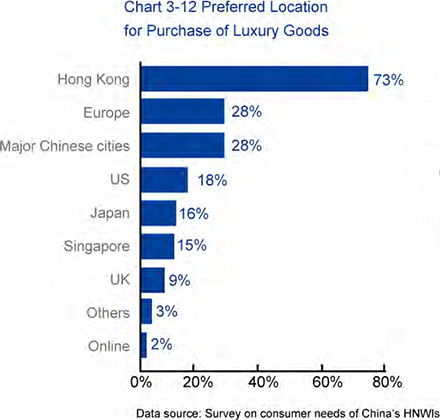 As you see, less than 30 percent of the Chinese rich would buy luxury goods in their own country! Moreover, the Hurun researchers tell us that "there are signs that this trend is rapidly gathering pace."

The Takeaway

The rich Chinese, the Hurun Report tells us,
do not worry about price when it comes to choosing the location where they make their purchases. For them, the most important factor is the product itself, with service and the purchasing environment next on the list. And while buying luxury goods online is becoming more and more fashionable, HNWIs [high net-worth individuals] prefer to purchase in-store, so that they can select the latest products and enjoy VIP service.

Unsurprisingly, given the statistics we've just gone through, Western luxury stores have been all too happy to oblige. So, while you are unlikely to see the UnionPay logo displayed next to Visa's and MasterCard's at your local grocery store anytime soon, you can be certain that the Chinese card brand is accepted at your nearest Armani or Gucci.

Image credit: Kasamaproject.org.