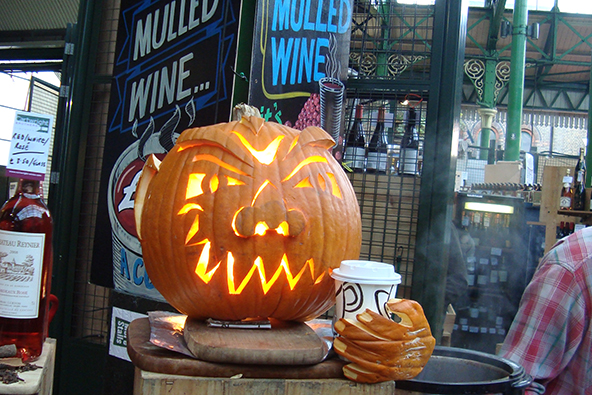 Fewer Americans celebrated Halloween this year, according to the National Retail Federation's (NRF) annual Halloween Spending Survey conducted by Prosper Insights & Analytics. Though an impressive number, the total of 158 million consumers the NRF expected to participate in Halloween activities would have been considerably lower than the survey-high of 170 million people recorded last year.

Moreover, those who did celebrate Halloween would have spent less on costumes, candy and other holiday paraphernalia this year than they did in 2012, we learn. That decrease stands in sharp contrast to the spike of more than 50 percent in Halloween spending since 2005. There are other interesting statistics to be found in the survey, which the good people at CreditCards.com have decided to visualize in a nice infographic, which I thought I'd share with you.

The Cost of Halloween

Americans were expected to spend $6.9 billion this year on d??cor, costumes, candy and fun, we learn. While that total represents an increase of 54.7 percent since 2005, those celebrating nevertheless trimmed their budgets — from $79.82 per celebrant in 2012 down to $75.03 this year. Yet, as NRF President and CEO Matthew Shay put it, "Still one of the most beloved and anticipated consumer holidays, Halloween will be far from a bust this year".

As usual, the biggest chunk of Halloween spending was expected to go for costumes. According to the survey, 43.6 percent of people planned to dress up and spend a total of $2.6 billion on costumes. Tellingly, consumers expected to spend less on children's costumes — $1.04 billion — than on adult costumes — $1.22 billion. The remaining $330 million would be spent on Halloween costumes for the pets of 13.8 percent of the celebrants who found the time — and money — to dress up their four-legged friends appropriately for the occasion.

The second-biggest Halloween spending category was candy, on which celebrants were expected to spend $2.08 billion this year, second only to the Christmas total, we learn. Those buying or making costumes would spend $27.85, on average, just below the $28.65 average last year. Asked where they would look for inspiration for their costumes, 32.9 percent of the respondents said they would search for costume ideas online, another third (32.8 percent) would look for ideas in a store, a fifth (20.8 percent) would seek advice from friends or family and 14.1 percent would check Facebook for inspiration. Pinterest was the go-to place for about a tenth (9.3 percent) of the respondents and 3.8 percent would turn for ideas to blogs.

Another $1.96 billion would be spent on decorations, like life-size skeletons, fake cob webs, mantle pieces, etc. Finally, Americans were expected to spend $360 million on greeting cards.

At 72 percent, handing out candy was the most popular way to celebrate Halloween. Just under half of the respondents (47.5 percent) would decorate their home and / or yard, 44.2 percent would be carving pumpkins, 31.7 percent would take their child trick-or-treating and 20.3 percent would visit a haunted house. Just under a third (30.9 percent) of the celebrants would be attending or hosting a party.

Finally, a quarter of Americans (25.2 percent) said the state of the economy had an impact on their Halloween spending plans, and a mostly negative one, as evidenced by the lower spending total, as compared to last year's. Nearly nine in 10 (86.1 percent) would spend less, up from 83.5 percent in 2012. Furthermore, 32.7 percent would buy less candy and 18.1 percent would make their costume instead of buying one.

Now here is CreditCard.com's infographic:


Image credit: Wikimedia Commons.