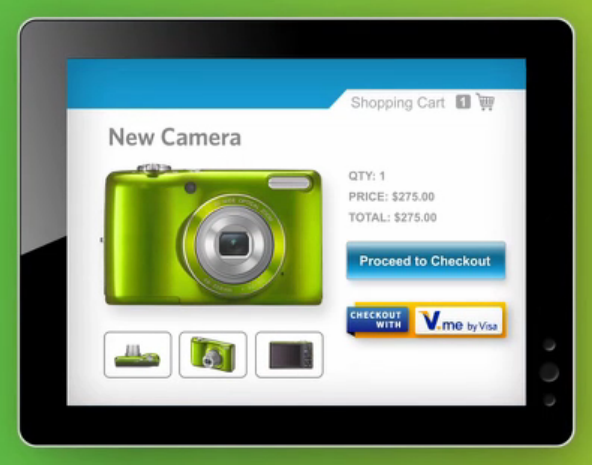 V.me, Visa's newish virtual wallet has been in the news with some regularity in recent months, as you would expect to be the case with the latest offering of a global business with a huge marketing budget. This blog, however, has been silent on the topic, largely because there is nothing novel about V.me's concept to catch one's attention. Yet, having browsed through yet another WSJ article on the subject this morning, I thought I should briefly offer my take on Visa's digital wallet.

So I can only describe V.me as an imperfect PayPal clone. In a moment, I will give you my reasons; before I do that, let me say that, over the past year and a half, both American Express and MasterCard, Visa's biggest rivals, have launched similarly deficient PayPal lookalikes. Discover, the smallest U.S. payment network, has taken a different route, deciding to join Google Walled, rather than to build its own. Now let's take a look at V.me.

What Is V.me?

Visa's digital wallet allows users to store one or more of their payment cards into a single V.me account. In addition to Visa, V.me supports all other major U.S. card brands: MasterCard, American Express and Discover. To make a purchase with V.me, the user would access the card of her choice by entering her email address and password during the checkout process. Here is V.me in action:

I should note that V.me can only be used for payment at web stores, which have elected to offer it as a payment option at their checkouts. At present, there is only a handful of such merchants.

How Many PayPals Do We Need?

So what does V.me, as described above, remind you of? That's right, it resembles PayPal, only that it is a vastly underdeveloped version of the original. To begin with, V.me only supports payment cards, whereas PayPal also allows you to add your bank accounts. Then there is a host of features, which PayPal has built over its decade-and-a-half-long existence and which are not found at V.me. Examples on the consumer end include person-to-person money transfers and payment requests you can send to people all over the world. Then there is PayPal's business side, which enables clients to set up merchant accounts to accept online payments and to invoice customers and other businesses.

As far as I can tell, Visa's marketing strategy is to convince consumers that V.me is easier to use than credit cards, because it enables us to check out simply by entering an email address and a password. But how much more difficult is checking out by entering your credit card details? Not to mention that many merchants require that customers set up accounts with them, so that, during future visits, payments are completed simply by, yes, logging into your account. I never have to enter my credit card details when checking out of, say, Amazon.

Oh, and V.me's website has just crashed on me (a "500 Internal Server Error" message), which I don't remember to have ever happened with PayPal's website since I started using the service many years ago.

Then there is the website integration issue. As I already mentioned, V.me can only be used for payment on a website if the merchant has decided to incorporate it into its checkout pages. But here is a question for you: why would a merchant want to support V.me? There is not a single advantage Visa's digital wallet has to offer to convince a merchant that adding yet another payment logo to the already long list at the checkout is worth the bother. After all, a V.me payment, from a merchant perspective, is no different from a direct credit card payment. So why make your life more difficult than it already is?

The Takeaway

So just to sum it all up: V.me is a substandard PayPal clone, that much is clear. But even if it were a worthy PayPal alternative, such as American Express' Serve, the question would still remain: why would you want to open up a V.me account when you probably already have a PayPal account? What is V.me's advantage? And the answer, plain and simple, is that there is no such advantage.

Oh, and the V.me website is still giving me the same error message.

Image credit: V.me.