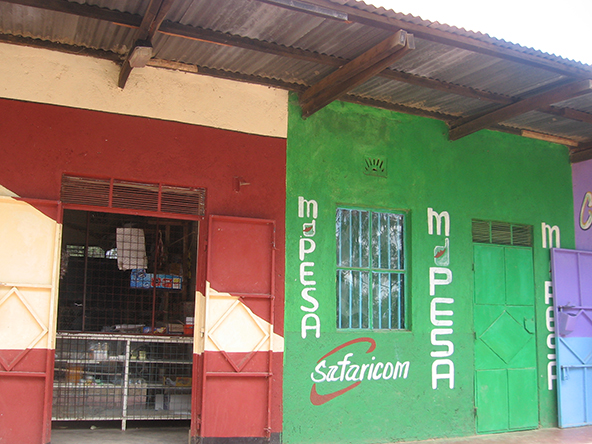 Having initially backed Safaricom's M-Pesa, Kenyan banks have all along been busy developing their own mobile money services to compete with the market leader, George Obera — a former M-Pesa employee — tells us in a piece for Mobile Payments Today. Several competing platforms have already been launched this year, we learn, but although there have been some successes, none of the new services has managed to make much of a dent into M-Pesa's lead. The rivals seem to have mounted their challenges more than a bit too late.

Safaricom has benefited hugely from the unreserved support of Kenya's regulators and particularly the country's central bank, which allowed the telecommunications company to provide financial services, without being classified — and regulated — as a bank. Safaricom nevertheless behaved as if it were regulated as such and periodically reported financial and usage data as banks do, keeping the regulators happy in the process. That, and the fact that the carrier had the Kenyan mobile transfer market all to itself until earlier this year, allowed M-Pesa to achieve its dominant role and now that it has done so, it is unlikely to give it up easily.

M-Pesa's Strengths: Agent Network and Convenience

Perhaps the single biggest reason for M-Pesa's success has been Safaricom's ability to create a vast network of agents — typically small retailers — all across Kenya, even in the remotest of rural villages. Just fourteen months after it opened for business, M-Pesa already had 3,000 agents throughout the country and the network kept growing at an incredible rate, as you can see in the chart below (source).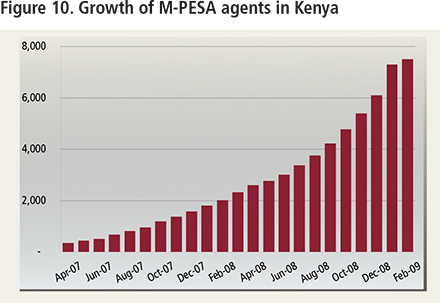 An M-Pesa user would go to an agent and purchase virtual credit that is loaded onto her phone. This credit — known as e-float — can then be transferred to another mobile phone user through a text message. The recipient of the credit would then go to the agent nearest to her to swap the code she received in the text message for cash. Having an M-Pesa agent nearby is obviously of critical importance.

Convenience has also played a major role in M-Pesa's success. Obera:
While agency banking was instrumental in spreading banking services, the convenience of having one's money secured in a mobile phone 24 hours a day still gave M-PESA, and other mobile money transfer services that followed a big advantage.

And the service provider has relentlessly exploited that advantage.

Challenging M-Pesa

Crucially, as Obera says, Safaricom has managed to prevent rivals from tapping into its agent network:
In what can be seen as good business foresight, M-PESA had made its agency contract with M-PESA agents exclusive, meaning M-PESA agents were off limits to banks as agency banking outlets.

One bank has attempted to break the monopoly through a partnership with Safaricom and has met with some success, but nothing on M-Pesa's scale:
Equity Bank, as the largest bank in Kenya by customer base, came close to unlocking this exclusivity when it partnered with Safaricom to launch M-KESHO in 2010. M-KESHO is a service that allows deposits to, and withdrawals from, one's Equity bank account through selected M-PESA agents and through the M-PESA menu. M-KESHO reached over 600,000 customers in a record 3 months, but unresolved teething pains prevented M-KESHO from replicating M-PESA's viral success.

Another big Kenyan bank has attempted to woo customers by tweaking its mobile money offering to emulate M-Pesa's service and enable direct mobile-to-mobile money transfers, thus eliminating the need for its customers to walk into a bank branch or ATM to withdraw the money. However, as Obera notes, that merely constitutes a validation of M-Pesa's business model and it is not an improvement on it:
While this could present a headache to M-PESA and other mobile network-operated money transfer services, the fact than banks still have to offer these services through the mobile phones of network operators may offers just a little bit of comfort.

Well, I'd say that it's more than a bit comforting. In order to get consumers to switch to what is in essence an M-Pesa copycat, a bank would have to convince them that its service is noticeably better. And as Square's challengers in the U.S. have found out, achieving such a goal against a well-entrenched and resourceful competitor is an awesome task.

The Takeaway

Even as Kenya's banks have been doing their best to catch up with M-Pesa on the mobile transfer front, Safaricom has been adding to its line of service offerings, further increasing its lead. One of the new services — M-Kopa — "provides a flexible, affordable financing plan through the M-PESA platform", while another — M-Shwari — "allows customers to save and borrow money through the mobile phone while at the same time earning interest on the money saved".

M-Pesa is still the undisputed leader in mobile banking services in Kenya. It seems to me that, as it is quickly becoming a full-fledged bank service provider, the company has more to worry about stricter regulation than competition.

Image credit: Wikimedia Commons.