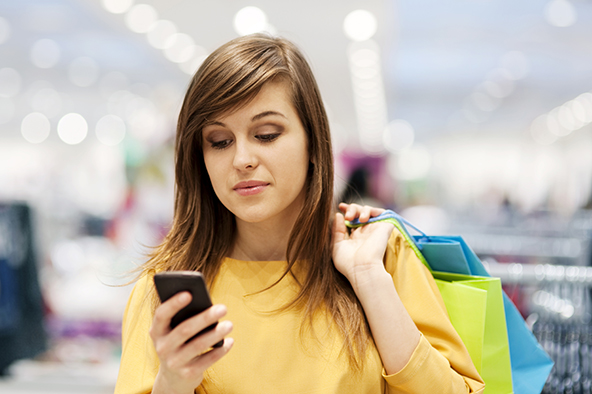 Nearly 50 percent of smartphone owners are either using or planning to use their devices for mobile shopping, according to a recent survey of 2,000 U.S. consumers, conducted by ABI Research, a New York-based marketing research firm specializing in global connectivity and emerging technology.

About the same percentage — 53 percent — of American smartphone owners either use or intend to use their phones for mobile banking, according to the survey. These results fit into a pattern, according to the researchers.

Here is how Janet Wise, ABI Research's primary research director reads the data:
"These findings are part of a larger picture which quantifies smartphone users' consistently higher use of a wide range of activities and features, from mobile browsing through multimedia to navigation," Wise said. "Smartphone users behave differently. They score higher for all these activities 'because they can' (their devices are capable), and also because they have the money, resources, and time to do all these things."

On the other end of the mobile phone spectrum, the percentage of feature phone owners planning to use their devices for mobile shopping is three times lower than the equivalent share of smartphone users. Yet, even at 17 percent it is still an impressive number and it is rising, according to the report.

ABI's report provides yet another proof that mobile shopping is finally arriving to the U.S. and it is growing at an exponential rate. Just three years ago the American mobile payments market was close to non-existing. In 2008, it grew to $1 billion, according to the Aite Group, a Boston-based research firm, and then it started to explode. In 2009, the number grew to $4 billion. This year it is projected to reach $16 billion and by 2015, the Aite researchers expect the total amount of mobile payments processed in the U.S. to grow to $214 billion.

It is not surprising then that seemingly everyone is jumping on the mobile payments bandwagon. Earlier this year Apple obtained several near field communication (NFC) patents that suggest that mobile payment capable iPhone may be in the offing.

Three of the biggest U.S. mobile carriers have formed a joint venture and have already launched a national mobile commerce network, again based on NFC technology. The payments will be processed on Discover's network and the accounts will be managed by British bank Barclays.

Not to be outdone, Visa has just launched a mobile payments service of its own, based on the In2Pay microSD card, developed by Texas-based DeviceFidelity, which is plugged into the phone's SD card slot and stores the user's payment information. To make a payment, the user waves the phone in front of an NFC-enabled contactless reader at the point of sale and transaction information is exchanged wirelessly.

Start-ups have also managed to enter the fray and have done so in force. With names like Boku, Zong, Square, Dwolla, KreditFly, etc., the upstarts are exploring segments of the mobile payments industry that have been largely neglected by the giants. Boku and Zong, for example are offering direct billing, where the payment amount is billed to the user's monthly cell phone bill. Square, for its part, provides direct credit card acceptance services through a card reader that plugs into the phone's audio jack.

KreditFly perhaps has the most interesting business model of them all. The start-up will make the payment for you and will then give you seven days to pay it back.

So the variety is amazing and is certain to grow even bigger. Have you used any of these or the other mobile payments services out there? If you have, please share your experience in the comments below.

Image credit: Btnet.com.tr.